Disclosure: We were invited on this day out for the purpose of this post however all opinions are my own.
We always love a trip to the theatre and last weekend we were invited to lunch at Marcus Wareing's Tredwells restaurant followed by Matilda the Musical on London's West End. Tredwells have launched a new Matilda the Musical themed menu and, in collaboration with the Royal Shakespeare Company are offering Matilda the Musical packages of a pre-theatre meal and theatre tickets which the children were so excited to experience.
I was away on a blogger retreat but Dave and the children couldn't wait for a Matilda themed day in London. Once seated upstairs in the Tredwells restaurant, the children were in awe of Tredwells. They loved the atmosphere of the place and LP even commented on how well dressed and smart the staff were. LP and Little Man also loved the huge mechanical clock on the wall and the fact that each side wall had very large mirrors, meaning it looked as if the restaurant went on forever!
It wasn't long before we were given our menus and asked what we wanted to drink. The children loved it that their menu was themed around Matilda with items like Magnificent Meatballs, Super Spaghetti and Tomato Sauce and Eggstra-ordinarily awesome omelette. Each came with Crazy Cornish Potatoes, Perky Peas and Bravo Broccoli.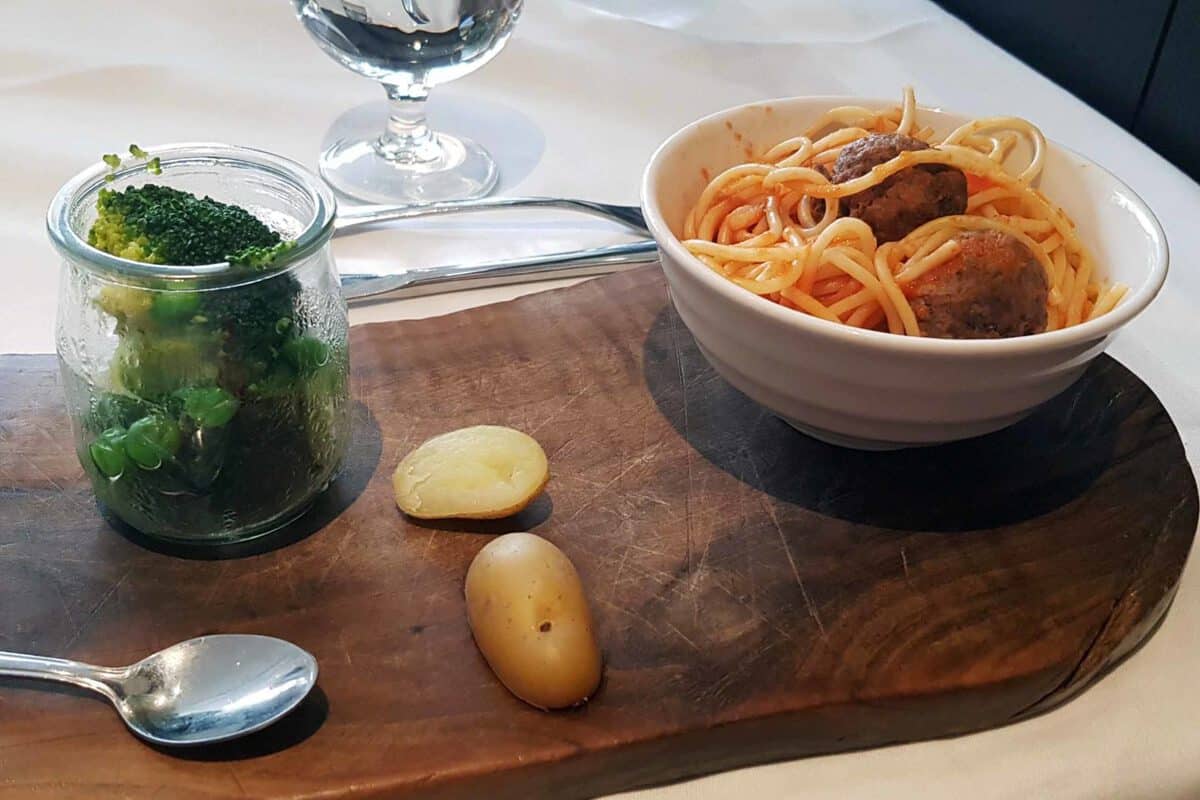 When they arrived, the children liked that they came on a funky wooden board and not a boring old plate. Both said that their meals were delicious but LP said hers could have been better if the omelette had something in it like cheese or ham, not just plain but she enjoyed it anyway.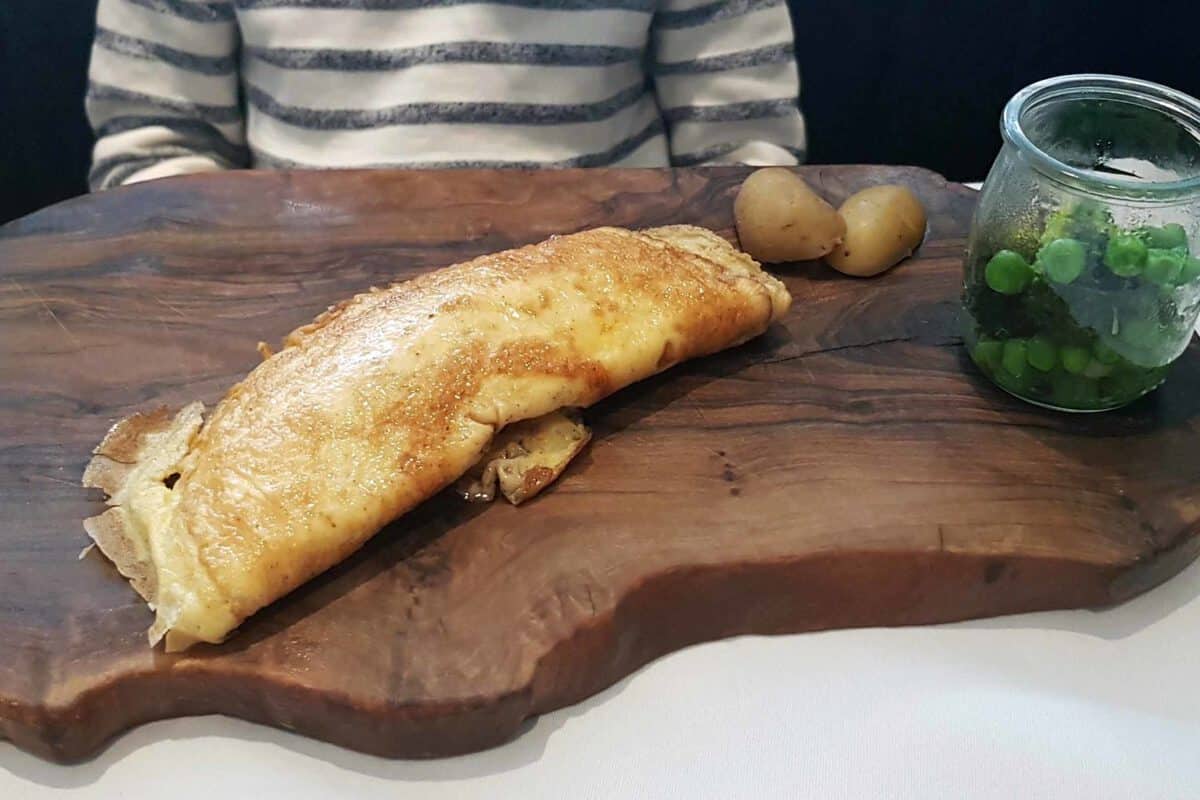 The adult meals are nothing less than you would expect from a fine dining restaurant – very elegant and full of flavour. Dave's chargrilled hanger steak and braised onion with peppercorn sauce was perfect and went down well with a side of Cornish new potatoes with dill pickle aioli.
Dessert was just as impressive with both children going for simply delicious salted caramel soft serve and Dave sampled the Chouxnut with coffee masala and mascarpone. It was heaven on a plate.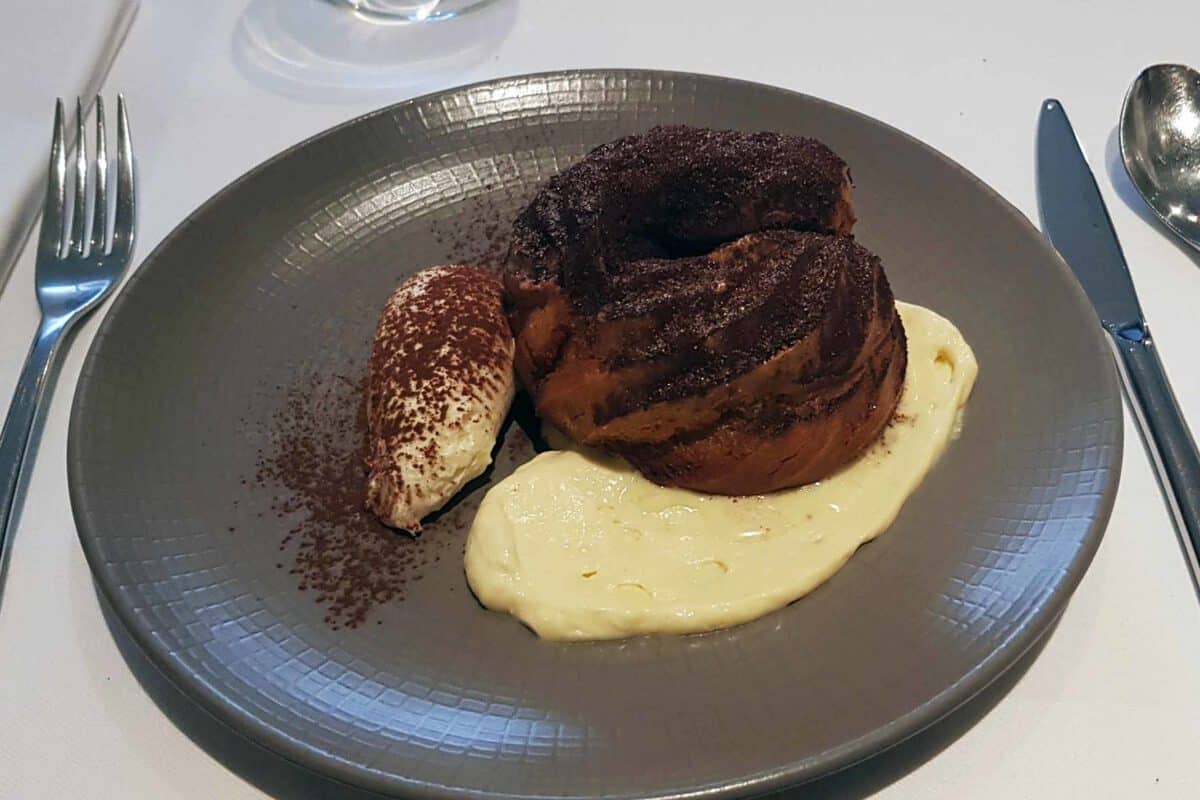 With attentive staff and great food, the meal soon flew by and it was time to make our way to the theatre to find our seats. With a reassuring bag search as we entered, we found our seats with a great view, but not before a member of staff, who was serving on the concession stand, recommended that the children take a booster seat each, something that he didn't have to do and went above and beyond.
As soon as we saw the impressive set, we couldn't wait for the show to start and knew it would be great. We were trying to spot words contained within the apparent random selection of letters that adorned the stage. We spotted 'Danger', 'Sharks' and even 'Burp' up there! Some of these phrases would become more apparent as the show went on.
Now in its eighth year, Matilda the Musical has won more than ninety awards, opened on Broadway in New York (where it won four Tony awards) in 2013 and has been seen by more than nine million people worldwide.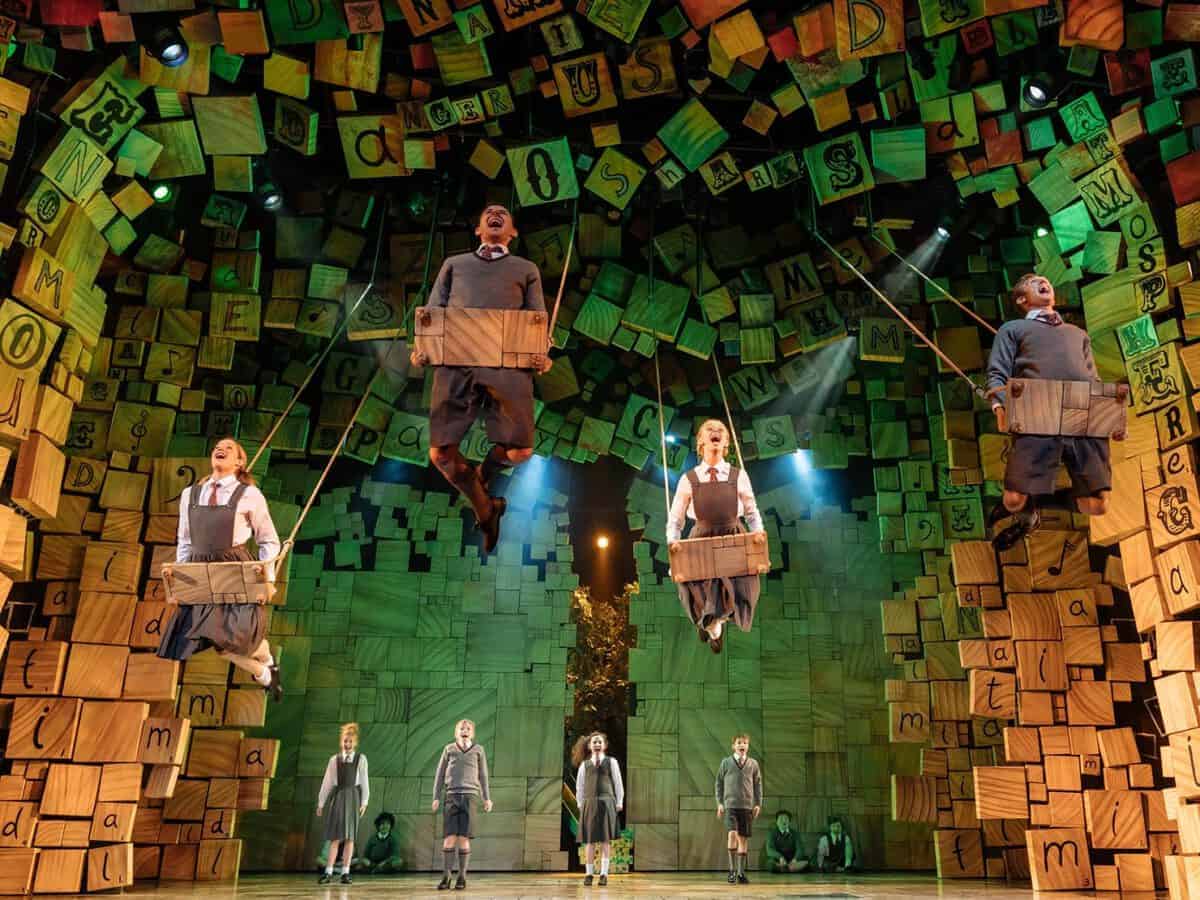 From the very first lines of the first song, Miracle, you could see how much heart and soul each actor, child and adult alike, were putting into their performance. Each song flowed into the next with some light comic relief coming from Mr Wormwood, Matilda's Dad and her Mum. Even though they cared little about Matilda and can't stand that she loves to read books and make up stories, they were likeable characters and had the audience in stitches. The performance we saw had Francesca McKeown starring as Matilda, who shares the role with four other young girls.
Francesca was awesome in the role, bringing a spooky calmness to it and she was on stage for quite a lot of the performance. She held her own and was really likeable and as an audience member, you really got on her side from the beginning and we enjoyed watching her develop throughout the story to the confident girl we see at the end. The rest of the ensemble cast were equally as fantastic, with mostly children and a few grownups making up the bulk. They all worked seamlessly together and the set design was out of this world. School desks rose from the floor, the library shelves appeared from nowhere and with each set change came something new to be in awe of.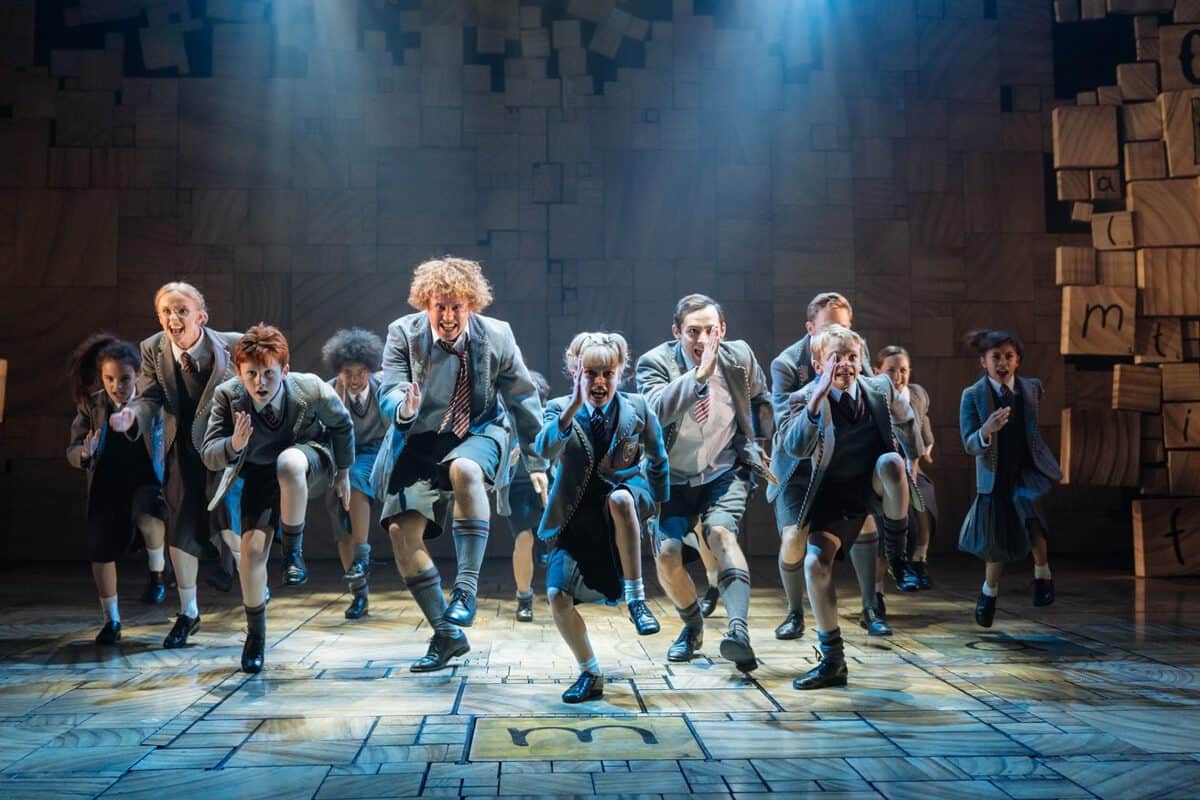 The main baddie is of course Ms Trenchbull – expertly played by Hayden Tee (yes, a man!) and even though she was very mean to the children and bullied them whenever she could, she had such a stage presence that you couldn't help but be pulled in by her. Miss Honey – played by Gina Beck – was lovely and there was a real connection between her and Matilda, they bounced off each other and were a pleasure to watch on stage.
At two hours and forty minutes long, with an interval, Matilda the Musical kept the attention of our six year old throughout. He didn't get bored at all and was cheering out loud for Matilda and her classmates when they got their own back on Ms Trenchbull. It was great to see LP and Little Man really getting into the live action, with LP singing along to more than one of the songs that she has performed with her school choir. They came away from the show laughing and humming the tunes. As soon as we got home, Athena asked our Alexa to play the soundtrack and was reliving the whole show all over again.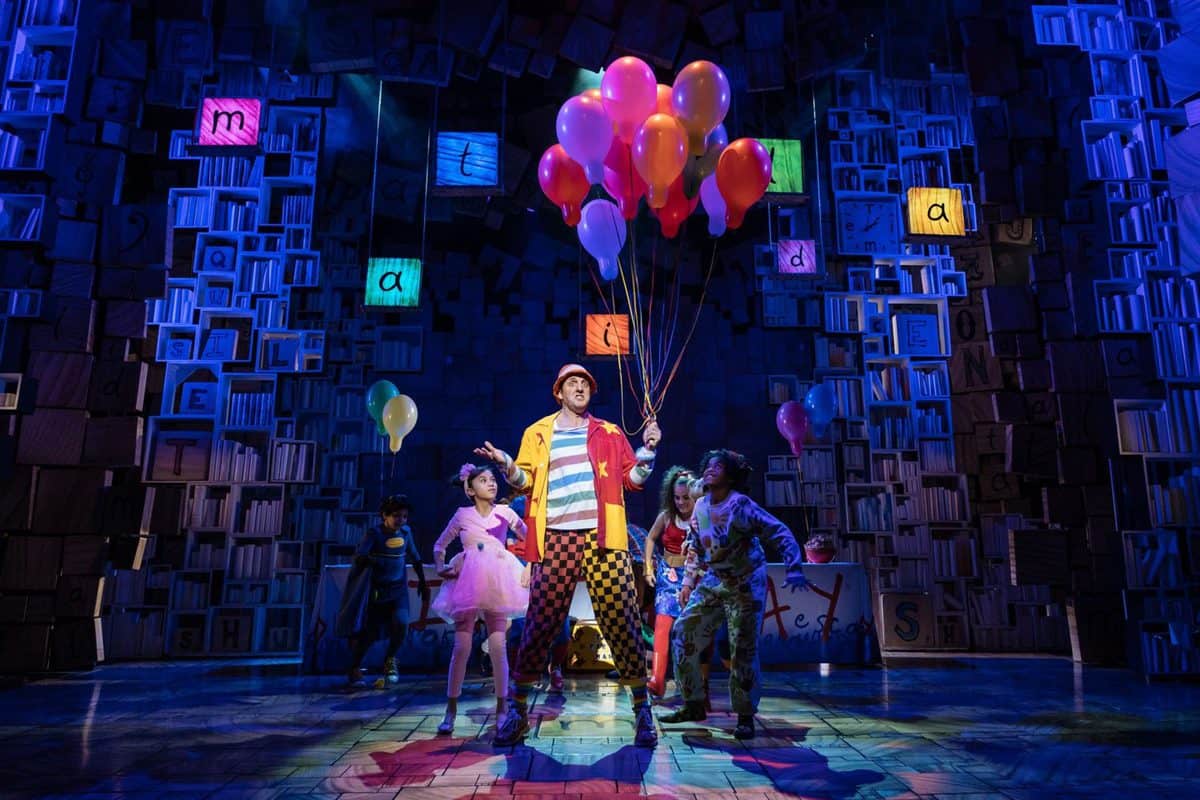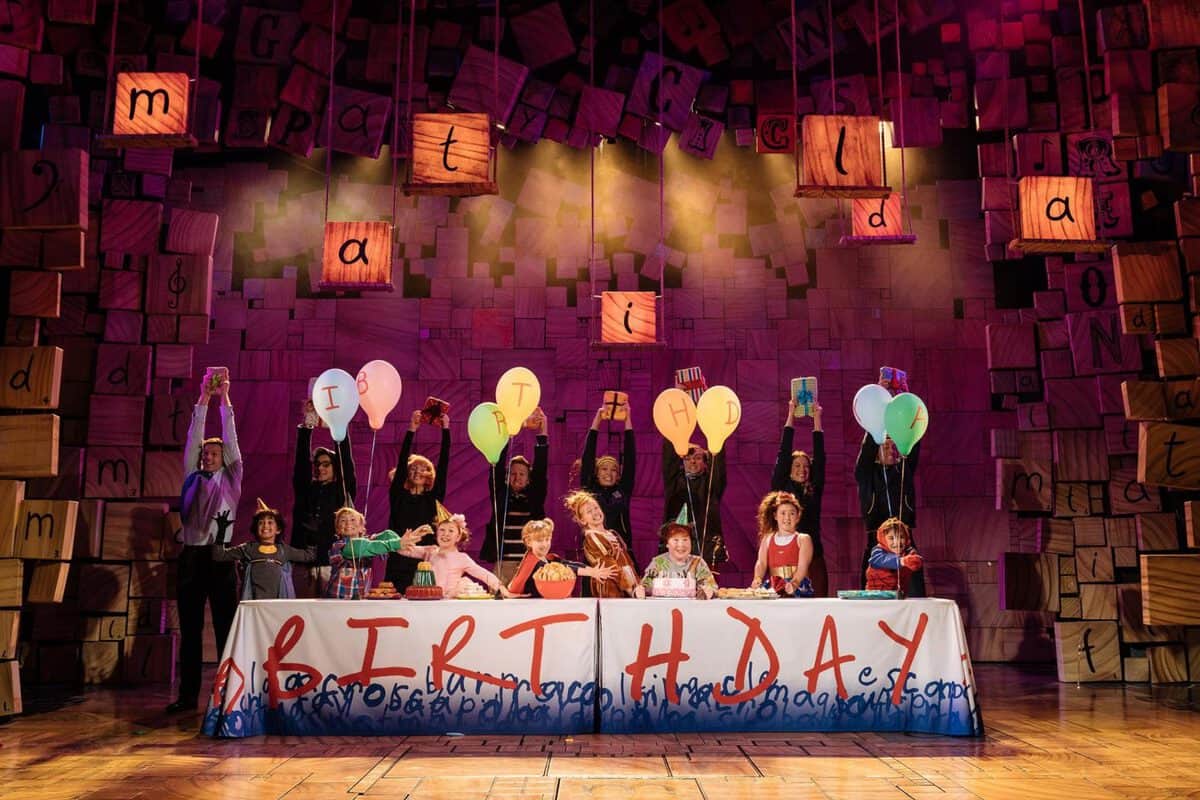 Our whole dinner and theatre ticket package was great value for money and we got pretty decent seats too. It was a great afternoon out and something that we will be talking about – and listening to – for a while to come.
You can find out more about the Tredwells x Matilda the Musical package here and see the full Matilda menu too.