*This is a collaborative post
We love dinner time in our house and eat together as a family as much as possible. Even if Hubby is at work or I'm out, the parent who is at home will take the time to sit and eat with the children. It really is such an important part of our day and time that we all really appreciate.
As a busy family we like to find meals that don't take that long to cook, that can be put in the slow cooker or oven and are ready when you want them. We have some tried and tested meals that we eat regularly – bolognese, chilli, spaghetti and meatballs and pasta bakes, all things that as a family we enjoy and that are relatively easy to make. It's also important to us to eat a well balanced diet and to teach the children about healthy eating as they grow.
Recently, Tesco got in touch to tell us how they had reformulated many of their grocery products to make them healthier by reducing the salt, sugar or saturated fat content in them. They promised that the products would still have the same great taste and that nothing had been lost in the process – only gaining instantly healthier options.
Tesco set us a challenge to create a typical family meal with their products, using ones with the new and improved recipes to see if we could notice the difference. So, I went shopping and bought everything I needed to make a pasta bake, served as we usually would with cheese on the top, bread on the side and a nice big salad. I chose the same products we would usually pick – mature cheese for the pasta bake, a spicy pepperoni pasta bake sauce, salad cheese and Tesco Finest bread rolls. I even picked up Tesco spread for the rolls and salad cream – I was impressed with just how many products had been reformulated purely to help us make healthier choices.
This is a typical meal in our house – it's so simple to make with the pasta bake being purely three ingredients – pasta, pasta bake sauce and cheese. When the table was full of food and I started to dish up Hubby and the children didn't notice any difference – and they enjoyed the meal as much as they usually would. The plates were empty at the end of the meal and I was even dishing up seconds! LP even commented on how beautiful the meal looked and how tasty the pasta bake was.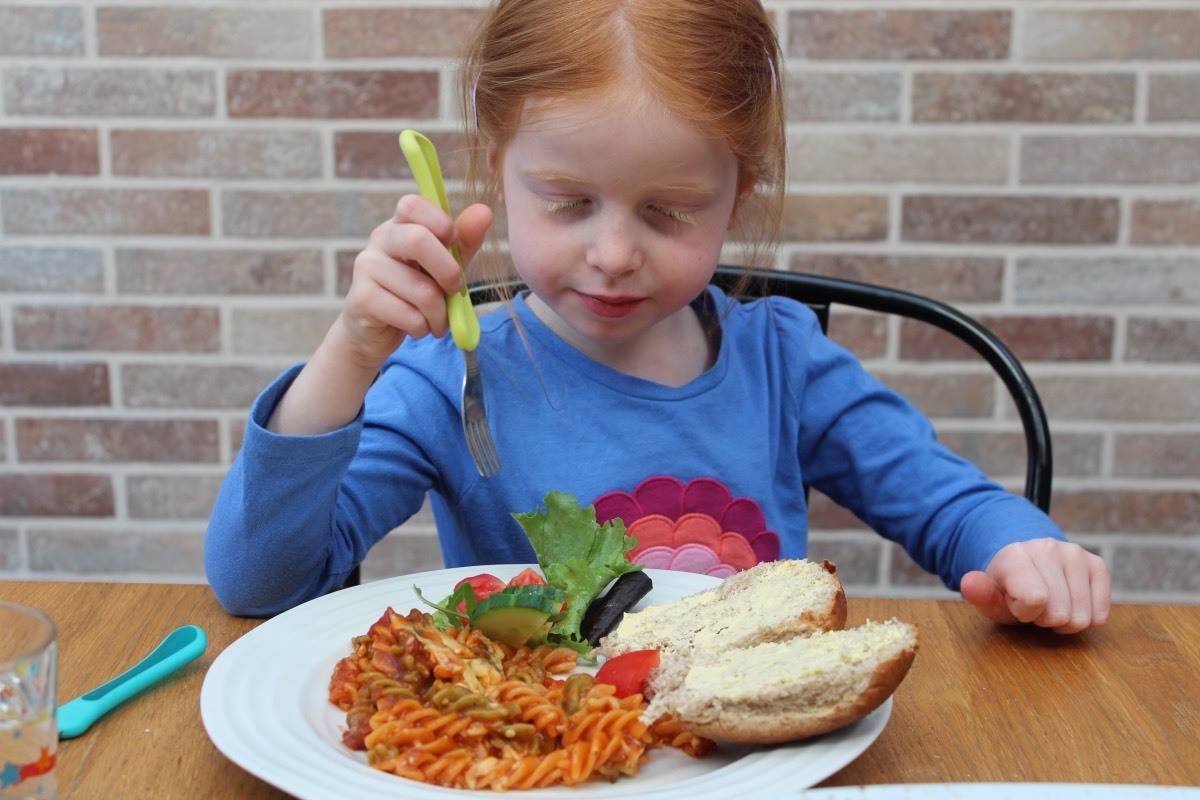 We drank still lemonade and summer fruit juice during our meal, typical soft drinks for our family – although LP loves to just drink water. It was nice to know that the soft drinks had a lower sugar content than usual and yet tasted exactly the same to us and they were both such refreshing drinks.
We had sponge puddings and custard for dessert – two more tweaked products that tasted so good and were the perfect way to end our meal – especially as it took just a couple of minutes to make. The children loved the dessert, a real treat after a mid-week family dinner, and I think we'll be buying both the puddings and the custard again – it had a big thumbs up from us.
When we had finished our meal I told Hubby that everything was lower in salt, sugar and saturated fat and he said it was nice to know we could enjoy our typical meals whilst making healthier food choices and he said he would happily eat those two courses all over again. With a busy family life it's nice to know that Tesco have done the hard work so we don't have to – we can buy products we usually would in the knowledge that they will not only taste great – and the whole family will love them – but they are as healthy as possible too.
I'm now looking forward to trying out more of the range of lower sugar, salt and saturated fat products from Tesco and seeing what other family meals we can recreate with some of their healthier options.
*This is a collaborative post