This guide is brought to you with thanks to a recent meal at Strada just behind Oxford Street when I met up with the lovely Pam for the day in London. We walked our socks off and were glad to finally reach the restaurant.
I have to say that from the start the staff were lovely and absolutely gushed over Little Man – waved to him, chatting to him and LM even had a flirt with one of the waitresses and held her hand. This wasn't a bad meal out. Just awkward.
We asked for a table for two and two highchairs and I asked if there was somewhere to leave the double buggy, folded, once we'd sorted the children out and was told I could leave it over by the side of the restaurant. The next man that comes along asks if I can leave the pushchair outside – No, I'm folding it and putting it to the side, give me a minute. Would anyone leave a £300+ pushchair outside a busy central London restaurant…?
When we're all sorted, and the children are in highchairs a waiter comes over with colouring in menus and crayons for the children. Both children. I whisk Little Man's crayons away before he starts eating them and give the second placemat to LP to colour.
We wait an eternity to order and the waitress takes both our drinks and food orders at the same time – we could have done with being asked for our drinks order when we arrived after a morning walking round the London sights. She then comes back with our drinks and LP's starter – cucumber and carrot sticks with baby tomatoes and a tomato dip was actually peeled cucumber chunks and standard tomato slices, not a carrot to be seen. LP wasn't that bothered, kept drinking her juice and eating breadsticks from the change bag whilst Little Man happily ate the cucumber – After we prised a china side plate away for him that the waitress had given him because we'd said he was sharing our food rather than having his own meal.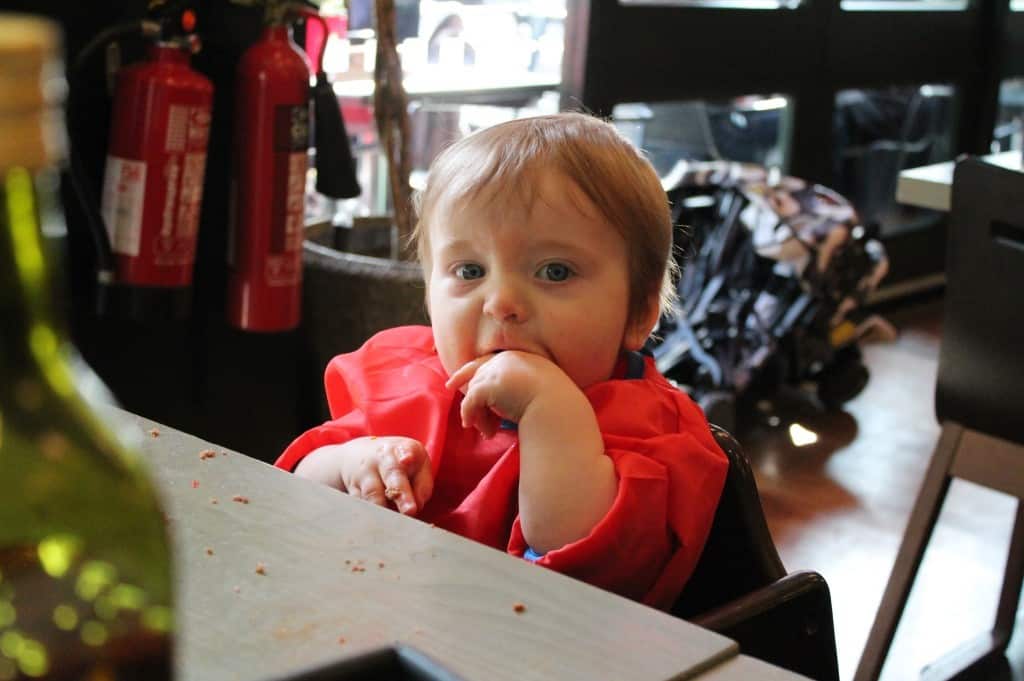 By the time our mains arrived the waitress had wiped down the children's side of the table twice, whilst they were eating and had picked food up off the floor from around them. A waiter had also swept completely under their highchairs. We ignored this and carried on as we were.
Our mains arrived and Little Man shared mine – Until he got bored and ate mini gingerbread men instead! LP ate her pasta happily and we all enjoyed our meal – whilst the Strada staff made sure our table was wiped regularly and the floor swept continuously. I was aware that we were the only table having this treatment – Every other table was wiped between courses if necessary (not usually) and after the customers had left. No-one else had their table wiped around their plate whilst they were eating yet LP had her table wiped down around her plate and Little Man had the table cleaned near enough every time he picked his food up from the table to put it in his mouth!
After we'd all finished our plates were cleared away and we ordered our desserts. Mine arrived a lot before Pam's and the waitress said another would be out in a minute but I'd finished mine before the other arrived – we had to send it back too as it was meant to be a tiramisu and instead was a second chocolate fondant – The waitress didn't seem happy that we'd queried the dessert – 'That's what you asked for!' Clearly, it wasn't.
The staff continued to clean the table religiously and at this point LP was done eating, done colouring and wanted to play with the salt and pepper pots. By this point I was a bit sick of the constant cleaning of our table and though 'to hell with it' and let LP explore the salt and pepper mills on the table. She couldn't turn them but I didn't realise that the salt mill would let salt out if she knocked it on the table. It was only after we'd paid and were leaving that I noticed the quite large patch of salt under her chair – Oh well, the staff would have something to clean up now!
I don't think Strada staff have ever come across a 10 month old baby that eats from the table a la baby led weaning, doesn't use a china plate, would rather eat crayons than draw with them and when eating drops food onto the floor. As a parent of my second 10 month old baby I know that this is all entirely normal.
In future it would be great if Strada staff offered parents crayons before handing them to babies – the same can be said for china plates. It would also be great if customers with small children were treated pretty much the same as customers dining without children – Cleaning the table between courses or even after we've left is attentive enough.
Just for the record, whenever I usually go out anywhere with my children I always clean up after them. I wait until the end of a meal, wipe off the table, the high chairs and even use a baby wipe to clean up the floor to. This visit to Strada was the one and only time I haven't cleaned up after them, why? Because Strada staff seemed to love cleaning so much and to be honest, by that point I just wanted to leave.
So, eating establishments take note, to make people with small children feel incredibly awkward make sure you clean incessantly every time there is a square inch of table surface with any sign of food on it, regardless of whether the people eating have finished or not.