Disclosure: We were sent the featured products for the purpose of this post however all opinions are my own.
This post contains affiliate links and I may receive commission if you visit a link and buy something. Purchasing via an affiliate link doesn't cost you any extra, and I only recommend products and services I trust.
LP and Little Man love reading and stories are a huge part of our lives – with LP often reading whilst she eats breakfast, reading as a family after school and finishing the day with a story too. But the children don't just love reading, they love the actual stories – getting to know the characters, laughing at the things that the characters get up to and really enjoying hearing the plot unfold. So when Lunii sent us My Fabulous Storyteller to try out I knew it would be something the children would really enjoy.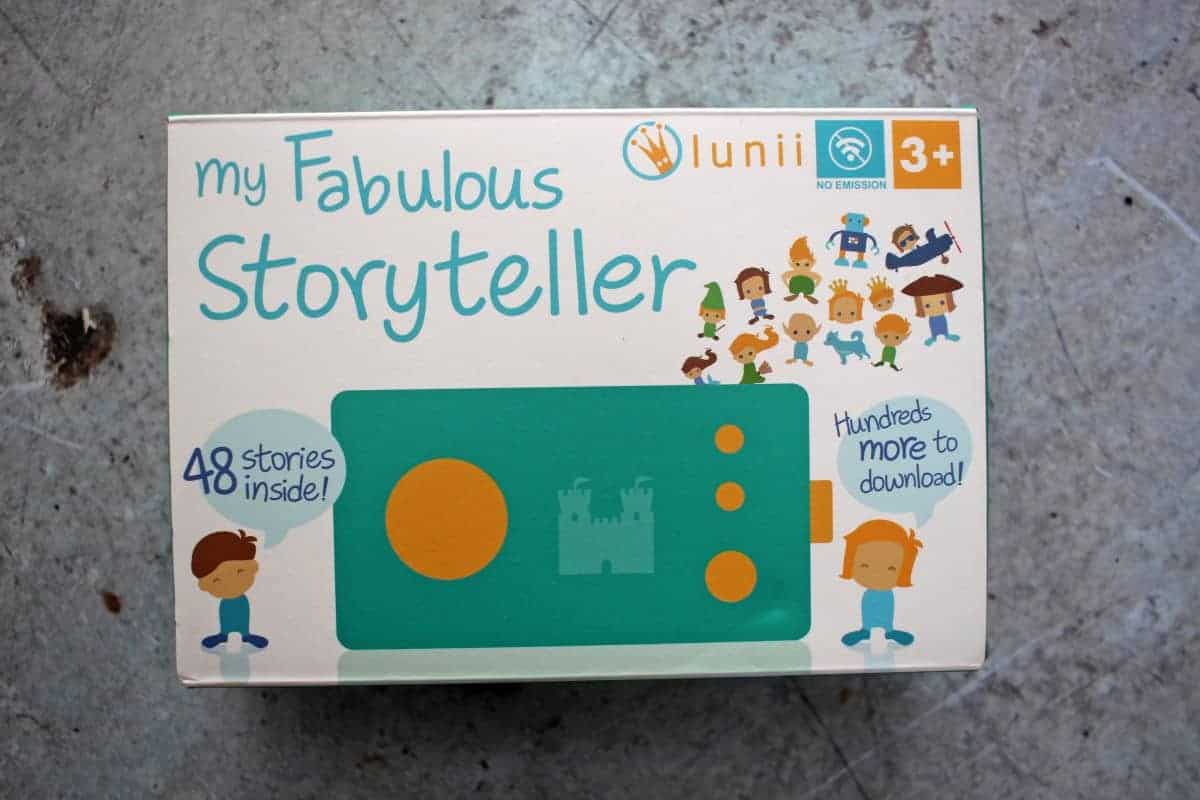 What is Lunii My Fabulous Storyteller?
The Lunii My Fabulous Storyteller is a really great idea for a children's gadget. It's a simple brightly coloured box that allows children to create their own stories and then hear them read allowed. It's so well designed that as soon as we showed it to LP she knew what to do and was listening to her own stories in no time – with Little Man begging for the next turn!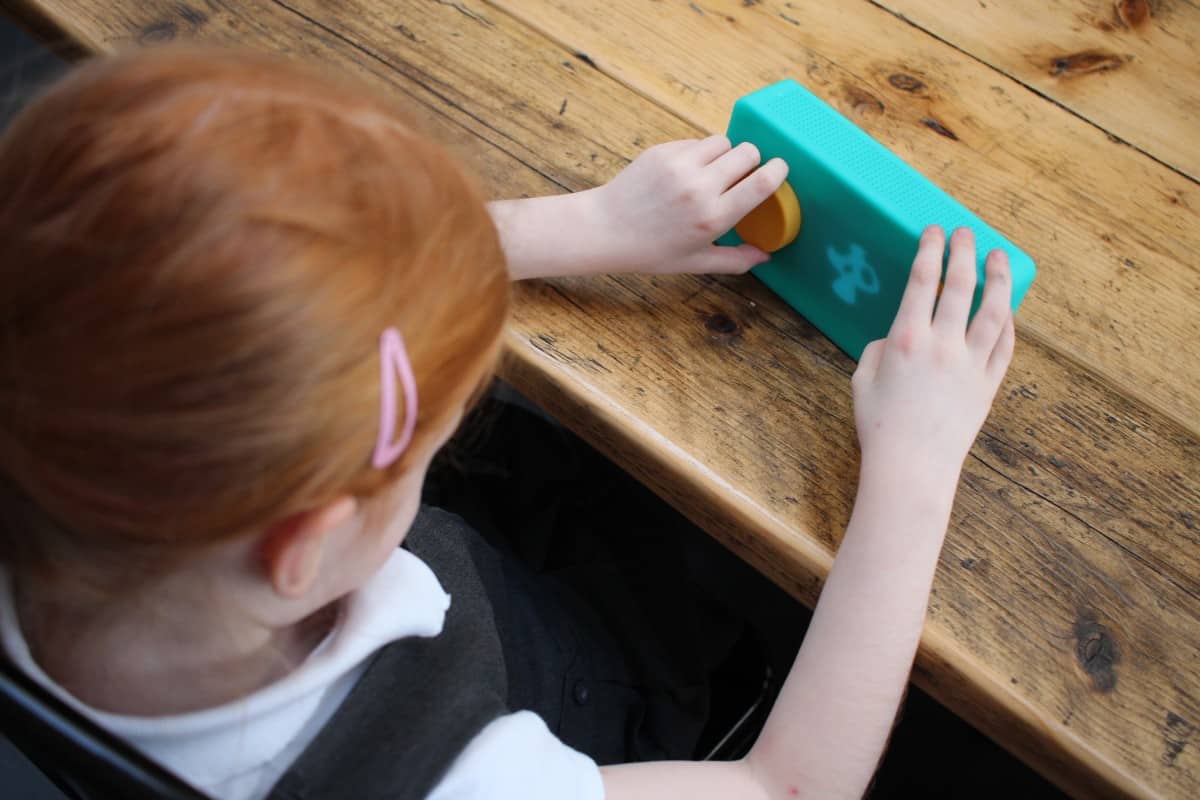 How easy is Lunii My Fabulous Storyteller to use?
The box has a turn dial on the side that turns it on or off and adjusts the volume. As soon as you turn it on My Fabulous Storyteller starts talking to you and asks you questions like who will the hero be in your story or where is the story set. You are then given options and can turn the big dial on the front of the box to cycle through the choices, pressing ok when you're happy. When you have answered all the questions My Fabulous Storyteller tells you the story that you've created.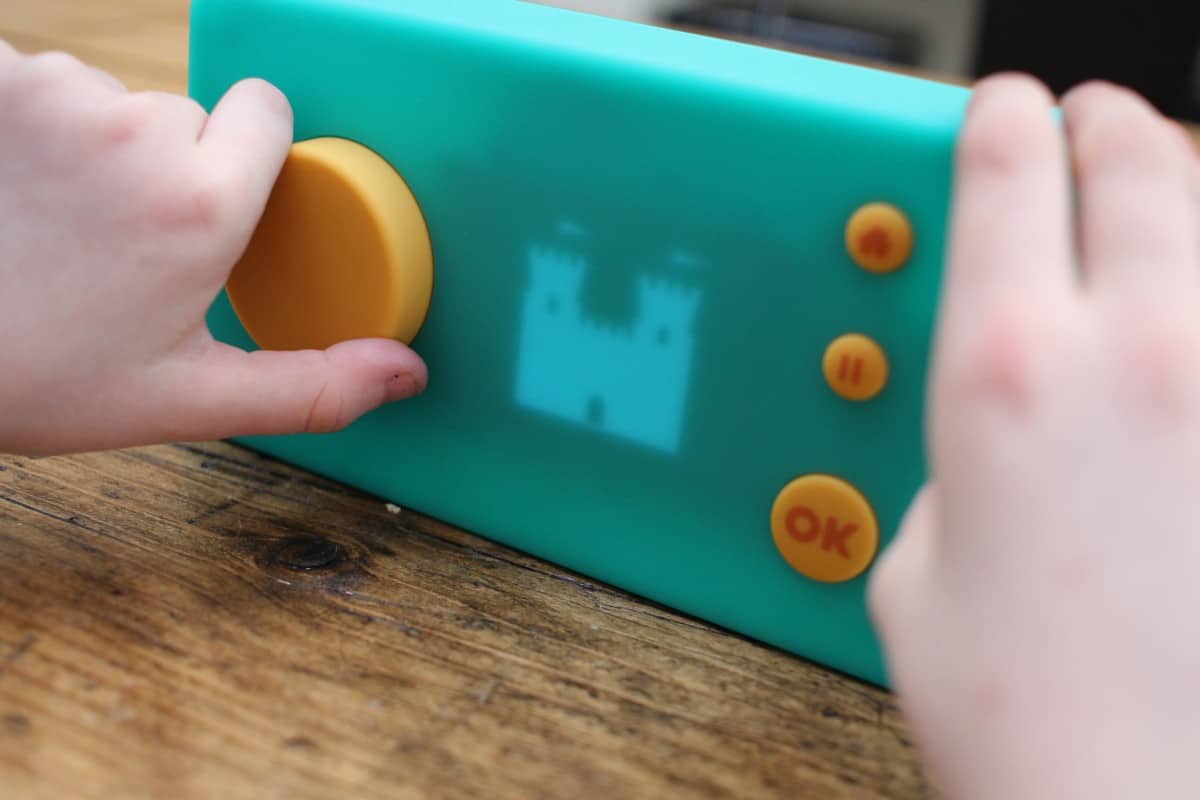 There are usually four different questions and so many variations of answers that each story is so completely different from the last. The children love that they can have a stories about boys or girls, in castles or at home and with so many extra characters and objects included. So far they haven't heard the same story twice and I don't think they ever will.
The voice telling the stories is very much English, no American accent that always grates on me with apps and TV shows. Instead, it pronounces everything as we would pronounce it and everything is so well spoken, and at a really nice pace, making it a great aid for learning new words and learning to pronounce things too.
How many stories are there?
My Fabulous Storyteller comes with 48 stories, another six free goodnight stories with the application and hundreds more stories that can be downloaded from the LuniiStore. Having browsed the LuniiStore you can get 18 stories for around €10 – not very expensive at all and a great way of expanding My Fabulous Storyteller and making sure the children can use it indefinitely, never getting bored with the same stories and keeping them interested. However, I think the initial 48 main stories will keep LP and Little Man entertained for quite a while yet.
The My Fabulous Storyteller box is rechargeable with a USB cable so you won't be constantly buying batteries and so far the power in it hasn't run down for us – it seems to not use much energy at all which is great news. As it doesn't need to be constantly plugged in the children can take it from room to room or out in the car without any problems, listening to stories wherever they go.
The children love My Fabulous Storyteller. It doesn't replace the need for us to read together as a family but it is another avenue that lets children enjoy stories. They listen to it when Dave and I physically can't read to them or LP is too tired to read aloud herself – when we're rushing around in the morning, getting ready for school, late in the afternoon whilst we're cooking dinner or on long car journeys.
The great thing for us about My Fabulous Storyteller is that it's something LP and Little Man can enjoy together. They can both listen to the stories and take it in turns to create them and as much as they love listening to the stories they are always so excited when it's their turn to create one too.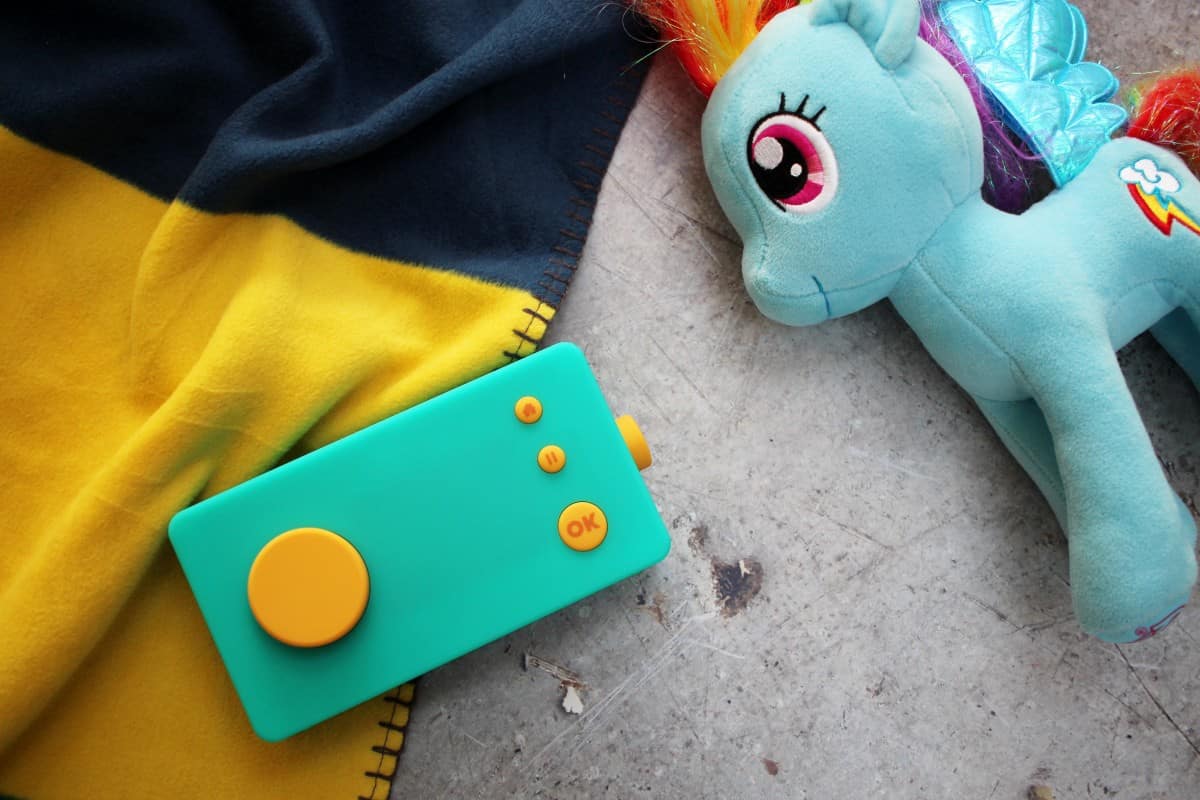 Lunii's My Fabulous Storyteller is like nothing I have seen before and I really like it and I think it's a great investment for any family.
My Fabulous Storyteller has an RRP of £53.90