Another week down and where has it gone?! I haven't a clue! But it has been the first half of LP's Easter holidays so we've had a great time really. Linking up with Morgana again to tell you a bit about the things we've loved this week.
Read
If you read one post this week it should be this one from Sarah at Taming Twins. It is the most emotional post I have read in a long time, had me in tears and is about… well… cheesecake.
Clare from Maybush Studio wrote a great post about why bloggers should say yes to more opportunities – the ones they would normally turn down. It was a great post and gives a lot of insight into how low value product reviews, entering blogging competitions and even guest posting on commercial blogs can help your career as a blogger.
Watched
This week I've watched the children play in the garden so much. They love playing together and playing together in the garden is still so new to them as last summer seems like such a long time ago to LP and Little Man can't even remember it.
I've also caught up on Hollyoaks as Hubby has been on lates and nights this week – blogging in bed with the TV in the evenings for me. I've also got into Amazon Instant Video and have been watching a show called Awkward – a series and a half watched in 3 nights! It reminds me of Dawsons Creek or similar and I love it, so easy to watch and reminds me of being 16 again!
Wore
No clothes photos this week but evenings have been spent with a newly extra naked face! I have started a long overdue cleanse, tone, moisturise routine instead of the 30+ years of just washing my face. I'll let you know how it goes and whether I manage to keep it up!
Heard
LP sounds like a little American cartoon character as she has learnt so many of her words from watching Mickey Mouse Clubhouse BUT this week she has a new found fascination with Peppa Pig and asks for Pep-pa Pig like the theme tune goes. You have to hear it really to know what I mean but it's the cutest thing!
Made
This week has been all about the actifry! We have been running down the freezer this week and having a lot of dinners at lunch time due to Hubby's shifts and so we had homemade burger and chips for lunch a few days ago with Actifry chips.
We then had Chicken Gumbo but instead of serving it with rice like we usually do I decided to do Actifry roast potatoes. Oh they are so, so lovely! If you don't have an actifry you really need one in your lfie – we haven't bought frozen potato products for over 5 years now!
and lastly…
We went to see the Easter Bunny yesterday afternoon and both LP and Little Man loved it. As a child we never really 'did' Easter but LP is loving it already and I can't wait to do an Easter Egg hunt for her and Little Man on Sunday morning.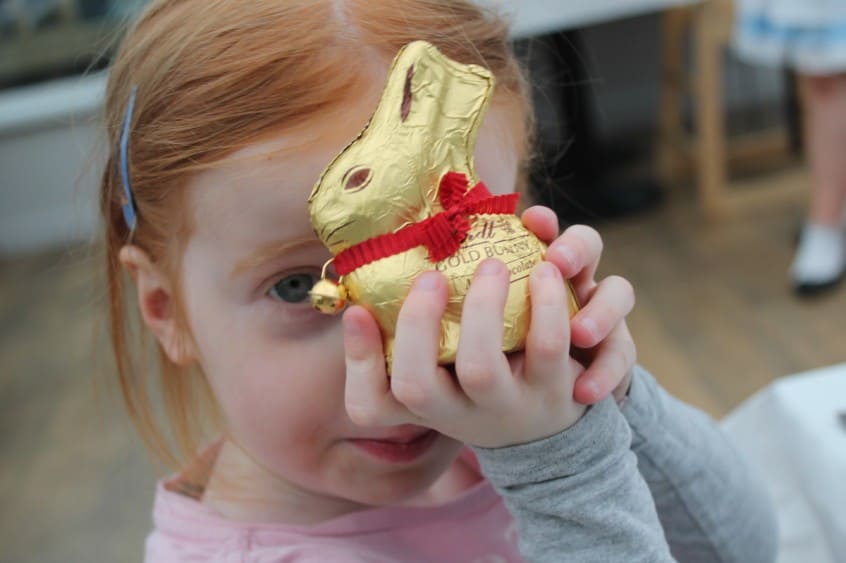 Have a wonderful Easter weekend whatever you are doing!