*This is a paid post
Little Man absolutely loves Thomas the Tank Engine and he has been obsessed with all things Thomas & Friends for the last couple of years – our Christmas this year is pretty much sponsored by Thomas! But, it can be easy to get sucked into Thomas toys that have no real educational benefit so when we were asked to test out the new Thomas & Friends Read & Play App I hoped it would help Little Man to learn whilst he plays.
The Thomas & Friends Read & Play App is perfect for any child who likes using a tablet or smartphone and who has even the smallest interest in Thomas. The app plays fun music from the show in the background which draws you instantly into the app and has so much to do once inside that any child will love to give it a try.
Little Man started out using the Thomas & Friends Read & Play App to read his favourite Thomas books. These are fantastic audio e-books that are completely interactive. The interface lets him click through the pages of the book whilst it's read out to him. He can also point out aspects of the story that glow when he touches him making it a really engaging aspect of the app.
The app also includes plenty of games and activities. He loved looking through Thomas books and pointing out parts of the story to hear the corresponding word and really enjoyed playing spot the difference. There were also lots of counting games where he had to count how many birds, tracks or horses he could see.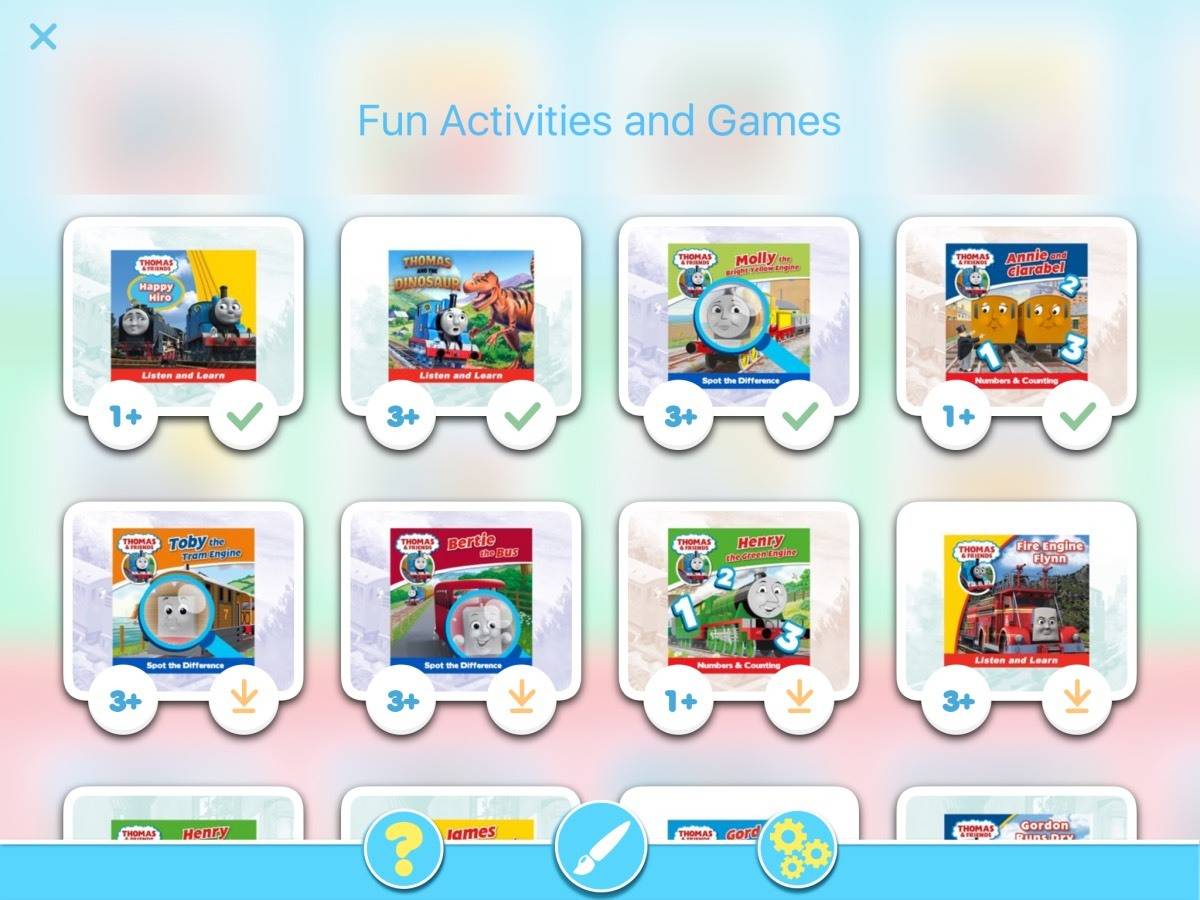 Little Man really enjoyed the games inside the app and was able to play pretty much independently, only asking Dave or I for help occasionally but most of the games and activities are self explanatory once they've been used a few times.
One thing Little Man never tired of is the Meet the Engines section where he got to watch videos about each of his favourite Thomas & Friends characters. It really explains each of the engine's personality traits and helps you understand more about them rather than just the type of engine and the colour they are.
Little Man's favourite part of the app was, strangely, the free play drawing part where he was able to draw and colour, take photos and add clip art to let loose with his creativity. It's nice that as well as reading and games there's also the simple thing of being about to draw and this is a feature exclusive to the iPad version of the app.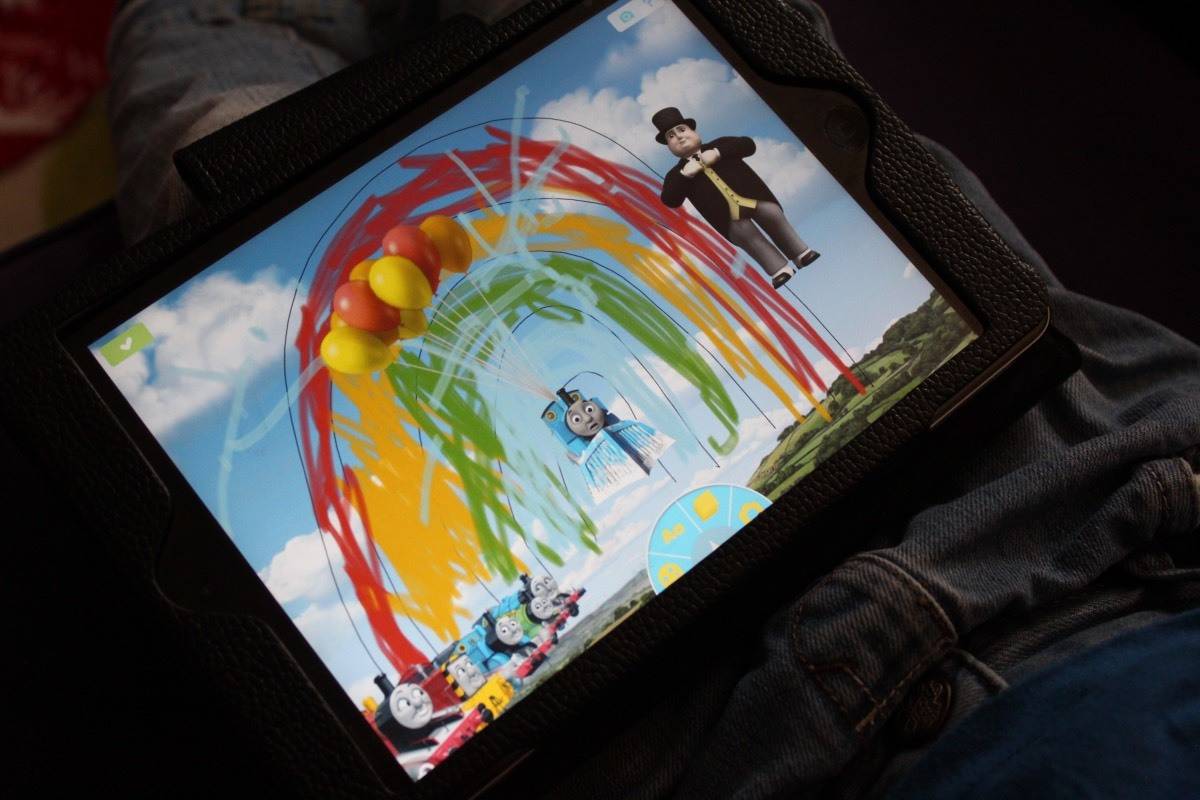 The Thomas & Friends Read & Play App is a completely safe environment for play and is completely free of adverts too – something I always appreciate with any app for children. I love that Little Man has found an app that not only suits his interests but teaches him so much as well. So far he's learnt new words, had help learning numbers and it's helped him follow the text of stories in books too.
To access settings on any other 'grown up' aspect of the app an adult has to hold their finger down on a circle to exit the child safe environment of the app. This is a great safety feature and something Little Man wouldn't be able to override by himself.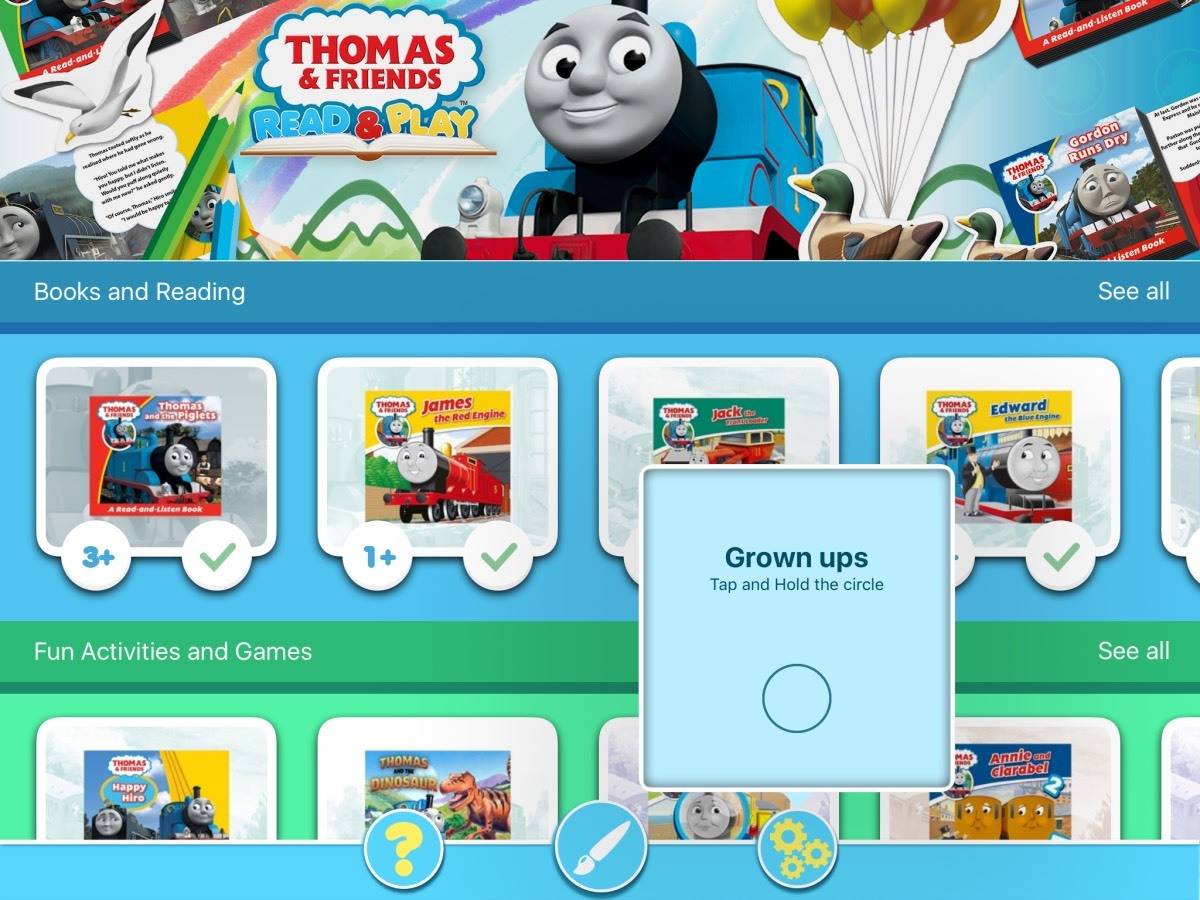 Little Man loves the Thomas & Friends Read & Play App and it's now a firm favourite. He's able to get a little dose of his favourite show wherever we are – at home, in the car or away for the weekend. If you would like to try out the app for yourself you can install a free version available from the Apple Store on both iPhone and iPad. The Android version will be coming soon!
The free version allows children to experience 14 videos, three books and two activities – so far – however you can upgrade the app to unlock even more Thomas content for as little as £3.99 per month or £39.99 per year as part of the Early Bird promotion. New content is added weekly too that gives your child a new experience each time they play – with a new video, new activity and new book added every single week!
So, make sure you search for Thomas & Friends: Read & Play in the App Store and let me know what your children think of the app. If Little Man is anything to go by they will love it too! What do you think would be your child's favourite part of Thomas & Friends: Read & Play? What type of apps do they usually enjoy the most?