*Some of the items mentioned in this post were provided for us to feature however all opinions are my own.
This post contains affiliate links and I may receive commission if you visit a link and buy something. Purchasing via an affiliate link doesn't cost you any extra, and I only recommend products and services I trust.
It's that time of the month where I share everything we've been loving this month – and August has had a lot to love in it! We've done so much and it's made such a welcome change after the last year and a bit of the pandemic. So, here we go with a little bit about August:
Holidays
We have had quite a lot of time away this month although we have stuck to the UK. We had a week in Shropshire with friends at the start of the holidays which was lovely after two years of not seeing them. We did so much – Bewilderwood, the Ironbridge Gorge Museums, Cadburys World… It was a really lovely break.
We also had a mini break in London, just two nights but three days that we packed with adventures. We went on a GoBoat on the Regents Canal, explored the Churchill War Rooms, did a Treasure Trail, had a picnic at Buckingham Palace, went to Kensington Palace and had a speedy trip to the Natural History Museum. It went by in a flash but we loved every minute of it.
We finished the holidays with a week in Weymouth, staying in a glamping pod – although we decided it was a plodge, as it was more lodge than pod! We went to Abbotsbury Swannery and Subtropical Gardens, did a couple more Treasure Trails, went to Portland Castle and spent a lot of time on the beach. We went to Weymouth last summer too and it was so nice to be back.
* New Books
In amongst all the adventures, the children have been constantly reading. They always revert back to firm favourite series' like Diary of a Wimpy Kid, Dork Diaries and Dog Man but they have just discovered the Treehouse books and love those too!
They've also been enjoying some new books this month. Mummies Unwrapped was one of LP's favourites as she absolutely loves learning about the Egyptians. Created by the British Museum, Mummies Unwrapped is a beautiful gift book that uncovers so many Egyptian mysteries. What is a mummy? How were they made? And is there really such a thing as a mummy's curse? It has loads of grisly detail and covers everything from embalming and tomb robbers to mummified pets!
Adam-2 was one of Little Man's favourite books this month and he's really started to get into more grown up chapter books. Adam-2 is a fantastic adventure story about robot Adam-2. He has been locked in a basement for over two hundred years until he is discovered by two children and finds the world has been ruined by a civil war between humans and advanced intelligence. Adam holds the key to the war, and the power to end it – to destroy one side and save the other. Such a gripping story!
The Drowned Ones is another great chapter book that we've been enjoying this month. The third in The Storm Witch trilogy, it is set in a world of islands, where Elemental spirits rule and pirates known as the Drowned Ones roam the seas. Thirteen-year-old Storm is at the centre of the story. She has great, but dangerous magical powers and has to use them to stop the Fire Witch from carrying out her deadly plan. I'm loving the amount of great novels that Nosy Crow are releasing at the moment – LP and Little Man really enjoy them.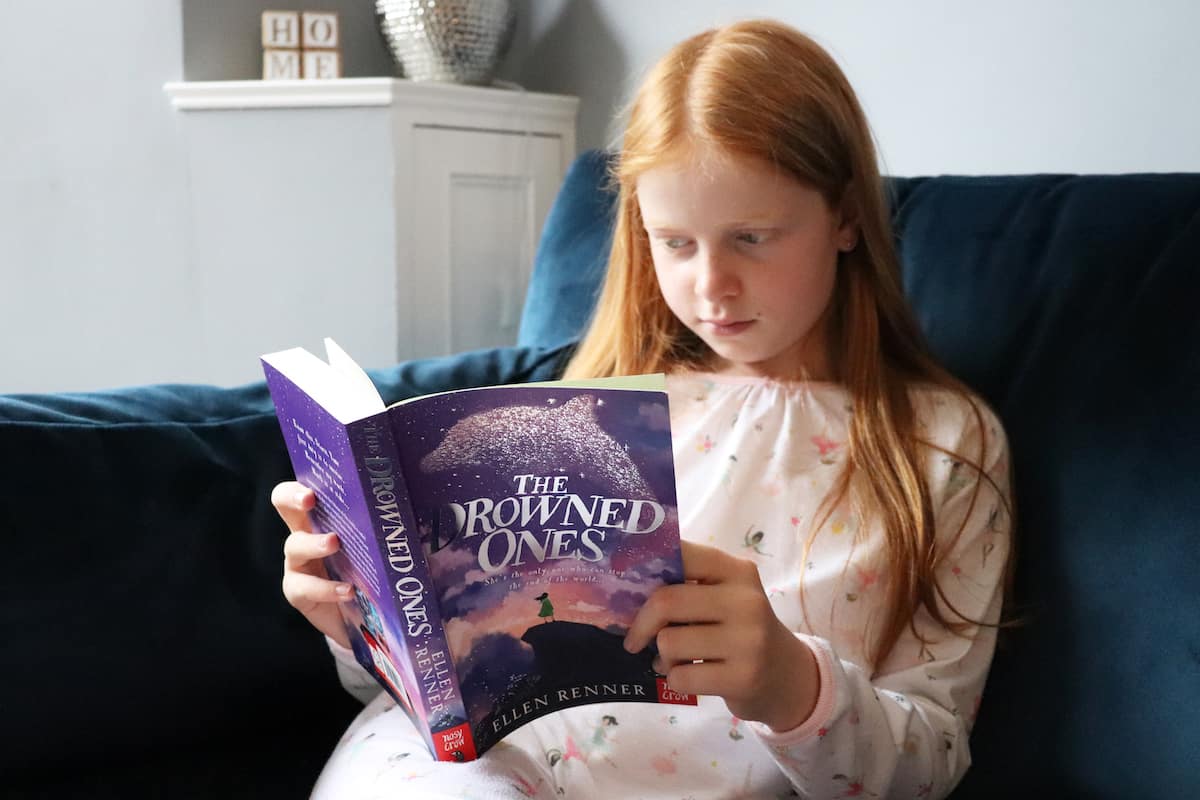 Another book Little Man has enjoyed is How To Be A Human. It's the first book in the new Star Boy series. It follows Star Boy, whose space pod has crashed in the grounds of a school. He hides in the boiler room and spends time watching humans go by. He is the first from his planet to have the opportunity to study humans up close and
when he sees Wes and Kiki he decides to follow them to study their lives. It's a great adventure book written from a completely new perspective.
One author that never fails to entertain the children is Pamela Butchart and her latest book, Petunia Perry and the Curse of the Ugly Pigeon had them both in stitches. The book is an hilarious account of Petunia Perry's life. She has a best friend who stages one-person flash mobs in the school canteen, a mother who over-shares at parents' evenings and an unwelcome suitor who draws pictures of her as a unicorn! It's all about standing out at secondary school, daring to be different and a great read for anyone who has secondary school to come.
Seven Sisters is a beautiful hardback book about seven sisters who are all different, with their own characters and personalities. It's a book that really celebrates people's differences and the beautiful, colourful world that we live in.
One book that was totally different to anything else we have read this month is What a Wonderful Phrase. It's a beautifully illustrated book that has had the children laughing so many times! It's filled with phrases from around the world, letting you travel from country to country and learn the history behind interesting and unusual idioms, and the cultures which shaped them. With phrases like the Japanese saying "to wear a cat on one's head", the book really explores the diversity and importance of language worldwide. It's fun but educational and really teaches children the deeper world around languages.
My favourite book the children read this month was Solve Your Own Mystery. It was just like the choose your own adventure books I loved as a child and both LP and Little Man loved the fact they could make the story whatever they wanted it to be! Great fun for anyone who loves to read or make up stories!
A book for any child that loves science is Eureka – a big book of discoveries. This beautiful, large format hardback book would make a fantastic gift and it introduces readers to the people who developed electricity and the scientists who looked to the stars plus so many more. It's a really educational but inspiring read.
Days Out
As well as holidays and short breaks full of days out and adventures, we've also been for a few little days out as a family and with friends too. We had a morning at The Lexicon meeting the Bracknell Tree Giants who have taken over the shopping centre until the end of the summer.
We also had a fantastic day out at Amberley Museum with Lauren and the children at the start of the month which is my ideal day out – an outdoor museum where we can learn whilst enjoying the sunshine! We also went to the Rural Life Museum which was another great outdoors day out.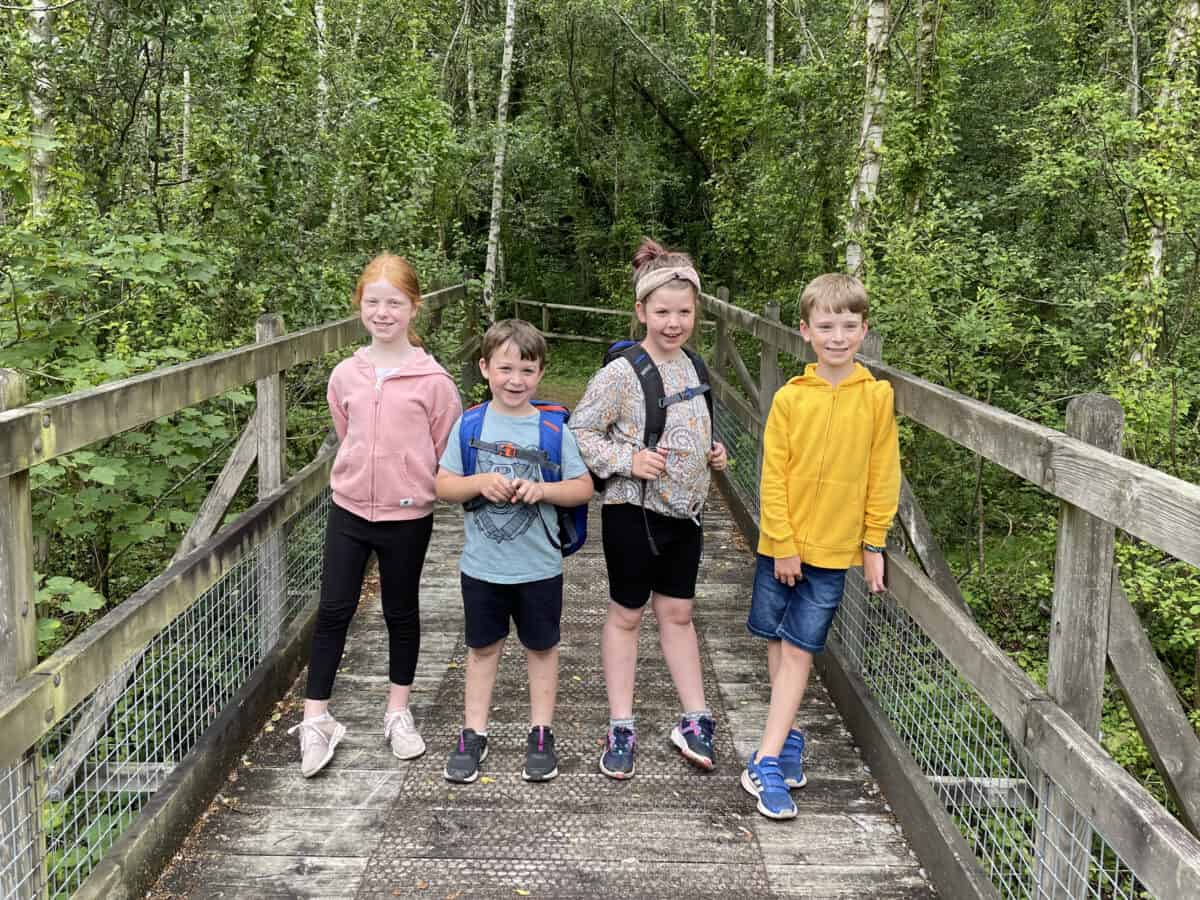 We also went to Blenheim Palace, Butser Farm, a fantastic lavender field and had days with Lucy and her gorgeous kids and Colette and her trio. It's been a month full of fun, friends and adventures.
* Beauty Products
I love trying new hair and beauty products and this month I've been trying a great range from The Hair Boss. I already love The Double Hair Mask which I've been using for over a year now. The mask has two layers of product to use and it's really easy – you can wash it off straight away or leave it for longer for really damaged hair. It gives great results even after the first couple of uses.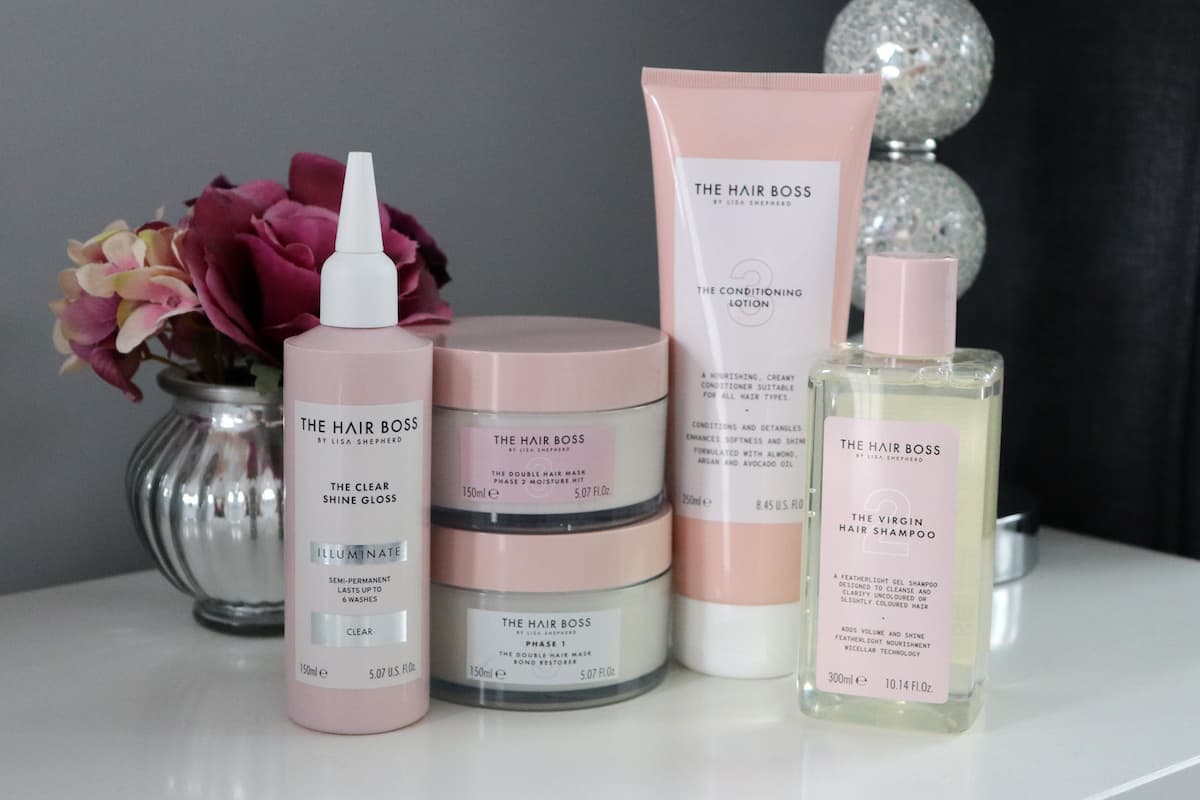 Another product I've loved trying is the Virgin Hair Shampoo which is really light and leaves my hair feeling super clean, removing any build up and just helping to restore it to it's natural glory. It's really nice to use and smells great too.
After using The Virgin Shampoo I've been trying out The Conditioning Lotion which is a great conditioner. It's helped to keep my hair more manageable, reducing tangles and making it super soft and shiny.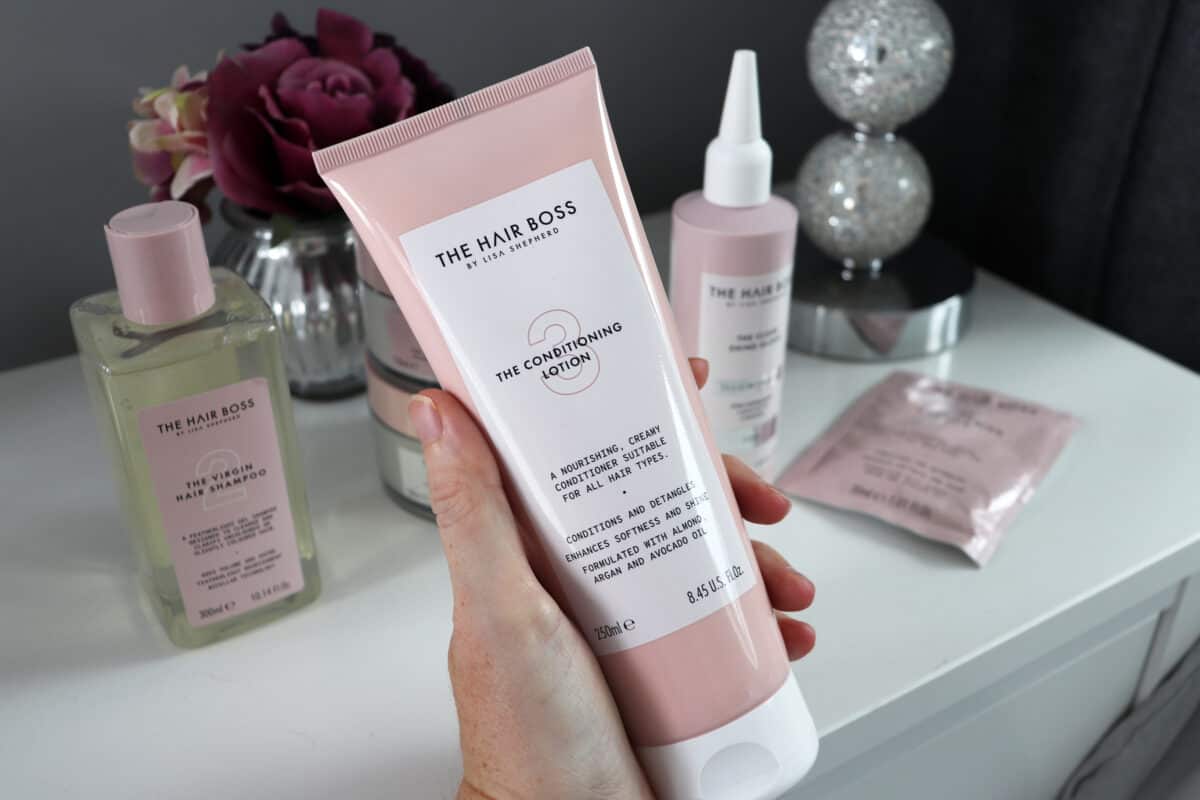 Another product I've been using which is more treatment than simple product is the Clear Shine Gloss. It gives results that last up to six washes, adding a luxurious shine. I definitely saw a difference after my first use and it's something that I'll be using regularly going forward.
Something I discovered this month is the Beauty Pie Super Pore-Detox which I saw someone using on Instagram Stories. It looked like something I just had to try so I bought it and love the results. It's a thick black clay mask that draws all the impurities from your pores and it left my skin feeling so much softer and tighter than it's felt in years. I love it.
* Activities
The children love nothing more than something new to do at home and this month they were sent one of the new Mini-Builds from Build Your Own Kits. These Mini-Builds are a range of insects that children can build independently in around twenty minutes, following step by step instructions and creating a model that can be kept and enjoyed forever.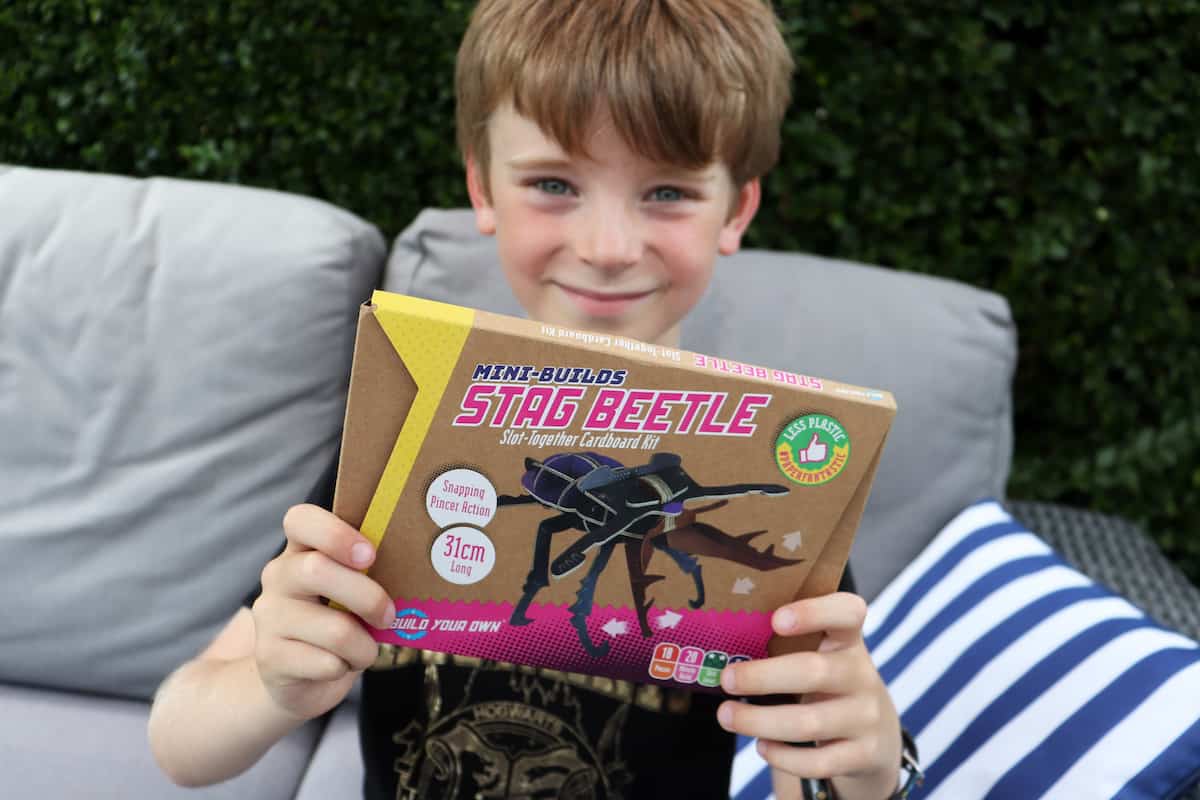 Little Man made the Mini-Builds Stag Beetle and he absolutely loved it. He sat quietly with all the pieces spread out and was able to follow each step to create a really beautiful stag beetle – that even had some moving pieces! The finished model is so well made and durable, fantastic to keep and treasure. You can see the whole Mini-Builds range over on the Build Your Own website.
The children also love new Nintendo Switch games and with their own consoles now it's great to have a nice range of games for them to play. Their latest discovery has been the Paw Patrol the Movie: Adventure City Calls game from Outright Games.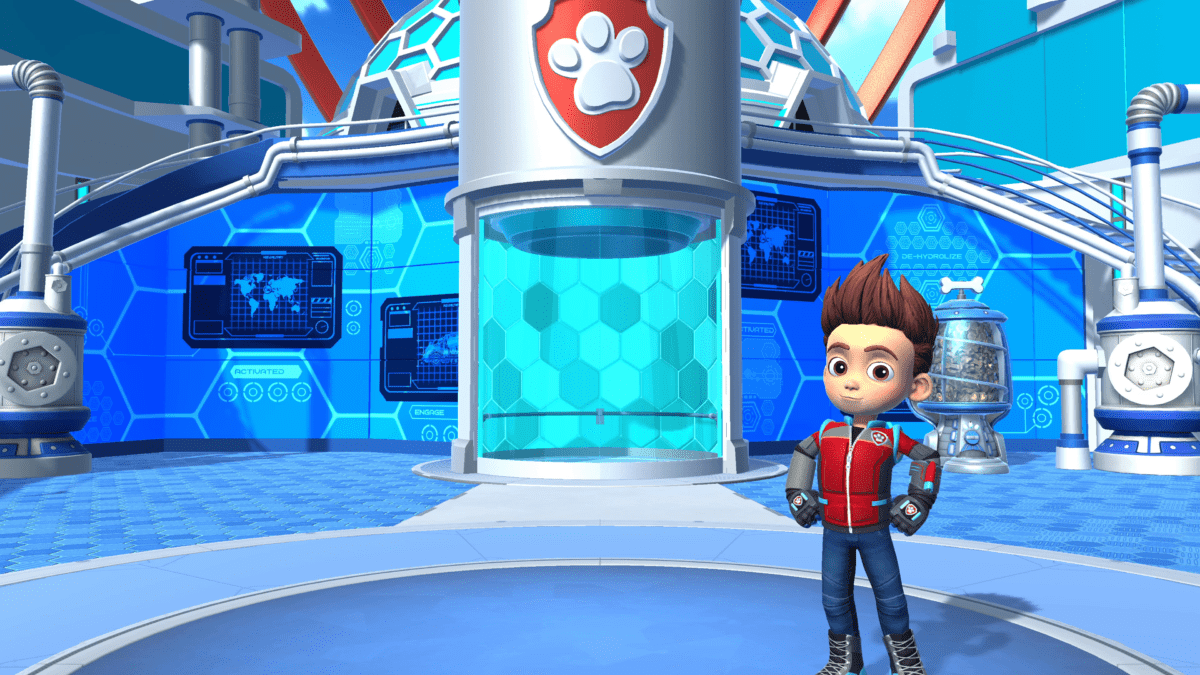 Based on the new Paw Patrol movie, the game joins the familiar Paw Patrol,= pups and their new pal Liberty in a fantastic big city adventure. In this latest mission you help the pups go head to head with Mayor Humdinger who is plotting to take over the buzzing metropolis of Adventure City. You become your favourite Paw Patrol member to save the city – something any Paw Patrol fan would love!
So there you have it. So many things that we've loved and enjoyed this month. August has been a really lovely month and I can't believe that we're back to school in a few days, and the start of a whole new academic year. The summer has gone far too quickly!