Any regular readers will know that we love technology and when the makers of a wifi lightbulb got in touch, I was more than a little intrigued to see how the humble light bulb could be modernised! Lightbulbs have been around for over 130 years, with the only real leaps in the technology in that time being what we know as the energy saving bulb and more recently LED bulbs. How could a wifi enabled bulb be useful?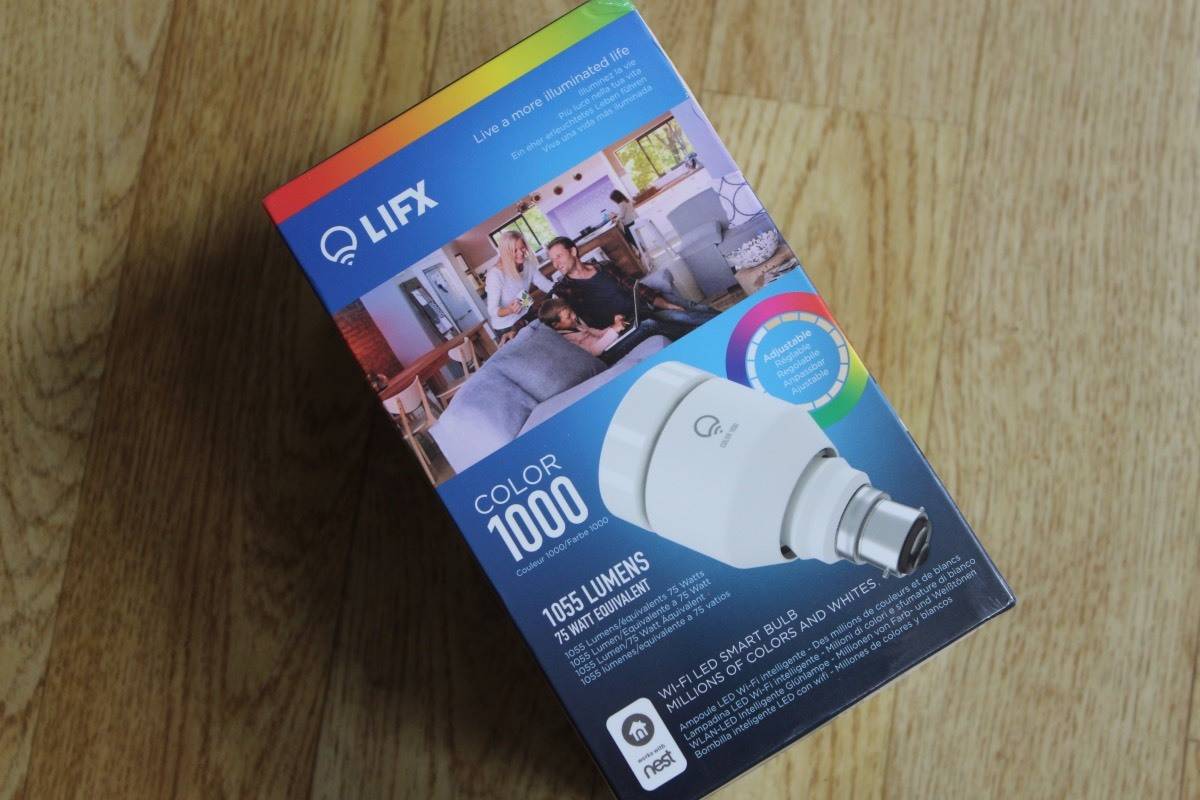 Well, the LIFX Color 1000 is quite remarkable and fits into modern life almost instantly. I say almost because it took hubby an Android App, an iOS App and finally a Windows 10 App (I know!) to get the bulb to work. It needed a firmware upgrade straight out of the box and achieving this was a little tricky. Hubby tried his trusted Android phone first, but the bulb would not accept the home wifi configuration to start the upgrade. The same was true when using the iOS App, but it got a little further into the configuration but would not show up within the App after the upgrade was supposedly complete. Finally, Windows 10 came up trumps with a version of the App that worked on the first attempt. The configuration was then pretty straight forward and the Android and iOS Apps also now recognised the bulb and were able to operate it.
Options within the App are also very straight forward. There are apparently millions of colours available along with thousands of shades of white too. You will be able to find a colour or shade of white that suites the mood whether it be a softer white for a cosy evening in or a more natural daylight shade for brightening up a room when needed. There are also several preset themes for lighting, ranging from intense, tranquil and powerful to dream, serene and blissful. You can even set the bulb up to simulate a real candle in flicker effect!
The LIFX App is also able to work with other pieces of wifi enabled tech in the home. Already having a Nest Thermostat at home, Hubby was pleased to see that the LIFX App could be used in partnership with Nest. This works when in Away Mode on the thermostat, for example when you're on Holiday, Nest will automatically detect this to use less heating or none at all when your not there. LIFX uses the Away mode and will randomly turn on what ever LIFX bulbs you may have set up, to make it appear as if your home is still occupied.
Apart from the initial firmware upgrade headache, the LIFX Color 1000 is great for modern living and any number of bulbs throughout the house can be controlled from a handy App. You can group them into rooms too, so you can tell each bulb to do the same thing.
LIFX produce bulbs that are available in various fittings so you will be able to use them all around the home from ceiling lights to table lamps. And with energy efficient LED technology inside, you will not only save money but you'll be doing your bit for the environment too. We love having the LIFX Color 1000 Lightbulb in our lounge and we have been impressed that LIFX really have modernised, and reinvented, the bulb! The LIFX Color 1000 Lightbulb has an RRP of £59.99
Disclosure: We were sent the above product for the purpose of this review however all opinions are my own.