*This is a paid post
This post contains affiliate links and I may receive commission if you visit a link and buy something. Purchasing via an affiliate link doesn't cost you any extra, and I only recommend products and services I trust.
LP absolutely loves school. She loves to read, loves to write and loves to learn. Although she is one of the youngest in her year she is keeping up with the class as far as her work is concerned. But, now she's starting to ask us more questions – what specific words mean and how to spell different words. Because of this, I think the new Collins Children's Dictionary and Thesaurus are going to be well used throughout LP and Little Man's time at school.
The Collins Children's Dictionary and Thesaurus are both lovely hardback books, perfect to keep on a shelf and use for reference whenever the children need to know something. Both books are really colourful, nicely laid out and easy to navigate. This means that once LP and her brother know how to use a dictionary or thesaurus they will be able to find words all by themselves.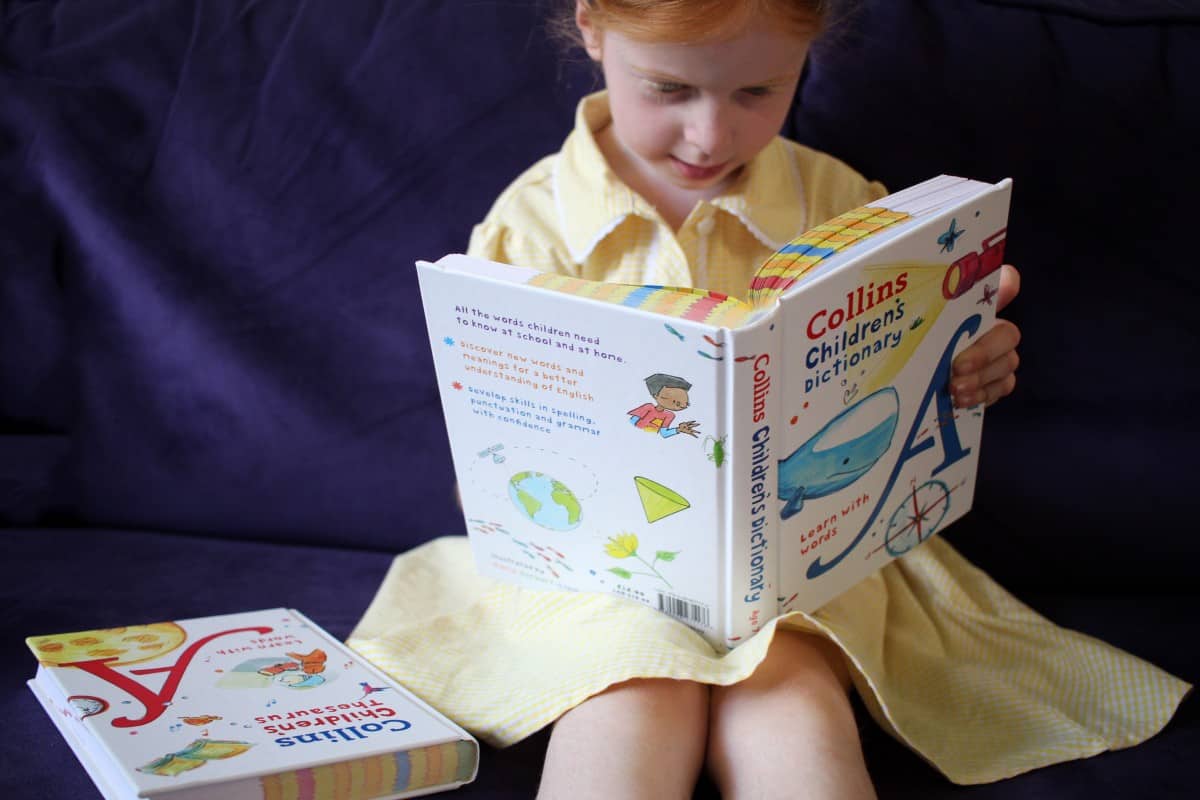 The dictionary has a really clear alphabet down the side of each page so you can quickly find the letter you are looking for. Each word is then written in blue with different variations of the word in bold next to it eg abandon – abandons, abandoning, abandoned. Each word has an explanation and antonyms are highlight throughout the dictionary too, helping with the children's understanding.
Throughout the dictionary there are also tips on pronunciation, synonyms and snippets of word history too. Rather than being just a dictionary it's a real learning tool that I know will really expand the children's vocabulary.
In the back of the dictionary there's also descriptions and guidance on the different types of words – nouns, adjectives, verbs, adverbs etc as well as tips on grammar and punctuation. It's probably the nicest and most user-friendly dictionary I have ever seen.
The thesaurus, on first glance, looks exactly the same as the dictionary with an alphabet down the side of each page and words in blue. But, alternative words are in bold and each word has an example of how to use that word in a sentence.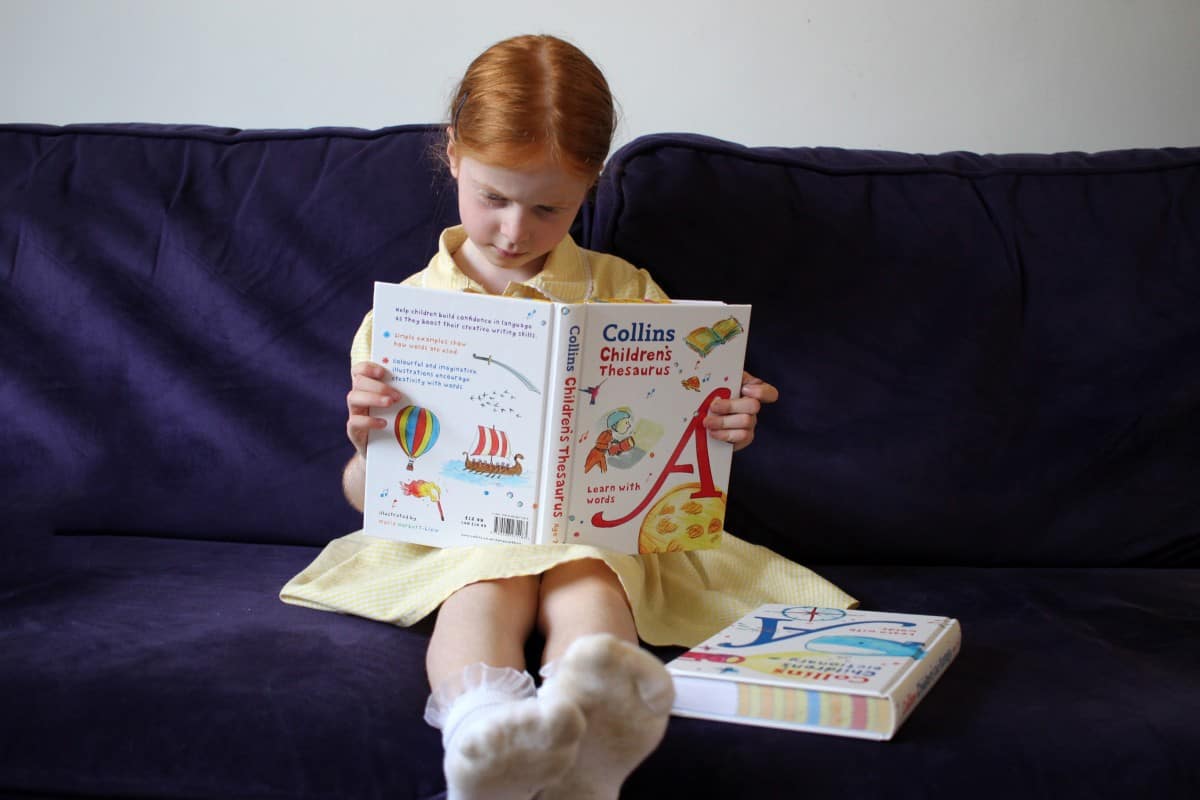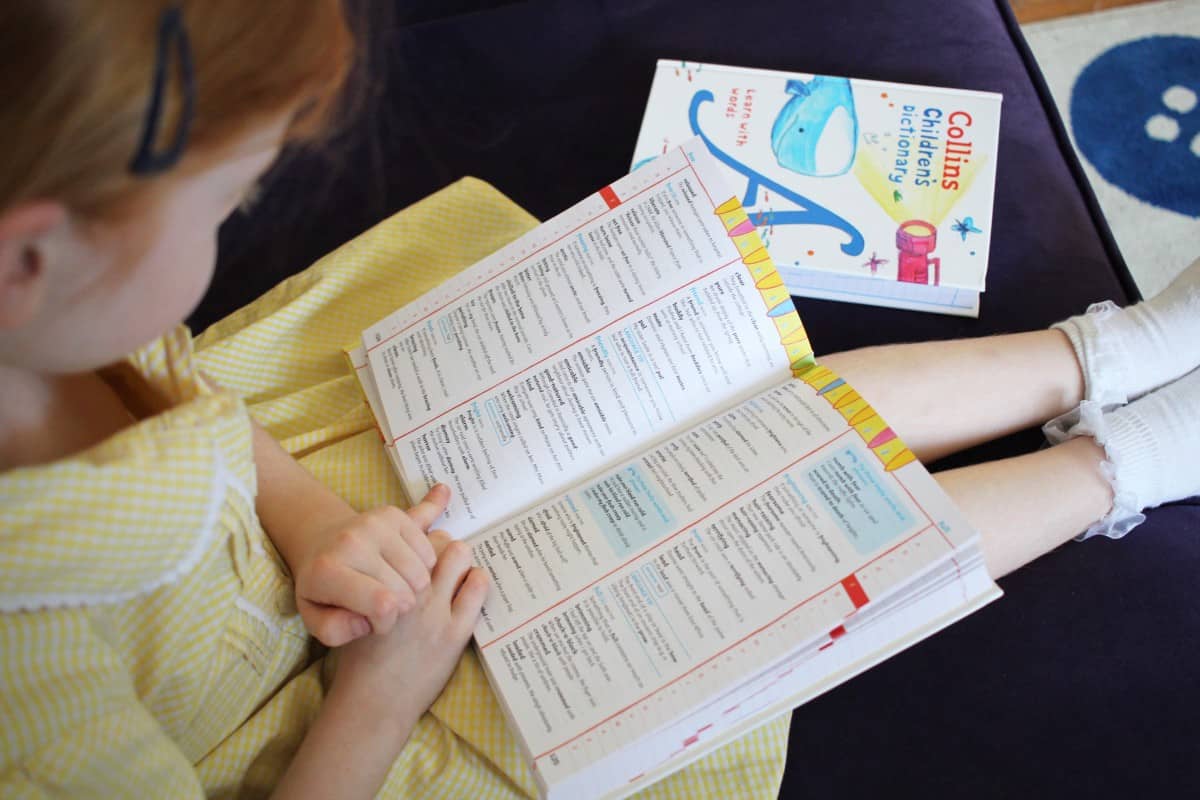 The thesaurus also has a section at the back giving advice on how to write a story and a story plan, the sort of thing that could be so helpful to children. Both books are the perfect books to aid a child's learning and I know that LP will be using both of these books regularly going forward.
The Collins Children's Dictionary and Thesaurus have an RRP of £12.99 each