Disclosure: We were invited on this day out for the purpose of this post however all opinions are my own.
Last year we took LP and Little Man to Kidzania London and really, due to Little Man's age, we didn't have the best of experiences and wished we'd left visiting until the children were both above the recommended 4+ starting age. So we were invited back to experience Kidzania with LP and her best friend, who are both nearly five and the age group that the majority of Kidzania is aimed at.
Kidzania is based in Westfield London and is easy to locate – right next to M&S and visible from a good distance due to the plane that marks the entrance. As soon as LP and her friend saw it they were excited and literally bouncing up and down.
The entry to Kidzania is just like boarding a flight, with airport queues and check in desks. The girls were each given 50 Kidzos – Kizania's currency and a hair net and we were all given wrist bands to wear. We then went through security and into the world of Kidzania.
Kidzania looks like a miniature city, with sky painted on the ceiling, street lamps and roads. The streets are lined with businesses that the children can work in and there are food and drink outlets too. It's a self contained attraction and your booking allows you access for 4 hours, after which time your wrist bands stop working and it's time to head home.
But for four hours children can do what they want to do and be who they want to be – it's a complete world of imagination. The idea is that they can work to earn money and then spend the money doing fun activities, spend the money in the shop or save the money for future visits.
LP and her friend were a bit overwhelmed at first, not knowing what to do so we took some time to walk around and see what was available to them for their age bracket. Each activity has a sign outside the door that says how long it lasts, what age it's suitable for and how much money they will earn – or how much they have to pay depending on the type of activity.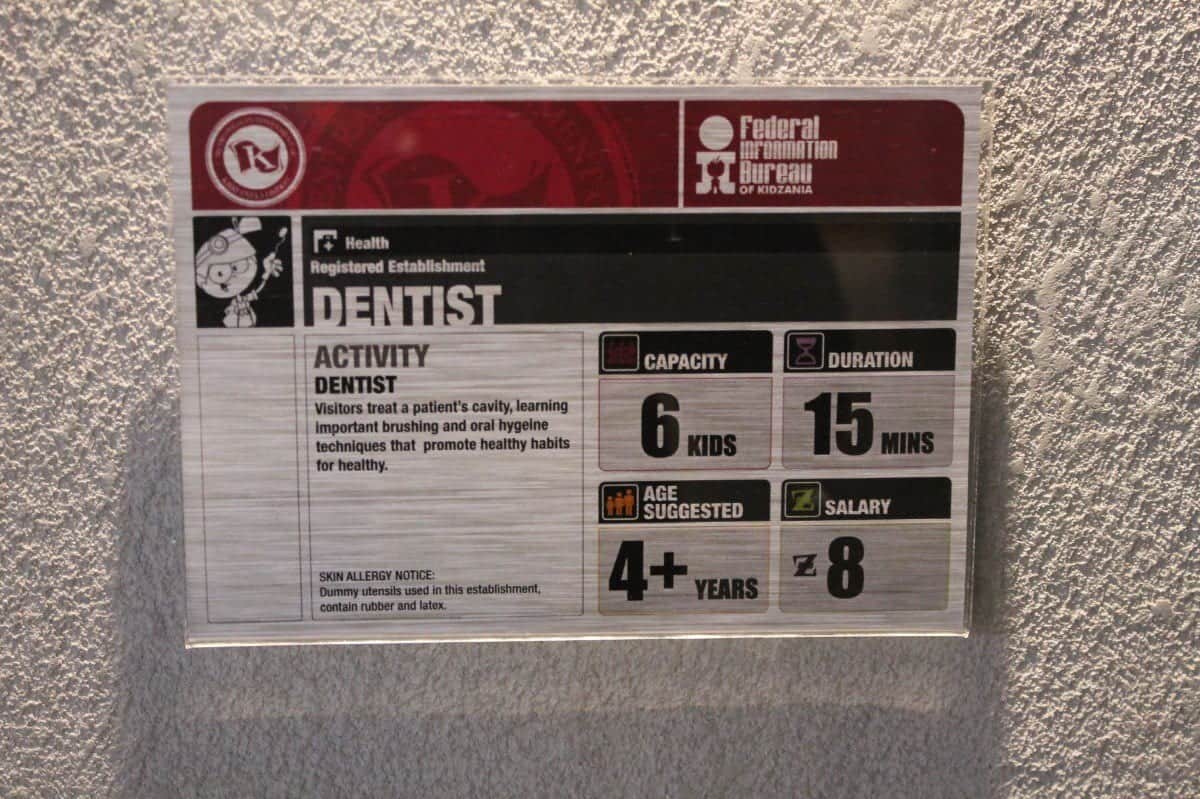 The children started off working in the supermarket. As it was quiet they got to be both customers and cashiers and they really enjoyed collecting items from their shopping list and then scanning them through the till.
At the end they earnt money and wanted to go and do something else straight away. The wrist bands allow the children to be zapped in and out of activities and we always know where they are and what they're doing. It also meant that, at times, a photographer would visit their activity room and take photos which were linked to the wristbands, ready for us to view later.
Most of the children's photos were taken in the H&M fashion activity where the children got to pick clothes from the current H&M season, try them on and then have their photos taken whilst parading around in them. It was great fun for boys and girls and you could see the children's personalities in the clothes that they chose. LP and her friend were in their element.
Some of the activities were more popular than others and had really long queues. We waited about half an hour for the children to be Cabin Crew on a British Airways flight but it was worth the wait as the children loved it. LP has no experience of aeroplanes yet and so this was eye opening for her – especially with our first holiday abroad in just over a month.
Some activities seemed to have a really low capacity, for example both the children wanted to be a DJ but the session only allowed four children in at a time and was only on once an hour. It would be nice if some of the sessions could have a larger capacity or have separate rooms for different activities eg DJ in one room, dancing in another so that there were more sessions rather than just one an hour. All alternatively you could have timed entry so the children could reserve a spot at a specific time.
One activity that the children really loved was making Mission Deli wraps. This cost 6 Kidzos but the children got to mix dough, knead it, flatten it into wraps and then see the wraps baked and put into packaging. They were then able to take them home with them.
The children loved making their own Mini Milk ice lollies but were a bit disappointed they couldn't then take one away with them. After making wraps and taking those away they were confused by this and I can't blame them. Making the Mini Milks into another paid for activity and giving them a voucher to redeem for a Mini Milk at one of the food outlets would make this a better experience I think.
They also went to learn about Innocent Smoothies which costs 12 Kidzos and they then come away with a smoothie but this was more educational rather than hands on and the children got much better value from the Mission Deli experience.
They would have loved to make chocolate in the chocolate factory but we ran out of time. This would have been another 12 Kidzos but they came out with a chocolate bar to take home. These hands on jobs where they got something to take home at the end were a really great part of Kidzania and something the children really enjoyed and would happily have done over and over again.
In any job that involved food or wearing hats the children had a hair net to wear. This has only been introduced since our last visit and is definitely a positive move as it would really help stop things like passing nits around and general food hygiene.
Many of the jobs involved dressing up and really getting into character. The children could have been fire fighters, paramedics and police officers if they had wanted and save lives, put out burning buildings and bring order to Kidzania.
There was also a tour bus to give you a trip around Kidzania and children could even take the tour if they wanted – pointing out sights along the way. Every single aspect of Kidzania is interactive and aimed at giving the children as full an experience as possible.
For younger children and siblings there's a Kindergarten room on the upper floor as well as a big play house to explore with soft play beds and a light up soft play bath to roll around on. This is great if you have two adults and siblings as one can do the activities with the older child and one can relax with the younger one however, having experienced this when we took Little Man last year we definitely had a better experience with both children being old enough to enjoy it.
One of the last things we did was get the children's faces painted. They both asked for butterflies and it cost them 15 Kidzos. This was a great way to end our visit and the children loved their painted faces but it was really busy – with queues of four or five children constantly and just one person painting faces. Such a busy activity like this could really do with having another face painter especially as there was space available for one.
There were also temporary tattoos available although these were only in red paint which put us off – a colour choice would have been great. We ended our visit with a trip to the shop where LP and her friend went in with a member of staff to find things to spend their money on. Things range from 40 Kidzos upwards – and have things worth thousands of Kidzos too for regular Kidzania visitors.
The children had such a lovely day and spent the journey home telling us all the other things they would have liked to do if we had time – painting, DJ, dancing, acting… The list was endless. In a four hour time slot LP and her friend did so much – it was exhausting just watching them – but we felt that there was still so much to do and we can understand why people go back regularly.
Kidzania was a great experience for two nearly-five year olds and the experience would change as they get older and try different things. In every activity there is something to learn, fun to be had and often something to take away too – money, a wrist band, a badge. The girls went home so happy, with so much to talk about and so many souvenirs that we are already planning our next visit.
Disclosure: We were invited on this day out for the purpose of this post however all opinions are my own.