Disclosure: We were sent the featured products for the purpose of this post however all opinions are my own.
This post contains affiliate links and I may receive commission if you visit a link and buy something. Purchasing via an affiliate link doesn't cost you any extra, and I only recommend products and services I trust.
STEM learning toys seem to be everywhere at the moment, ranging from chemistry sets to apps that allow children to make their own mini games. They are only limited by their imaginations and are a whole new concept in toys that children really seem to love and learn from. Programmable robots also come under the STEM umbrella and they tend to vary quite widely in the complexity of how they work and the success that children have with them so when we were sent Power Tracks we were interested to see how the children would get on with their new robot pal.
Power Tracks is a STEM Learning toy featuring a cool robot called Volty and is one of the more fun coding robots that the children have played with recently. Volty itself resembles a large rectangular 9v battery but has been given personality with the simple addition of eyes and a little smiley mouth. The set comes with twenty-four double sided tiles that are like giant jigsaw pieces which allow the children to make different tracks with, aiming to program Volty to complete a circuit of the tiles to get back to the beginning.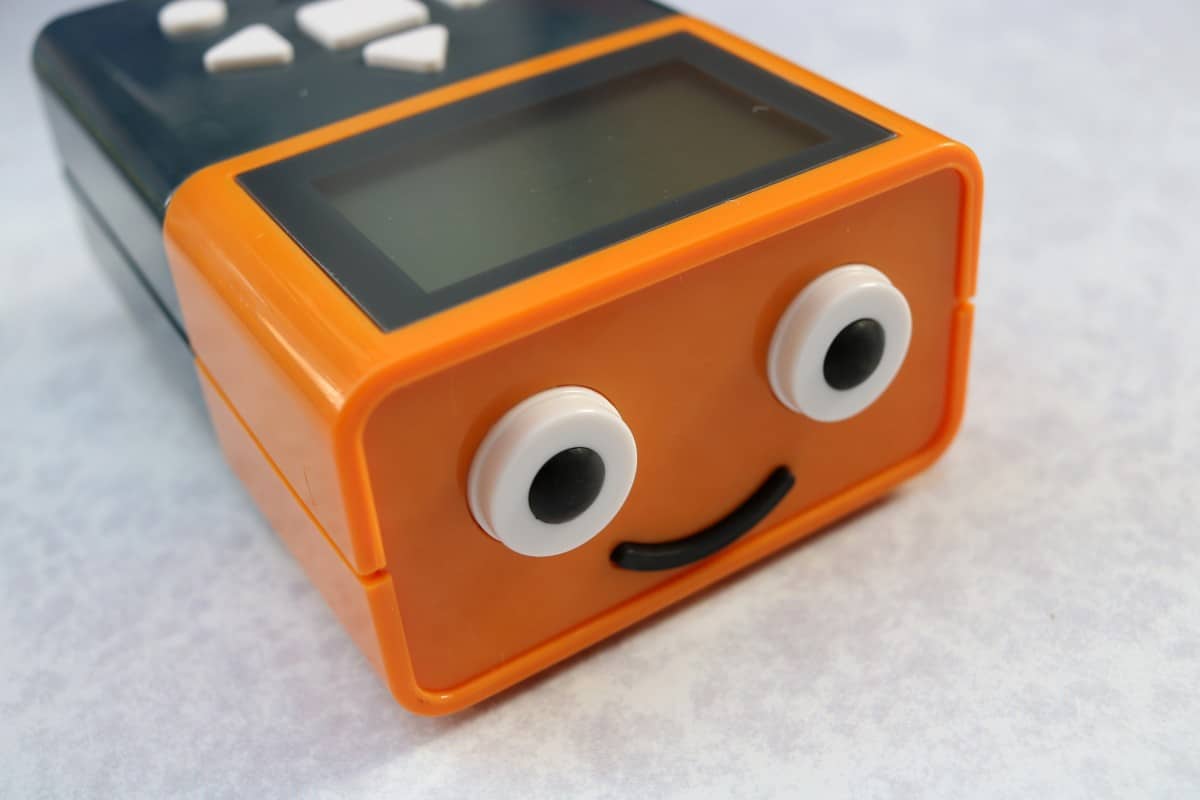 The set also comes with ten double sided circuit diagram cards that vary in complexity from simply moving forwards to circuits that will have all young minds really thinking. You also get the addition of a set of forty command cards, arrows that your children can place down in a row to help them remember what to program into Volty when they have completed the circuit they want the robot to follow.
One of the things that makes Volty stand out from other similar toys in our eyes is the addition of a simple LCD screen on Volty's back. You program the moves in using the large arrow buttons and they appear on the screen. Simple. You can see if the button was pressed hard enough, or if you've missed out any of the moves you want Volty to do. You can even add moves if Volty didn't follow the track as you intended it to without having to start the program sequence from scratch. Something that can be quite frustrating if it all goes wrong towards the end, making the children lose interest quite quickly.
One thing that could have enhanced Volty would be the simple addition of coloured buttons to differentiate between them. The light grey colour makes it hard to see the light embossing of a trash can and the program icon and easy to forget which one is which. A simple green and red system would make it a bit easier to separate the two.
The tiles that Volty moves on aren't just a basic track for the robot to follow – they feature electronic devices such as switches, LEDs and capacitors, power boosts and sounds. When Volty goes over certain items, for example a light bulb, his eyes light up! This feature delighted the children and made them want to add more special tiles to see what else Volty can do. One of our favourites was to use a volume tile and then a sound tile. This made the sound louder and the sounds played are random every time, varying from a siren, to laughter to breaking glass. This really keeps the children entertained as they don't know what's going to happen next.
The children enjoyed following the included circuit cards and were keen to make Volty do as many of the hidden features as possible. Once they realised that they could make any circuit they could imagine, they were off. Volty is the best coding robot we've come across and is amazing value too. Power Tracks would be a fantastic gift for any child and a great educational investment too. LP and Little Man love it!
Power Tracks has an RRP of £29.99