This post contains affiliate links and I may receive commission if you visit a link and buy something. Purchasing via an affiliate link doesn't cost you any extra, and I only recommend products and services I trust.
Before anyone asks, I haven't been paid to write this review. I bought the high chair myself and I love it. Why am I reviewing it? No-one seems to believe the Ikea Antilop is as amazing as it is. No-one gives the Antilop a chance and yet as soon as anyone uses an Antilop they never look back. I would like people to stop spending huge amounts of money on high chairs and buy one that is incredibly good value and long lasting instead.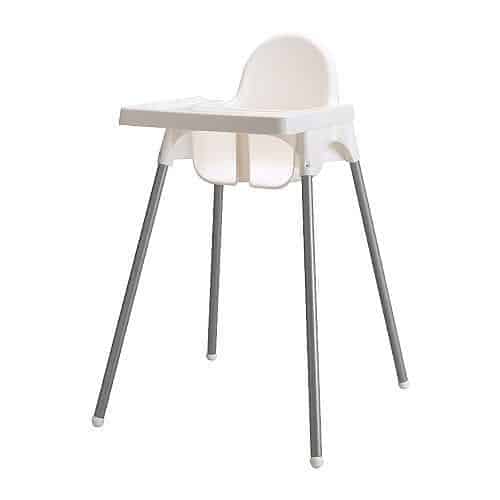 What is the Ikea Antilop Highchair?
The Ikea Antilop high chair comes as a seat unit, four push in legs, a removable tray and waist belt. It's really simple to put together and take apart again – to stick in the car to take somewhere or for storage. The removable chair tray and seat unit are each made of one moulded piece of plastic. This means there are no difficult nooks and crannies to clean. Both wipe down easily and the whole seat unit even fits on the bottom rack in a dishwasher. This has been useful at times when we've given LP and LM particularly staining food – tomato based sauces for example. We have also been known to hose down the seat unit outside in the summer and leave it in the sun to dry. You cannot get an easier to clean high chair.
How have we found using the Ikea Antilop High Chair?
The waist strap on the plastic high chair has been fine to keep our two children in place. Although when LP was small she needed extra padding around her as she was so dinky. The proportions of the Antilop make it suitable well into toddlerhood. Ikea do sell a cushion to pad out the Ikea white high chair. But after using it briefly we started to stick a cushion behind her and it worked just as well! LM is a lot more robust as a baby and is happy sitting in the Antilop without any padding.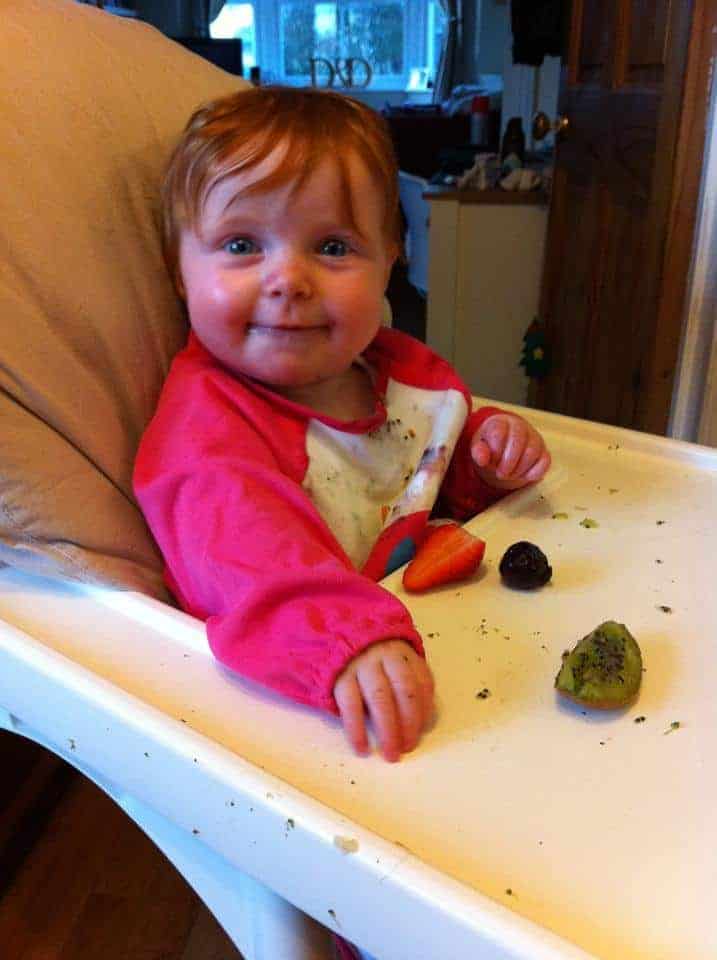 Are there any negatives to the Ikea Antilop High chair?
The only slight downside to the Ikea high chair is that it doesn't fold flat. But the legs do come off for ease of storage. It can also be used without the tray and pushed right up to the table. The Antilop is a hugely versatile IKEA baby high chair. It does exactly what you need from a high chair. It's somewhere for your child to sit and eat safely and something that is easy to clean. It doesn't have any gimmicks. There are no storage compartments, no removable tray compartments, no recline features. It doesn't turn into a bouncer, doesn't seat a newborn non eating baby and doesn't last a baby until adulthood. But to be honest, what do you need a high chair for?
Should you buy the Ikea Antilop High Chair?
Buy the Ikea Antilop. If not you'll end up buying a high chair with padding and before your child is a year old you'll be cursing the food stuck in the cushioned seat for the third time that day and hundredth time that week. You'll wonder why you bought a high chair that all food sticks in the gaps of. One that has padding which is wipe clean only and not machine washable or that you have to machine wash every single week to keep it clean. If by this point you haven't given in and bought an Ikea Antilop anyway then you have more perseverance than most!
How much does the Ikea Antilop High Chair cost?
The Ikea Antilop is £16 including the tray. Buy it, try it and I promise you'll love it. If you don't, it's only £16! Better that than spending £100 on a high chair you buy when your child is 3 months old to find out when they actually start eating you hate every single feature of the high chair.
If you can't get to Ikea then you are able to buy online with Ikea for a hefty delivery change. Or you can even buy from Amazon with inflated prices. There are also seat covers and a support pillow available from IKEA too. However, when minimising mess a seat cover is the last thing we need!