Eighteen months ago I put together a list of forty things I would like to achieve by the time I reached forty. I thought it would be good to revisit the list and see how I'm getting on.
1 – Get my teeth straightened
Last year I got my teeth straightened. It took five and a half months – so much less time that I had expected – and I am now the proud owner of beautiful straight teeth. It was part of a blog collaboration and I found the whole process so emotional. Straightening my teeth has changed how I feel about myself massively and given me so much more confidence. It has changed my life.
2 – Convert our loft – or move house
3 – Have a Michelin starred meal
4 – Have Mad Hatter's Afternoon Tea at Sanderson
5 – Stay at Crazy Bear, Beaconsfield
6 – Do a Try-Dive Scubadive
7 – Go Snorkelling
I learnt to swim last year after doing a residential swimming course in Wales. It gave me confidence in the water that I never had before and taught me to have my face in the water. Once I'd learnt that I was off – and happy to try anything water related so when we went to Florida last summer I snorkelled for the first time – and loved it.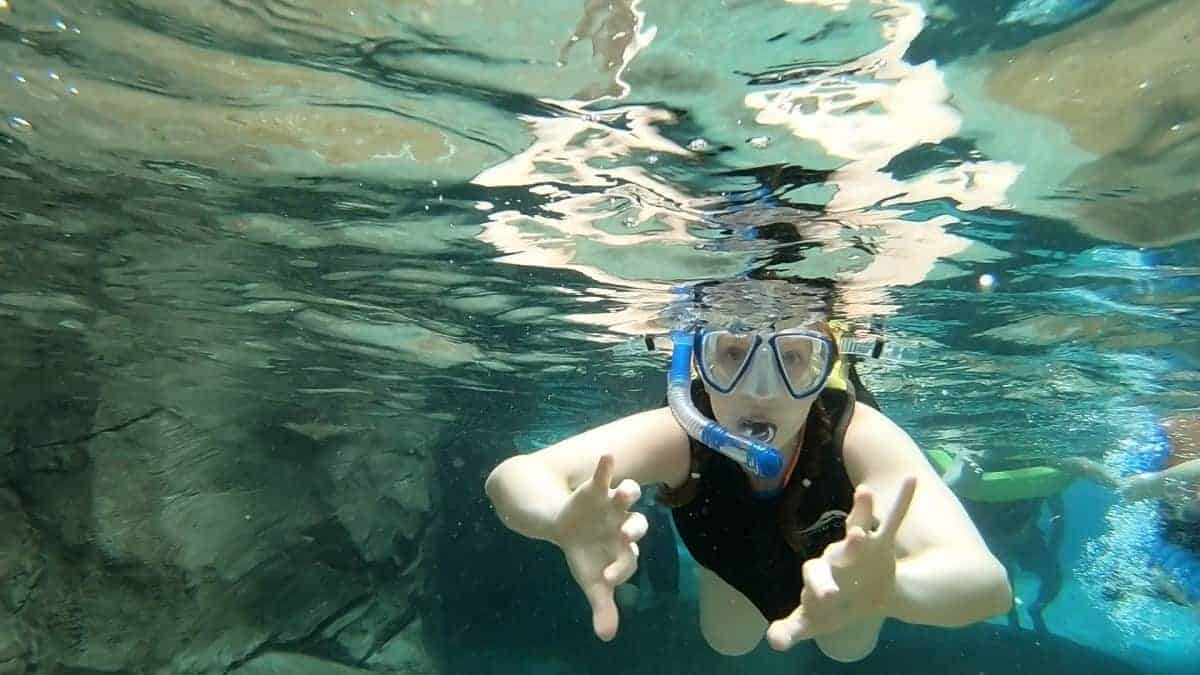 8 – Go on holiday to somewhere in the Indian Ocean
9 – Go on holiday to the Caribbean
10 – Go on a cruise
11 – Go to Lapland
12 – Visit New York
13 – Go to Blackpool
14 – Run 5k
15 – Go parasailing
16 – Get fitted for a bra at Rigby & Peller – and buy fancy underwear whilst I'm at it!
17 – Get a cleaner
We got a cleaner at the end of 2017 and it's pretty much the best investment we have ever made. For a year before that I was juggling working from home, Dave's shifts and trying to sort the cooking, cleaning and children's school related stuff between us around work. Dave changed jobs, got a Monday to Friday role, and I knew I couldn't then do all the housework and family related stuff myself whilst cramming full time working hours into the children's school days. So we got a cleaner. And it's such a relief. It's so much less I have to think about and I just vacate the house when she comes on a Friday morning and come back to a lovely clean house ready for the weekend.
18 – Go camping
We aren't a family that will ever go 'proper' camping but we do love to get as close to nature as possible with a glamping trip. The children love sleeping under canvas, hearing cows next to us in the morning and the small and comfort of a log burner. We had our first glamping trips last year with a weekend at Ready Camp in Drayton Manor and a weekend in a yurt in Devon. The children loved it.
19 – Ride in a helicopter
20 – See Ed Sheeran in concert
This one we haven't ticked off yet but we do have tickets to see him later this year!
21 – Watch all of the Top 100 Movies
22 – Go to a drive in or open air movie
Last summer saw us pitch up on the roof of our local shopping centre to watch The Greatest Showman. What an amazing movie. And watching it in the open air as the sun set, with a picnic and a blanket, was just perfect. We'll be going to the open air movie every year in the future.
23 – Ride in a hot air balloon
24 – Start a Limited Company
25 – Go offline for a whole weekend
Hand in hand with our glamping trips has been going offline. When there's wifi I will use it but when there isn't I really love to not check in to work, not scroll aimlessly through social media and just switch off properly, playing board games and having quality time. We've done it a few times and it's always just so lovely.
26 – Get rid of my fear of water – being out of my depth
I prepared for this when I learnt to swim last year but, even though I knew how to swim I hadn't been out of my depth. But, when we went to Florida, and found ourselves at Discovery Cove, I realised that to fully experience it I had to get out of my depth. So I pushed myself off some rocks, into water that was at least 10ft deep and I prayed that I could actually swim when I couldn't touch the bottom. And I could. I was so emotional, so happy and so proud of myself. I think that was a pivotal moment in life for me.
27 – Go on a barge
28 – Have a hair and makeup photoshoot
29 – Go for a Stylist appointment at a department store
30 – Read the Lion, Witch and the Wardrobe books
31 – Play Risk
32 – Teach the children Monopoly
We started playing Junior Monopoly at the start of last year but, by the end of the year we had progressed onto 'Proper-nopoly' as the children like to call it. It takes a lot more patience and the children need help with when to buy houses and what swaps to make but they really enjoy it and it's really helped with their maths too!
33 – Stay somewhere with a hot tub
At Easter last year we went to Wales for a week with our lovely friends and the lodge we stayed in had a hot tub. We went in it most evenings and the children even went in it a couple of times under close supervision. It was a great addition to our holiday.
34 – Do GoApe – again
I did GoApe in 2017 with my lovely friend Lauren and really wanted to do it again. So, last year we took the children to do GoApe Junior and had a great time. It was such a new experience for the children and one I'm sure they'll always remember.
35 – Get my wedding and engagement rings resized
36 – Watch 24
37 – Go to Ireland
38 – Fly in an upgraded cabin class
39 – Do something amazing for our 10th anniversary
40 – Have a birthday party
Ten things ticked off in 18 months – and just under six years to tick off the next thirty things! I think this is looking quite achievable – what do you think? Have you got anything you'd like to tick off over the next few years?