*This is a paid post
Coffee has always been part of our daily life – My husband is never far from the coffee machine and our home often smells of that wonderful freshly brewed coffee smell. But, did you know that there are actually a lot of health benefits to drinking coffee?
For years now I've been hearing about how coffee can really add to our diet – as long as we don't drink it in excess and stick to a maximum of 3-4 cups a day. Coffee contains a lot of antioxidants and appears to be protective against liver cancer as well as potentially lowering the risk of developing Parkinson's disease, Alzheimer's and Type 2 Diabetes. The more I've read, the more I've realised that coffee really is a worthwhile part of any healthy, balanced diet.
There are so many day to day benefits to drinking coffee as a single cup contains so many nutrients – it's amazing how much goodness makes it all the way from the coffee bean into that morning cup of coffee.
Amazingly, coffee can improve your physical performance too, as caffeine stimulates the nervous system causing it to send signals to your fat cells to break down body fat as well as increasing adrenaline levels in the blood. Add the fact that coffee is one of the few natural substances that has been proven to aid fat burning and you can see why it makes sense to have a coffee half an hour before you hit the gym – getting the most out of every workout and cementing itself as a really great addition to any morning routine.
I know, like many people, that I often feel lethargic, especially at this time of year, but coffee can help you feel less tired, more alert and increase your overall energy levels. The caffeine in coffee is a stimulant which can improve your energy levels, mood and even your brain function – it could even make you smarter!
My husband has been drinking coffee for years and it's always part of our morning routine – with us all sitting around the table, the children drinking juice and eating croissants or cereal and Dave having his first coffee of the day. Even on the weekend, with us all lounging around in our pyjamas, the coffee machine will be one of the first sounds we hear – so familiar to all of us.
If you're looking to invest in a new coffee machine or upgrade your current one, take a look at the Coffeeness Best Espresso Machine recommendations.
Over the years we've had so many different types of coffee in our home – from beans to ground and from countries all over the world. Coffee has been a complete fixture in our lives. But at the moment we're enjoying Cru Kafe's coffee beans, our latest find.
Cru Kafe create really high quality organic, fairtrade coffee – ground coffee, beans and even Nespresso compatible pods that are even recyclable. It's great that Cru Kafe go the extra mile to make sure their coffee not only tastes great but does as little harm to the environment environment as possible and has good ethics too – it's lovely to invest in brands that really do what they can to give back.
There are so many reasons why we love the Cru Kafe coffee beans. They are small-batch roasted once a week to make sure that the coffee is always the best quality and it means that Dave gets the nicest cup of coffee in the morning and we all get to appreciate a house full of that wonderful fresh coffee aroma. I don't think we have ever experienced coffee beans so fresh before.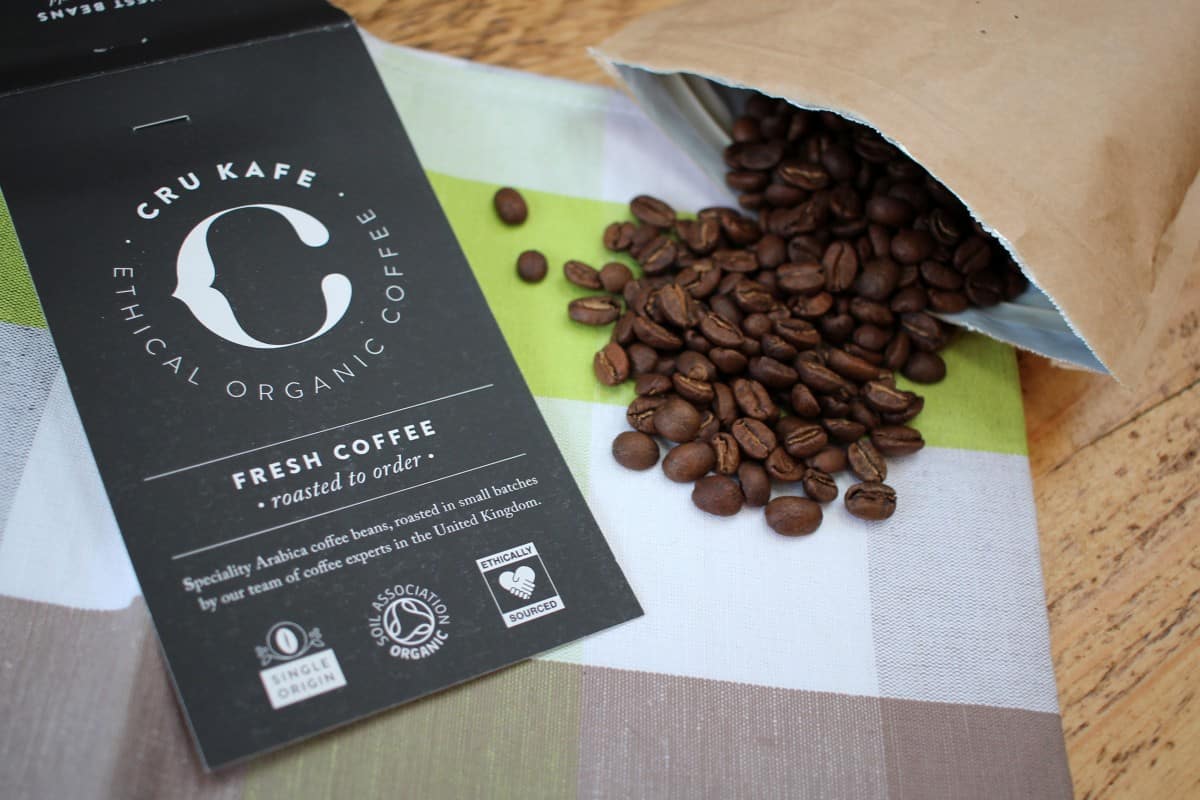 Coffee is definitely a staple part of our day and it's nice to know that not only does Dave's morning coffee taste great but it has so many health benefits too. You can rest assured that your regular morning coffee isn't just a habit but something that really does add to your diet – you can drink happily in the knowledge that coffee really is worth drinking.