After the popularity of my Cheese Scones post, I thought I would also share my Fruit Scones Recipe for a bit of variety, a sweet option and something else to add to the baby led weaning menu but also something that the whole family can enjoy.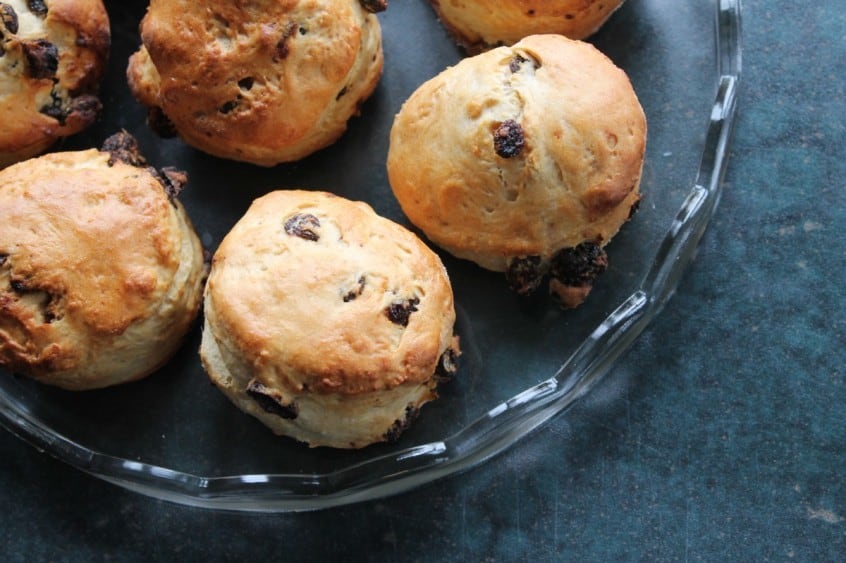 These fruit scones are Baby Led Weaning friendly, as the only sugar they contain is from the dried fruit in them. To mix the recipe up slightly you can substitute the sultanas that I've included for any other fruit you have – dried mixed fruit, dried cranberries, dried apricot chunks or a mixture of everything!
LP loves these fruit scones with butter spread on them but we've also given the fruit scones to her with a 100% fruit spread too. We use St Dalfour that should be available in all good Supermarkets. For adults, the scones aren't very sweet, but with jam and whipped cream they are definitely sweet enough and great to have as part of an afternoon tea or just a treat at any time of the day.
These fruit scones freeze really well – lay them out individually in the freezer and when frozen transfer them to freezer bags. This stops them sticking together. You can then make a big batch of them and defrost them a couple at a time as and when you need them.
How do fruit scones fit into a baby led weaning routine?
As part of a baby led weaning menu these scones work well for breakfast, as part of lunch or as a snack at any time of the day. LP is also happy to eat them plain when we're out and about and we've even enjoyed them on picnics too. They are a really versatile recipe that can be enjoyed in so many ways.
So here's my Fruit Scones Recipe – Happy Baking!
Fruit Scones Recipe
A baby led weaning friendly fruit scones recipe that is perfect for the whole family.
Ingredients
250

g

Self Raising Flour

1

teaspoon

Baking Powder

30

g

Unsalted Butter

60

g

Sultanas

200

ml

Full Fat Milk – Substitute with Skimmed/Semi-Skimmed if preferred.
Instructions
Preheat oven to 220C/425F/Gas 7. Grease a baking tray or line with baking paper. Sift the flour and baking powder into a bowl. Using your fingertips, rub in the butter until it resembles fine breadcrumbs. Stir in the sultanas and make a well in the centre.

Add the milk and mix using a cutting action until the dough comes together in clumps. With floured hands, gather the dough together, lift onto a lightly floured surface and pat into a smooth ball. Do not knead or the scones will become tough.

Pat the dough out to 2cms thick. Cut into rounds using a 5cm cookie cutter. Gather the trimmings and repeat. Place rounds close together on the baking tray and brush with a little milk. Bake for 12-15 minutes or until risen and golden brown.