Disclosure: We were sent the featured products for the purpose of this post however all opinions are my own.
This post contains affiliate links and I may receive commission if you visit a link and buy something. Purchasing via an affiliate link doesn't cost you any extra, and I only recommend products and services I trust.
LP and Little Man have always loved electronic, interactive toys. Ones that they can play along with, that talk to them, play music to them and have more levels of play than other toys. So when Fisher Price's Think & Learn Teach 'n Tag Movi arrived to review the children were so excited. The age range for Movi is three to six so at four and six it was the perfect toy for LP and Little Man.
The Think & Learn Teach 'n Tag Movi looks so cute in the box. He's a little robot that starts talking to you as soon as you press one of his buttons – which the children did constantly before we even took him out of the box.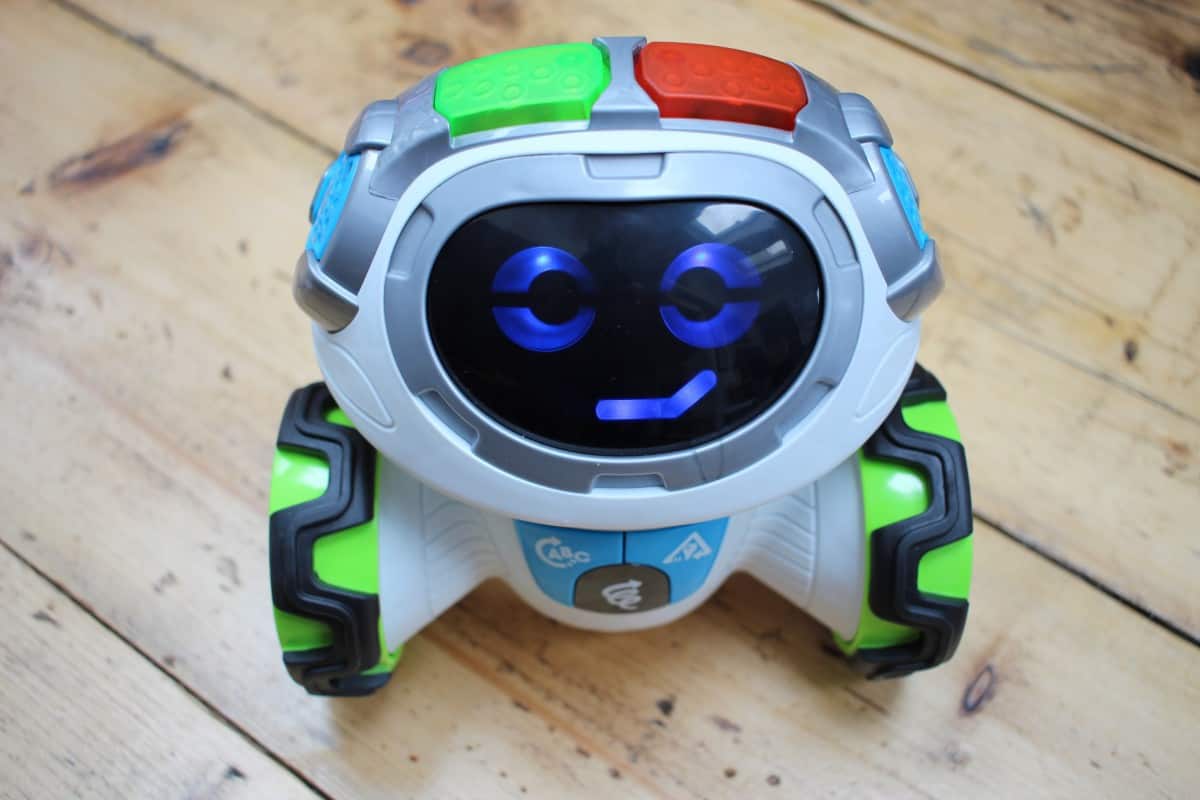 Once free from his packaging you just need to attach Movi's back wheel and then he's ready to play. He has an on off switch on the back and straight away he was moving around the room with ease. His three wheels give him 360 degree mobility so he can change direction and spin around with no problems at all and he could easily move across all floor types – carpet, wood and tiles.
Movi has three different play modes and six different games to play and each one encourages the children to move around and play whilst being active – so different to other stationary toys.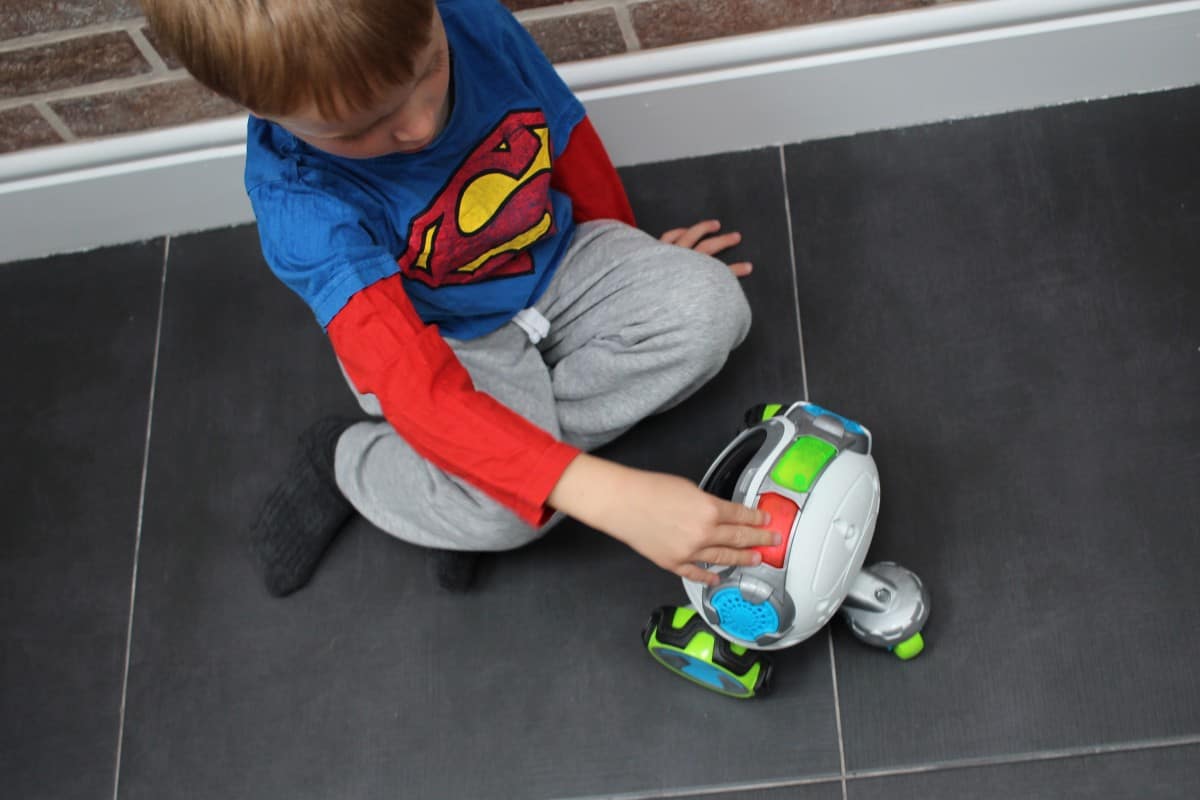 The children love it when Movi asks them questions – and they answer by pressing buttons on his head. He'll make animal noises and the children will have to guess what animal he's being or he'll ask them to think of an object and then tell him how many sides it has.
In other modes Movi will get the children to see if they can catch him – playing robot tag – or he'll get them to move when his face is green and stop when his face is red, staying as still as possible like musical statues. These games work better with a bigger area to play in to let Movi really explore but even in smaller spaces the children really enjoyed the games.
All of Movi's play modes help the children to listen and follow directions. They love to play Movi says where they listen to Movi's instructions and do the things he suggests like running, jumping or putting their hands on their knees.
Movi has such an expressive face that shows different emotions as the children play. His face also changes colour and the children love how friendly Movi is, thinking of him as the newest member of our family.
We've been playing with Movi every day for a couple of weeks now and he hasn't got repetitive. He's fun, engaging and the children love to play with him – it's like having an extra play mate at home for them. Movi always has suggestions of games to play and he's always happy to play with them. The children have really loved having him to play with and I think Movi would be a great gift for any child that has real longevity and a really realistic age range. It's also really good value for such an interactive toy – and comes with batteries included.
Think & Learn Teach 'n Tag Movi has an RRP of £44.99
Here's a little video of Movi in action: