Disclosure: The products featured were sent for inclusion in this gift guide however all opinions are my own.
This post contains affiliate links and I may receive commission if you visit a link and buy something. Purchasing via an affiliate link doesn't cost you any extra, and I only recommend products and services I trust.
It's that time of year where I start thinking about what to buy the dads in my life for Father's Day. I have quite a few men to buy for and this is actually one of my favourite annual occasions to shop for too.
Here are a few Father's Day gift ideas to give you some inspiration:
Something to eat or drink
I love gifting edible treats and Willie's Cacao has swiftly become one of my favourite choices when it comes to chocolate gifts. This Father's Day, you can spoil you dad with a 100% natural artisan Chocolate Tasting Box where he can then join Willie's Live Virtual Chocolate Tasting, a free zoom event on Father's Day. This is something the whole family could enjoy together.
Willie's Cacao also offer a Monthly Subscription where your dad could get a chocolate treat every month instead of just on Father's Day. The boxes take you on a journey from bean to bar with raw cacao beans, roasted cocoa nibs and ten all natural, artisan chocolate bars made from the best single estate cacaos in the world. Plus, each box contains two limited edition chocolates not sold in any shop.
For fun and quirky chocolate that will really make your dad smile, check out the amazing range of chocolate gifts from Sweet Trees. Their chocolate heads are something I haven't seen before and would make such a lovely gift for any dad with a sweet tooth. They are beautiful, well made, personalised and a great size for sharing. Our favourite is this M&M's Head with Hat and Moustache – the perfect gift for any M&M's fan!
Another great chocolate option for Father's Day would be a chocolate hamper – and Green & Blacks have a fantastic selection this year. Their Organic Tasting Collection and Red Wine gift pack is one of my favourite options from their Father's Day range.
The Tasting Collection takes everyone on a journey of taste with so many different flavours to work your way through. Plus, the the deliciously crafted smooth Little Black Pigs Shiraz complements the chocolate collection perfectly.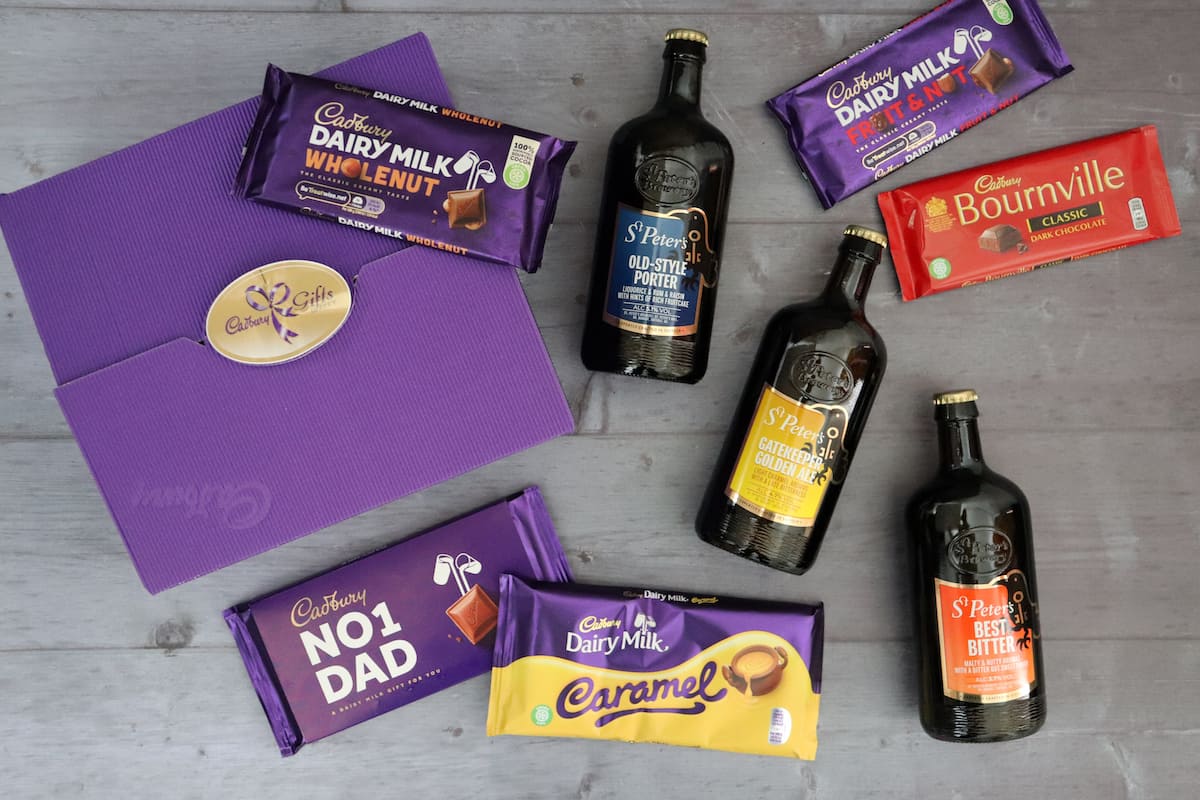 Cadbury also have a great range of Father's Day gifts and our top pick is this Cadbury Dad's Bars and Beers Hamper. It includes a selection of St Peter's Ales along with a variety of Cadbury Dairy Milk bars. Perfect for any beer and chocolate fan!
If sweets are more your dad's thing, you can't go wrong with Haribo. They have a great range of sweets now – including some new vegan varieties – and a bag of Haribo or a box of Starmix would always go down well!
And any celebration wouldn't be complete without cake. We love cake for birthdays, Father's Day – and even no occasion at all! But, what could possibly be better than cake? A stack of doughnuts from Bradford's Bakers.
The doughnuts arrive wrapped in a beautiful cellophane package tied with a bow and come complete with a personalised chocolate ribbon on the top. As soon as we opened the delivery box, that fresh doughnut smell hit us – it was incredible!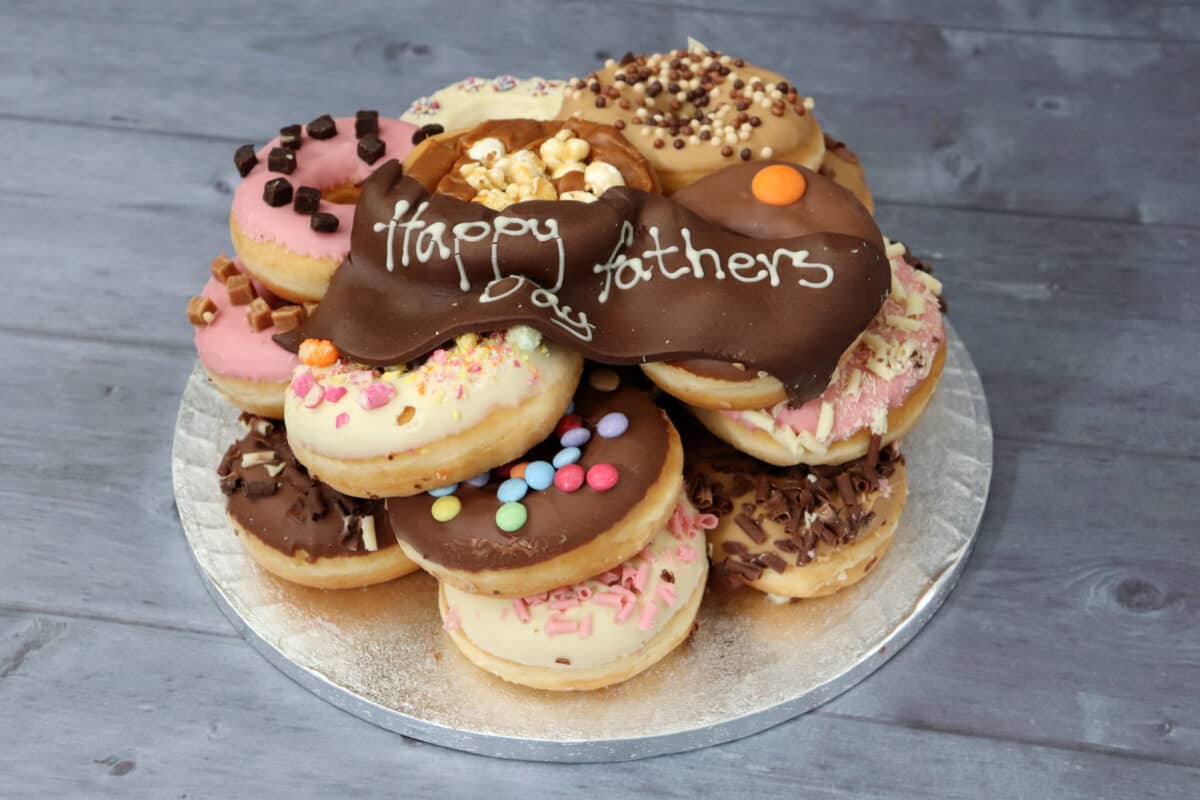 The doughnuts come in a range of flavours with different toppings and sprinkles on them with flavours to suit everyone. The children loved picking out their favourite doughnuts showing that this would be a fantastic Father's Day gift for the whole family to share. You can see the full Bradford's Bakery Father's Day range here.
I also love gift bags and hampers for any occasion and something a little different is this set of organic honeys from Honey Heaven. They exclusively source small, artisanal Hungarian beekeepers to provide their honey range of ten organic honeys.
Honey is always such a treat and organic honey is packed full of healthy compounds like amino acids, antioxidants, enzymes, vitamins and minerals. Honey Heaven has built on this, blending the honey with a raft of herbs and spices to give them all an unbeatable health and taste impact. This set is sure to be a wonderful gift for any honey loving dad.
For our family, Father's Day wouldn't be complete without coffee and this year we've discovered Black Insomnia. A really strong coffee made using traditional barrel roasting techniques, it's the perfect gift for early-starters, busy parents and workaholics. With ground coffee or beans, pods and coffee drip bags available, it's one that any coffee lover should try.
We couldn't have a Father's Day gift guide without an alcoholic tipple or two. First up we have Oxford Rye Organic Vodka. The first vodka from The Oxford Artisan Distillery, was distilled using an ancient population of heritage grain that has been grown locally on organic farms. It's clear and light, perfect for cocktails with friends.
Another great addition to your Dad's drinks cabinet would be Fok Hing Gin – I'm sure the name would make him laugh as much as it did me! The Hong Kong gin is a premium quality and pays homage to Hong Kong, using flavours that embody the light, colour, sound, atmosphere, variety and mayhem of the city. All 10 natural botanicals are sourced from a century-old spice shop in Hong Kong and flown to the UK where the gin is distilled and bottled! A gift that has travelled the world! – You can get 10% off using code FOKHINGLOVEDAD here.
Something to enjoy food and drink with
It's so nice to gift something that a dad can use to prepare food or drink with, eat or drink from and enjoy all year round. I love giving personalised products and one of my favourites this year is a personalised beer glass from North East Trophies.
North East Trophies have a fantastic range of gifts – awards, medals, trophies and so many engraved gifts that are perfect for Father's Day. I know that this pint glass will be used regularly – and I love the Grandad version too. Such lovely keepsakes for the men in your life.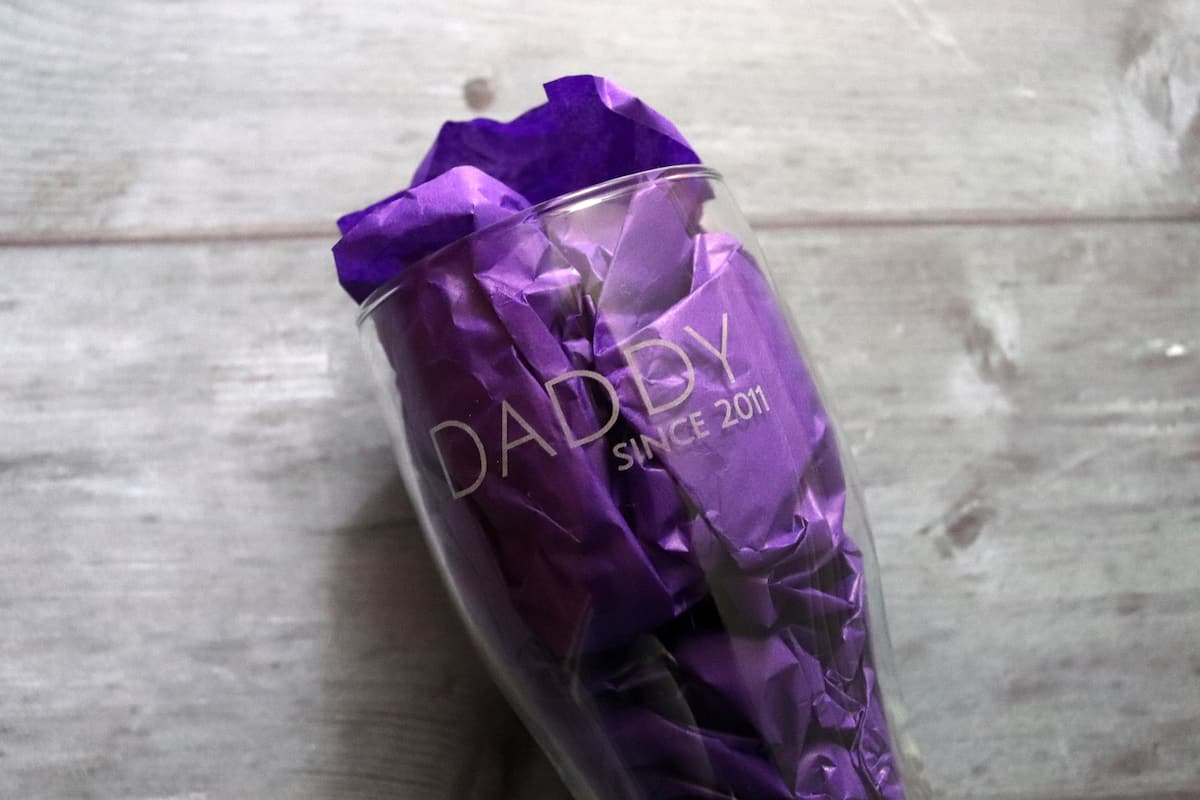 One thing every man should have in their life is a traditional beer stein and you can't get more traditional than German pewter stein. Weighing over 1kg and holding 500ml of beer, this is a tankard that any dad would treasure and looks great on the side too. You can see the full stein range here.
To help your dad work out what to drink, a Bar Compass could be just the thing. Put it on the bar – or kitchen side – and rotate it until your perfect drink is on show. It then gives you the recipe for so many classic cocktails. If your dad loves to try something new when it comes to drinks then he will love this.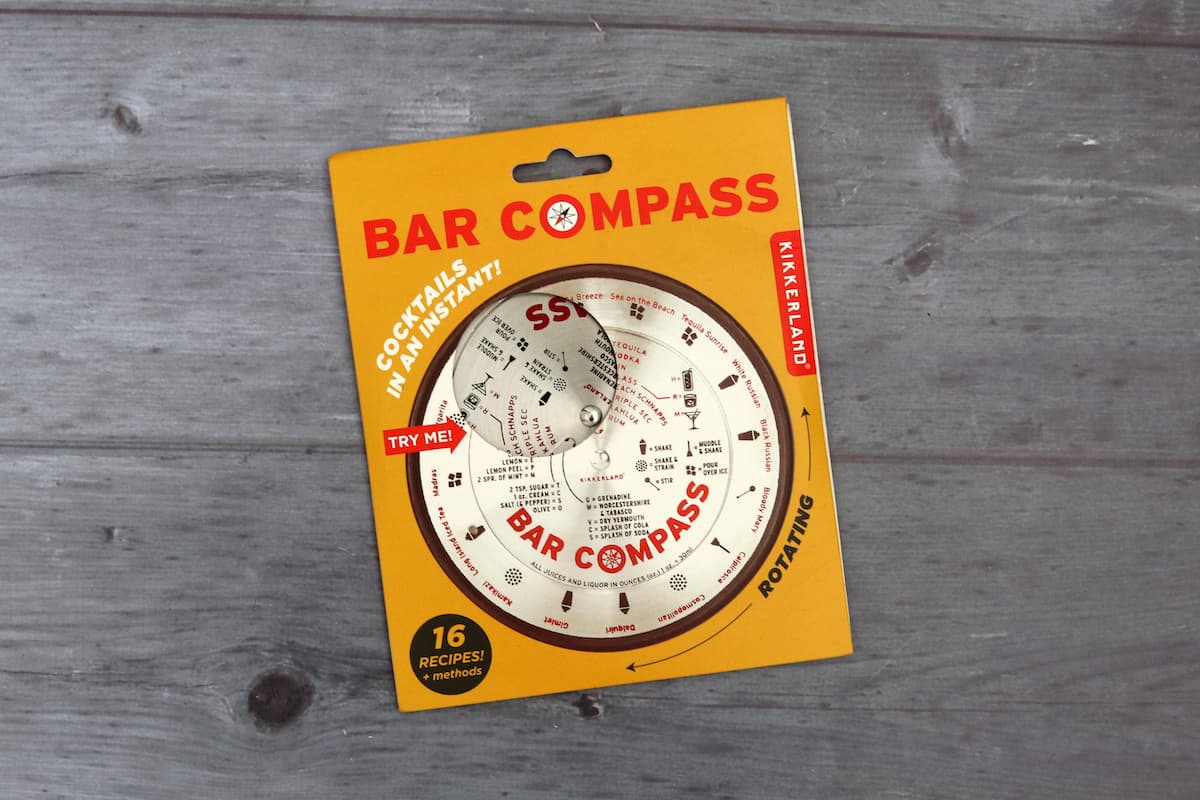 I love giving challenges as a gift. Something to inspire people and get them out and about. With that in mind, drink themed scratch off maps of the UK from Maps International could be just the gift this year.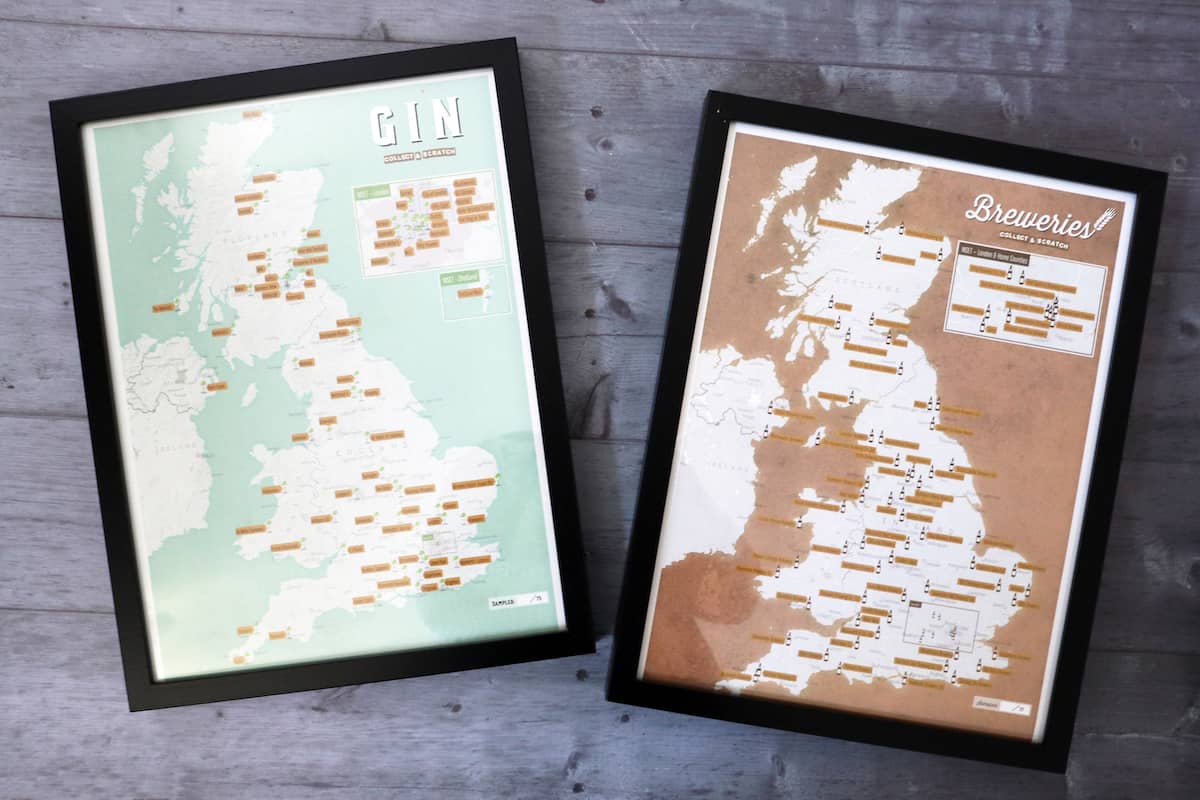 Maps International have scratch off maps for every personality – from football clubs and golf courses to hills and rock climbing. But, when I thought of the men in my life, breweries and gin distilleries across the country seemed like the perfect thing to tick off.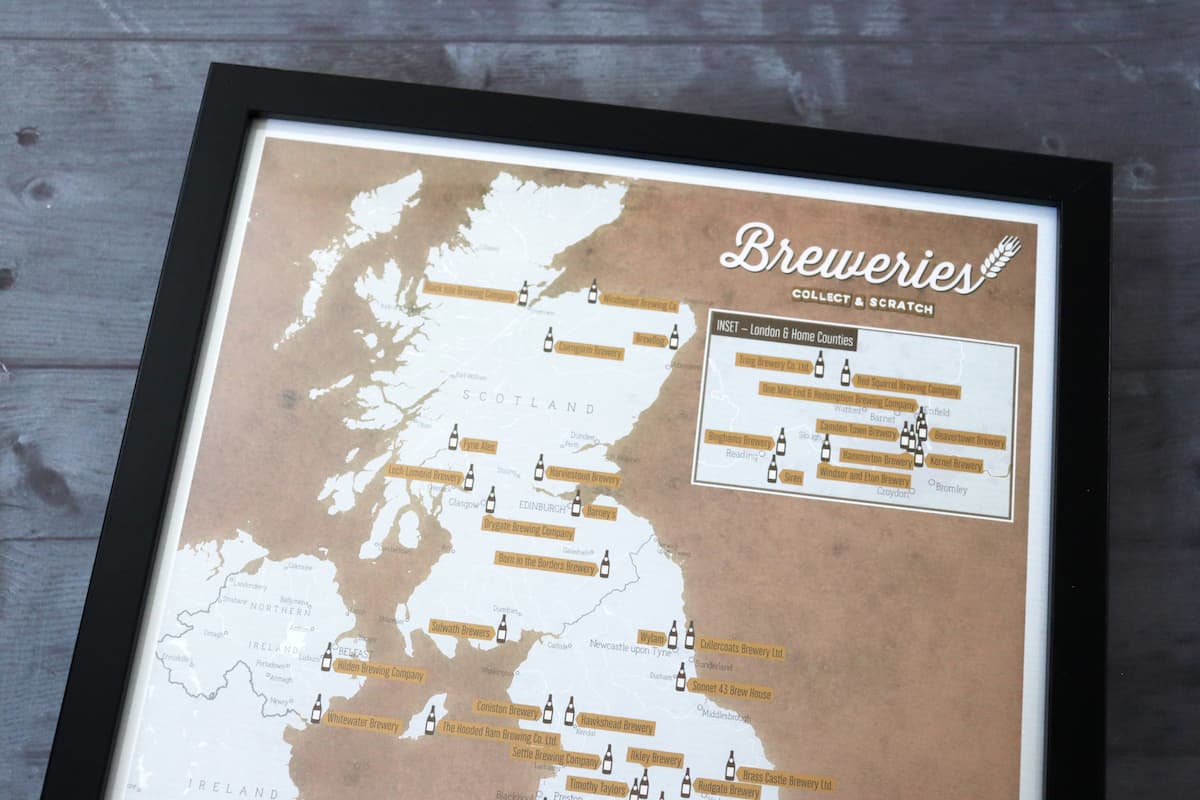 The maps come unframed so they are easy to scratch off and you could put them straight on the wall or frame them yourself. And if your dad isn't a gin or beer fan they also have Whiskey and Wine versions too! Keep reading to the end of the page to win your choice of scratch map!
If your dad loves to cook, especially on a barbecue, then the MEATER smart wireless meat thermometer would make an amazing gift. MEATER Plus is simple to set up, simple to use and has a smart guided cook system which will make sure you get tasty, succulent and satisfying results every time.
As well as cooking meat perfectly, MEATER allows you to step away from the barbecue to go and catch up with your guests, grab a beer or to relax in the sun. Using any smartphone or tablet along with MEATER Plus technology, it provides estimated cooking times, monitors the meat whilst cooking and sends alerts to your device to let you know when your meat is cooked to perfection. What a great gift!
Something techy
Carrying on with the tech theme but moving indoors, SwitchBot is a fantastic gift for anyone who loves having a smart home. You can already control the lights in your home, and the heating. You can play music whenever you like and we even had a smart kettle at one point. So how about having curtains that can open and close effortlessly too?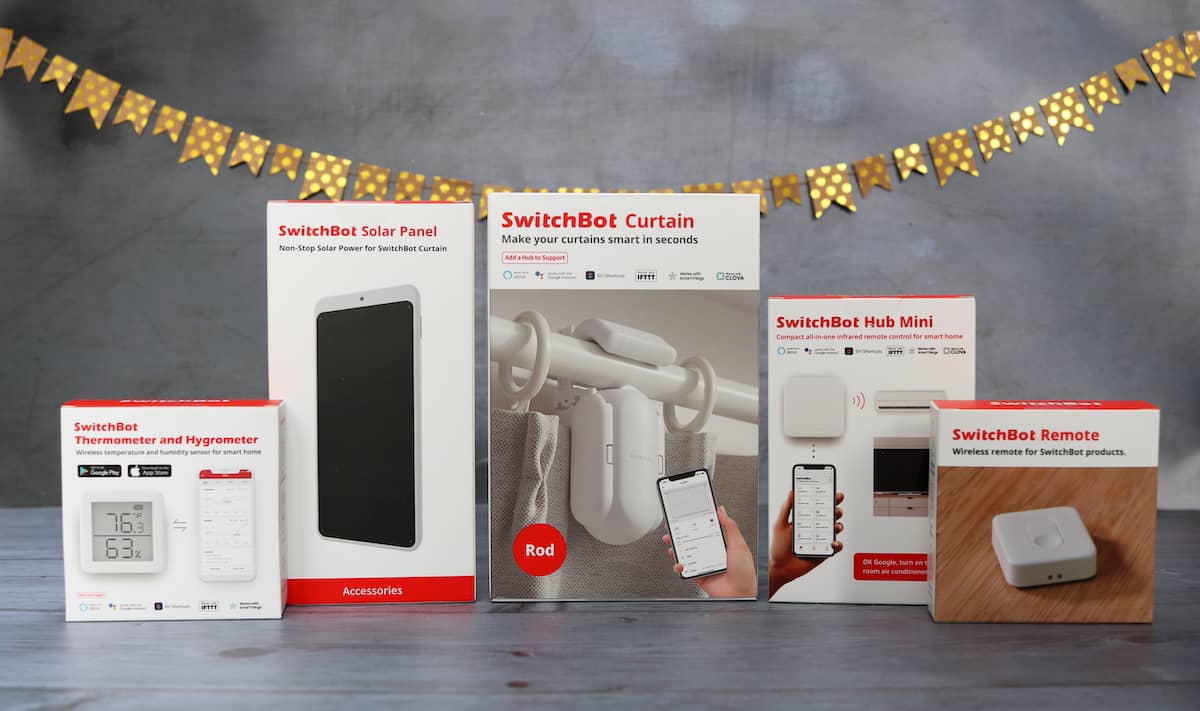 SwitchBot Curtain is the world's first retrofit smart curtain solution. The small wireless robot makes any curtains motorised and smart with just a 30-second installation and you can then open and close the curtains using your smartphone or tablet. You could even set a schedule to automatically open or close the curtains too!
SwitchBot works alongside Google Assistant, Alexa, Siri, and IFTTT using the SwitchBot Hub Mini/Plus and you can get a whole host of SwitchBot products to automate so many aspects of your home. You can see the full range here.
Something to wear
Clothes have become quite a staple when it comes to gifts that I buy for men. Shirts and jumpers are just such easy gifts that I know will be appreciated. But, for something even more special, the Glencroft Clapdale Jumper would make a really lovely gift that will literally last for years.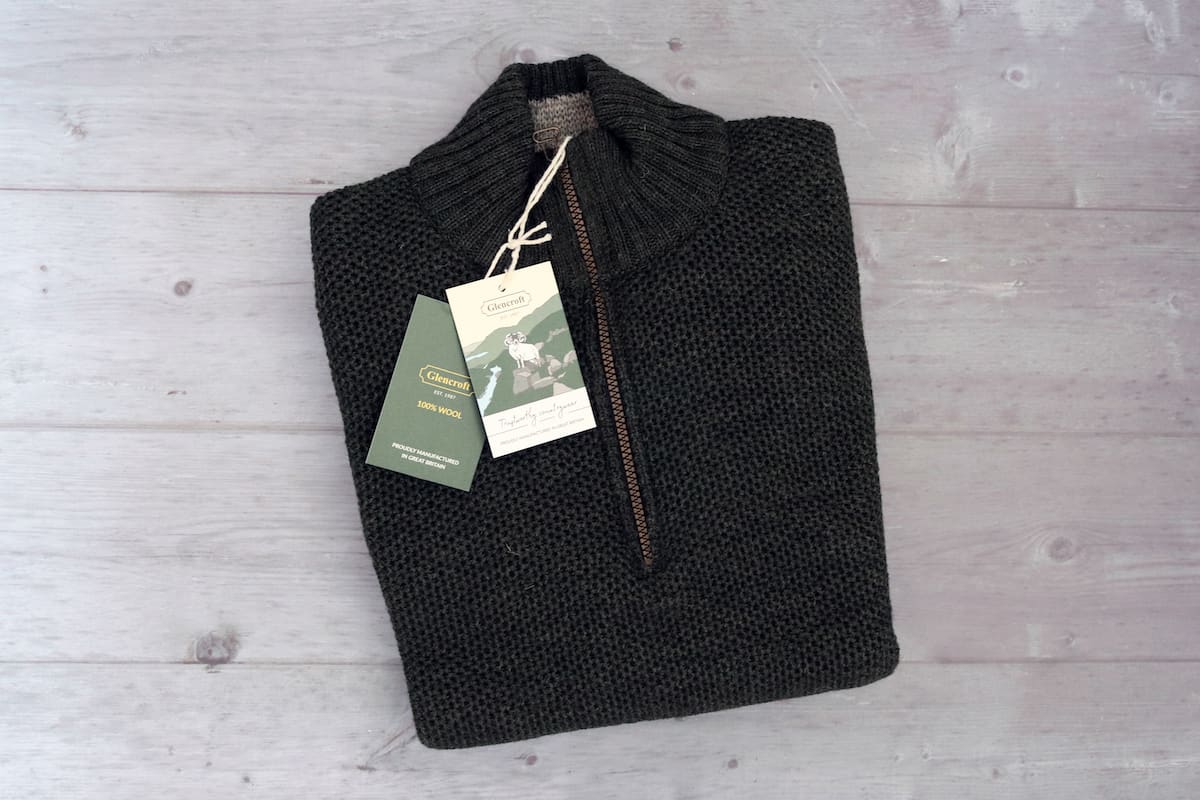 The Clapdale Jumper is a light-weight jumper perfect for the summer months. It's great for layering and is made from 100% British Wool, making it a luxurious gift for Father's Day. It's so beautifully soft and the honeycomb pattern on the front adds a really lovely texture too. You can see more gorgeous wool gifts over on the Glencroft website.
Another traditional option that I've seen everywhere recently is a pair of braces or suspenders. JJ Suspenders create braces from unique fabrics with high-quality detailing and real leather. They're a quality product that would make a great addition to any man's wardrobe and would instantly dress up any suit for business or pleasure. You can see their full range over on their website.
Watches are always a classic gift and Toff London have a stunning range to suit every personality. With traditional styles like this one, through to more quirky and fun themes for the sports or travel fans in your life. There's a watch to suit every man and every personality.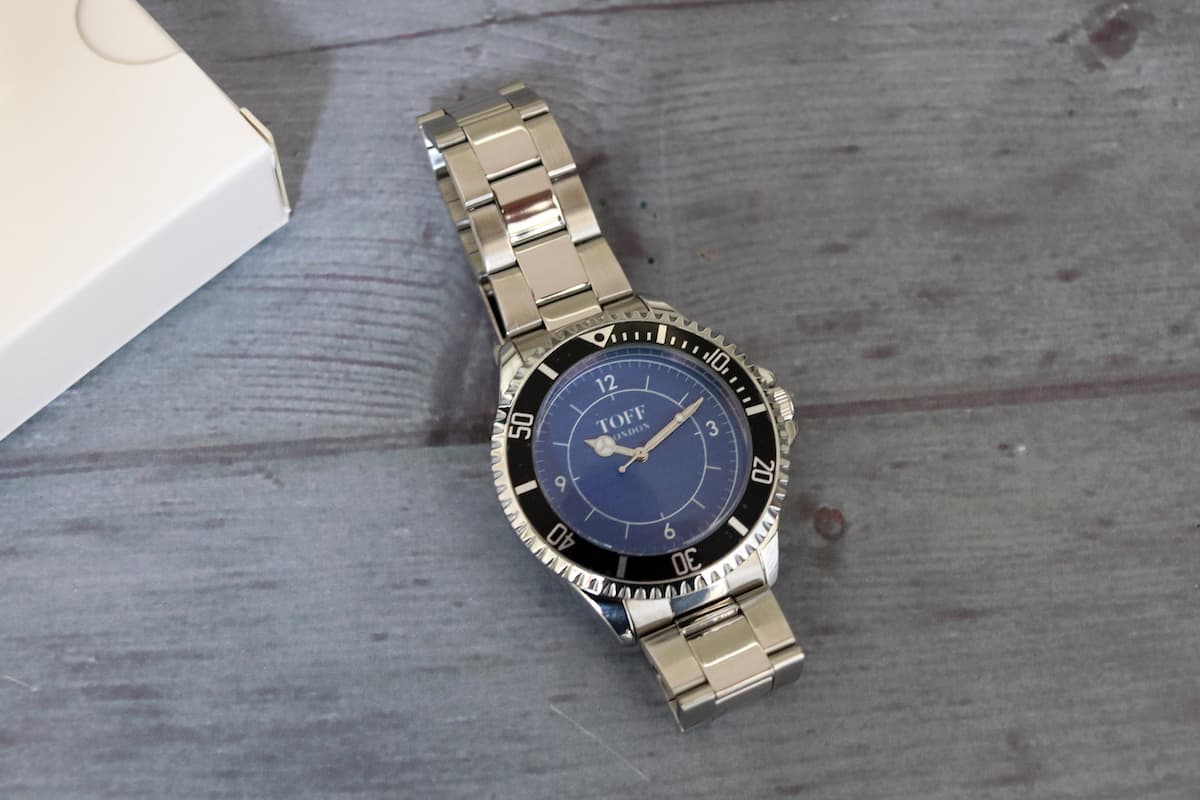 Not really something you wear, but a wallet is something that all men will appreciate. Ekster smart wallets have an innovative quick card access feature and, if you can't find your wallet, you can just call it from your phone! The Ekster Parliament Wallet is a slim premium leather smart wallet. The built-in aluminum cardholder fans out your cards at the click of a button and protects them against skimming, plus you can add a tracker card to make it unlosable too. You can see the full Ekster range over on their website.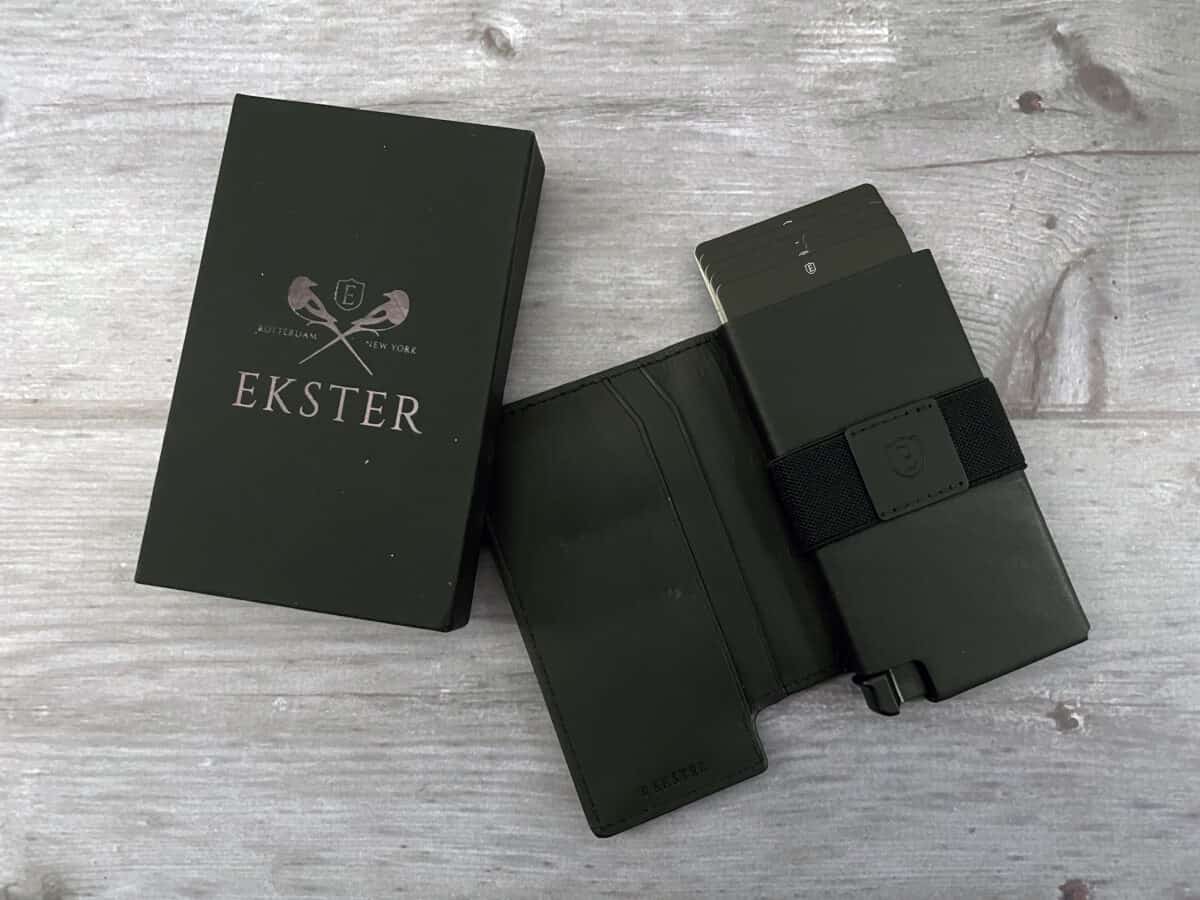 Some men love jewellery and others don't wear it at all. But, one thing that I think any man would treasure is an El Camino bracelet where they can record their travels, creating a timeless memento of everywhere they've been in their life – and places they're yet to explore too!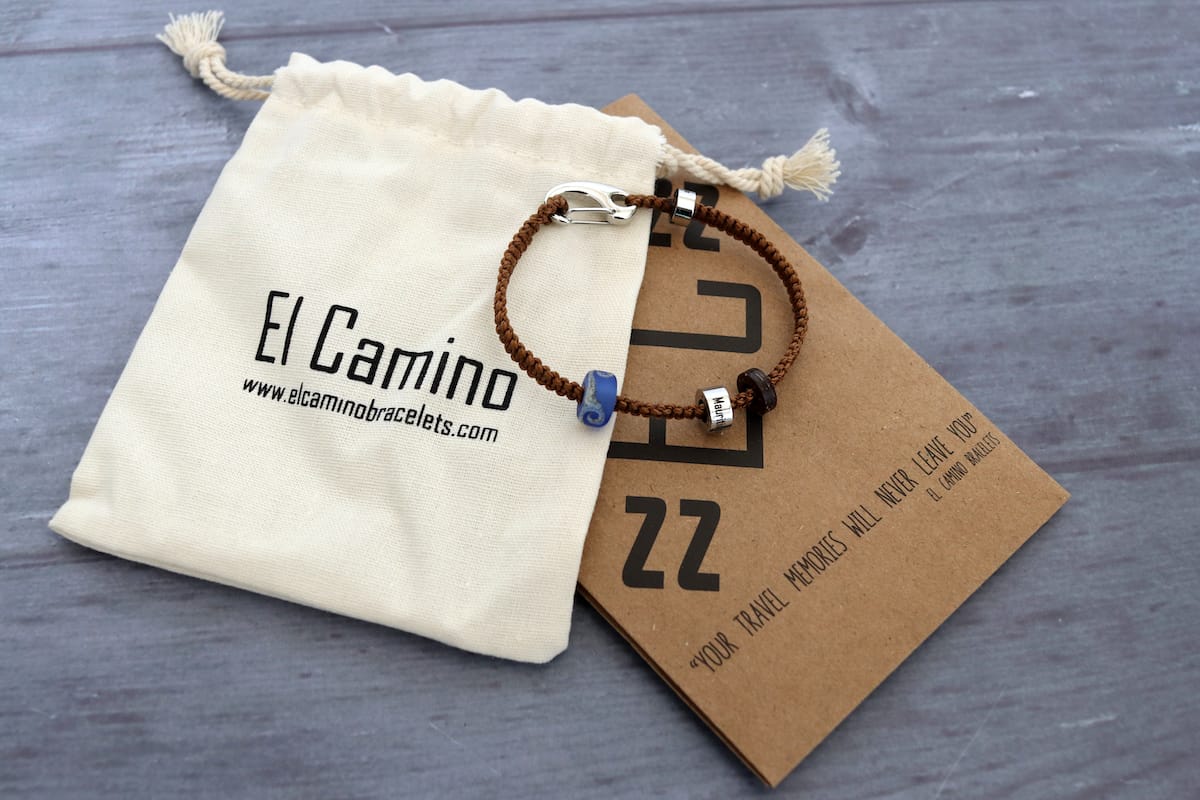 The bracelets are beautifully made, come in a choice of colours and have so many different steps that you can buy to add to them. There are double bracelets for those that have travelled far and wide – or just like style – and they all come with a really solid clasp and are hard wearing, built to withstand everything you come across during your travels!
A small, signature El Camino Step is built into each bracelet to get you started and you can then collect more country steps, ocean steps, adventure steps and even custom steps to add along the way. I chose a Mauritius Step as our last holiday abroad before the pandemic hit and an Indian Ocean Step to symbolise that part of the world too. Each Step comes with a coconut spacer too. You can find out more about El Camino over on their website.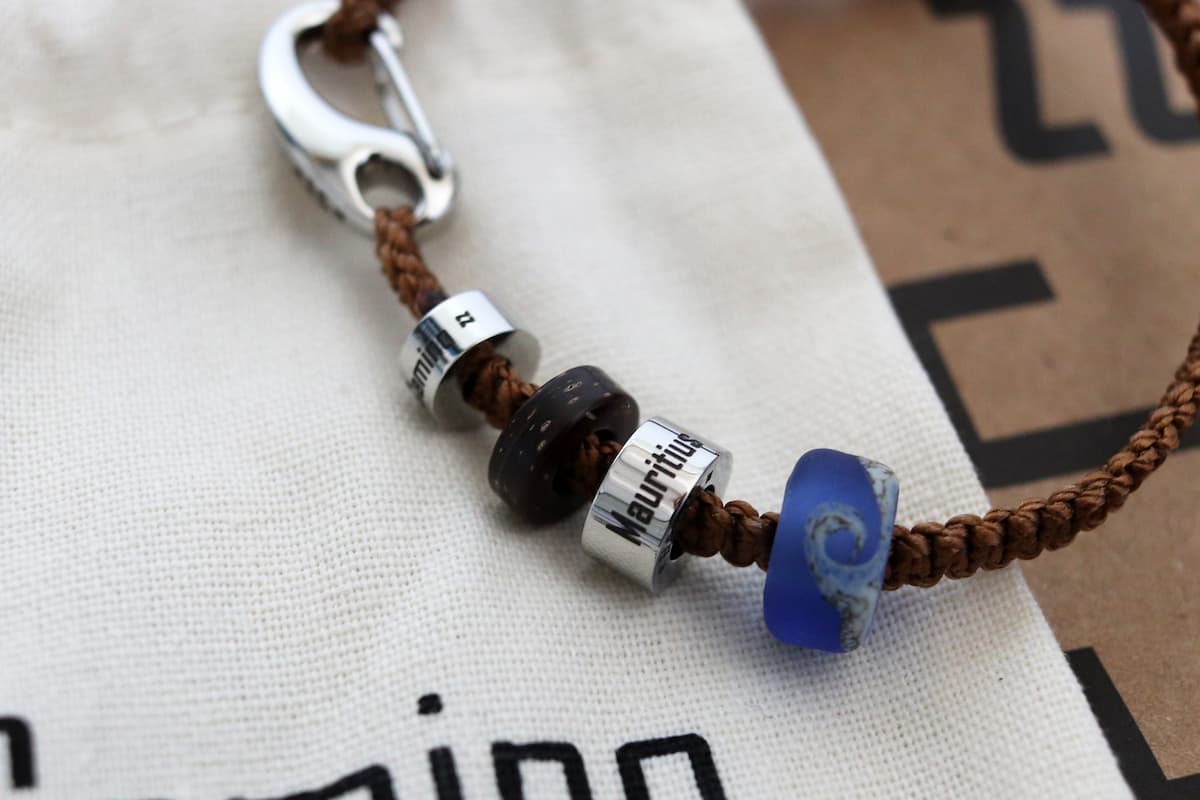 Something to feel good
Everyone appreciates a gift that makes you feel good and Father's Day is no different. The Bluebeards Revenge have so many fantastic male grooming products that would make great gifts – and special gift sets too. One of my favourites gifts at the moment is their Cuban Beard Grooming Kit.
This essential beard care gift set features Cuban Beard Oil to re-hydrate and soften facial hair plus a vegan friendly Synthetic Travel Beard Brush to evenly spread oils and untangle beard knots. It's a great gift for any bearded man in your life.
Talking of facial hair, Beurer have a great range of shavers and trimmers that any man would love. The Beurer HR 7000 Wireless Foil Shaver features a triple clipping system, giving a really thorough shave. The extendable detail trimmer also allows you to combine your daily shave with precision beard and sideburn styling, making it a great gift for men of all ages and a fantastic investment.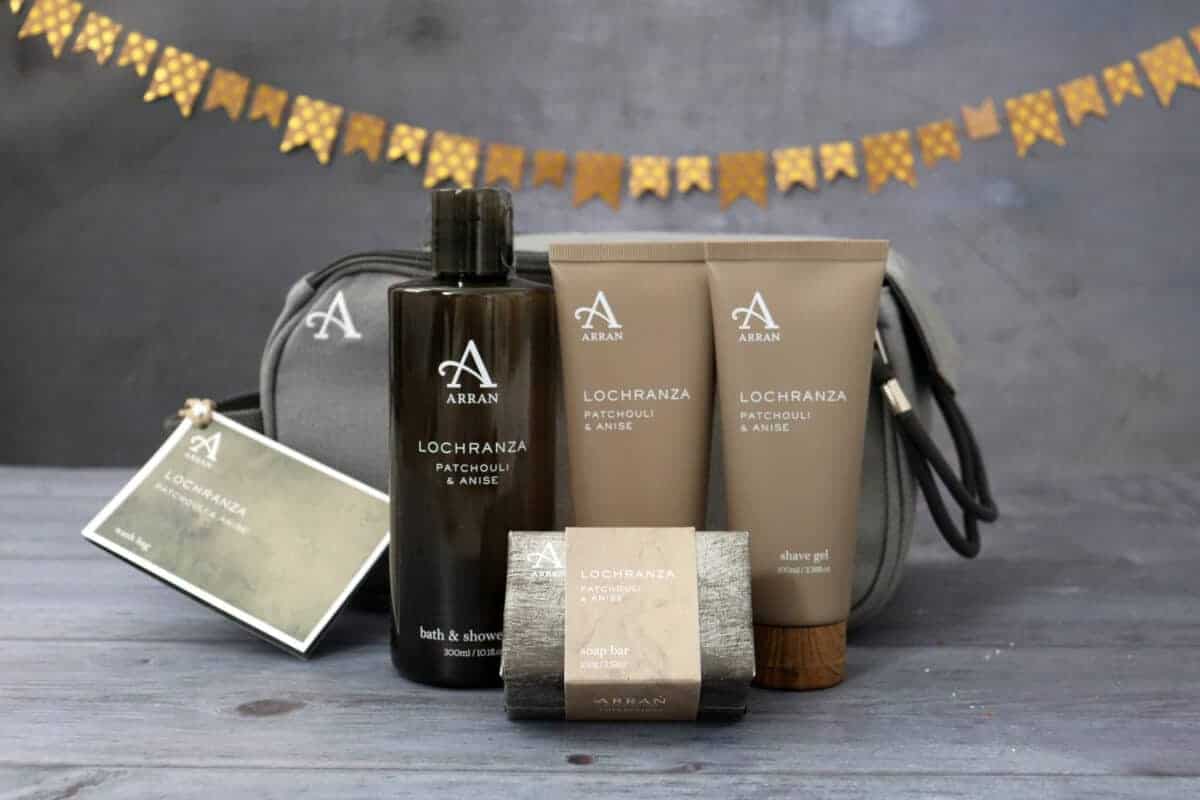 Toiletry gift sets are always a really well received gift and this year I've discovered ARRAN Sense of Scotland who create evocative and vibrant scents that are true to their island heritage. They have a beautiful range of toiletry products and gifts that would be great for Father's Day. Our favourite is the Lochranza Mens Wash Bag – made from durable cotton canvas with a water-resistant inner, it contains a full-sized bath and shower gel, after shave balm, shave gel and soap in the earthy and enigmatic Lochranza fragrance.
When it comes to toiletries, there is often nothing quite like a Lynx gift set – either because they still love those iconic fragrances or for the nostalgia Lynx Africa brings. With sets to suit all budgets, they're great value sets and the Retro Limited Edition Lynx Africa set is the perfect gift for any man.
If you're looking for a really indulgent gift for any man then Manscaped is just the thing. The Manscaped Performance Package is an all in one grooming kit which contains The Lawn Mower shaver and Weed Whacker ear and nose hair trimmer to keep all their hair in check. It also includes Crop Preserver and Crop Reviver ball deodorant and toner and free gifts of Manscaped Boxers and t-shirt. Such a great gift for any man in your life. Plus, you can get 20% discount and free shipping here.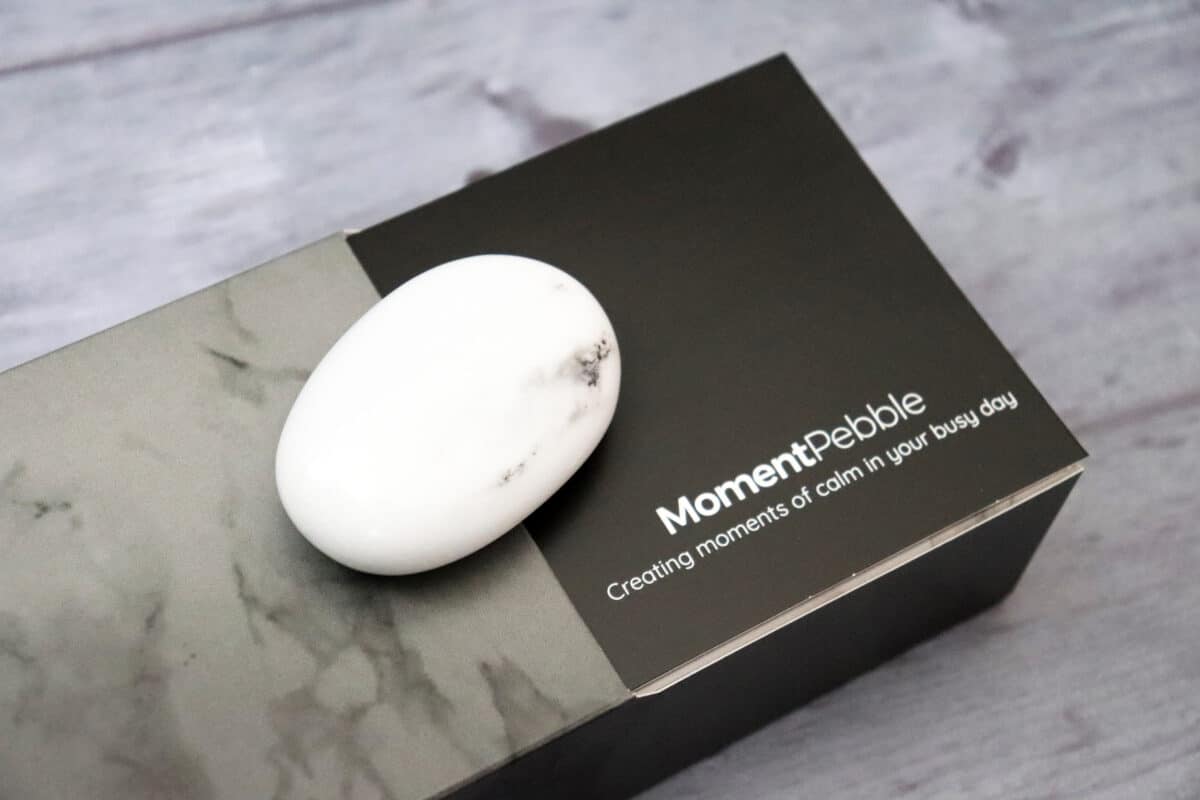 For something completely different, how about a Moment Pebble? A new tool for modern mindfulness, the Moment Pebble is a well-being solution for people suffering from stress and anxiety. It's a companion for your mental wellbeing and something any dad could appreciate.
You can use the Moment Pebble with a Moment Method course, making mindfulness, meditation and breathwork a simple, quick and effective process. It's never been more important to stop and take a moment for ourself, to relax and focus on our own wellbeing. The Moment Pebble is the perfect gift for this.
The Moment Pebble is a palm-sized wirelessly charged natural stone device that enables you to take 30 second moments of mindfulness – whenever and wherever you like. With a gentle light that beats from within, it guides you through short mindful exercises that help you de-stress and re-energise. It's unlike anything I have ever seen before and you can find out more over on the Moment Company website.
Something fun
All Dads love to have something fun to enjoy for Father's Day and the Galileo Thermometer from Kikkerland is one of the coolest gadgets we've seen this year that any Dad is sure to love around their home. The colourful globes rise and fall according to the temperature, letting you wonder at the beauty of science.
Something else fun to enjoy around the home is this space themed Area 51 Bowl from Red Candy. A really good size, and perfect for any space fan, it's a bowl that can be used anywhere for so many different things. It could be a fruit bowl, a bowl for dad to put their keys and loose change in or even a snack bowl! It's cute, quirky and a fantastic gift.
Something else that would look great in any home is a set of Harry Potter Platform 9 3/4 Bookends. Hand painted and nicely weighted, they are a must for any fan of the Wizarding World. They're so true to the Harry Potter franchise, with the trolley of luggage, Hedwig in her cage and even a frog! Such a beautiful piece for any home.
Another fantastic fun gift is a Build Your Own Telescope. Aimed at age 8+, it's a fantastic gift for any space loving dad or for a father and child to work on together. The kit lets you build a working cardboard telescope with no mess or even glue!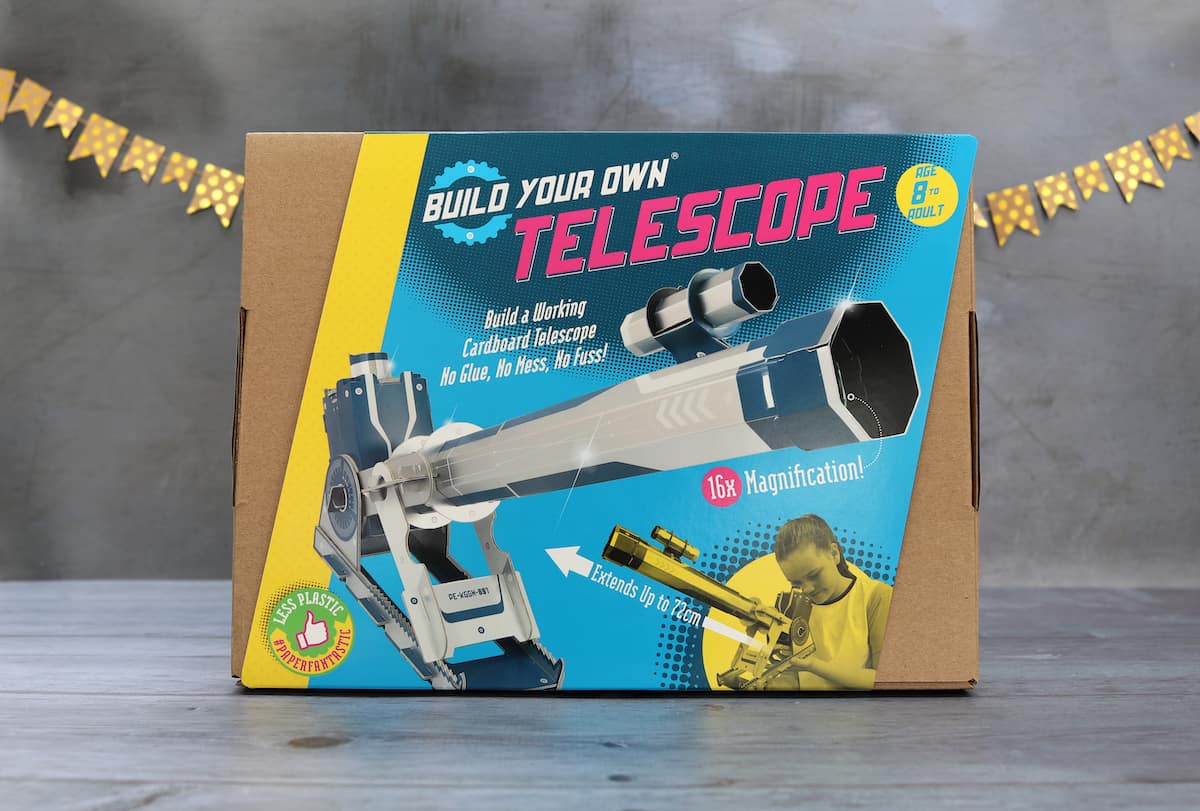 The Build Your Own kit can be personalised to make it a really lovely Father's Day gift and something that will be enjoyed long after Father's Day has passed.
All dads love to play a game or two and this year's top game for Father's Day is the Taskmaster Board Game. Based on the BAFTA winning Channel 4 TV show hosted by Greg Davies and Little Alex Horne, Taskmaster the Board Game brings the popular show to the comfort of your own home. You get to compete with your friends and family in a series of ludicrous tasks to be crowned Taskmaster Champion.
As well as games, books are always a great gift and I love the new personalised book for dads from Beano and The Book of Everyone. Celebrating 70 years of Dennis, everyone's favourite mischief-maker, this is the perfect gift for all those dads who grew up with Beano. You can choose to personalise each page with quotes or images to make it extra special and a real one of a kind gift for your dad. Find out more here.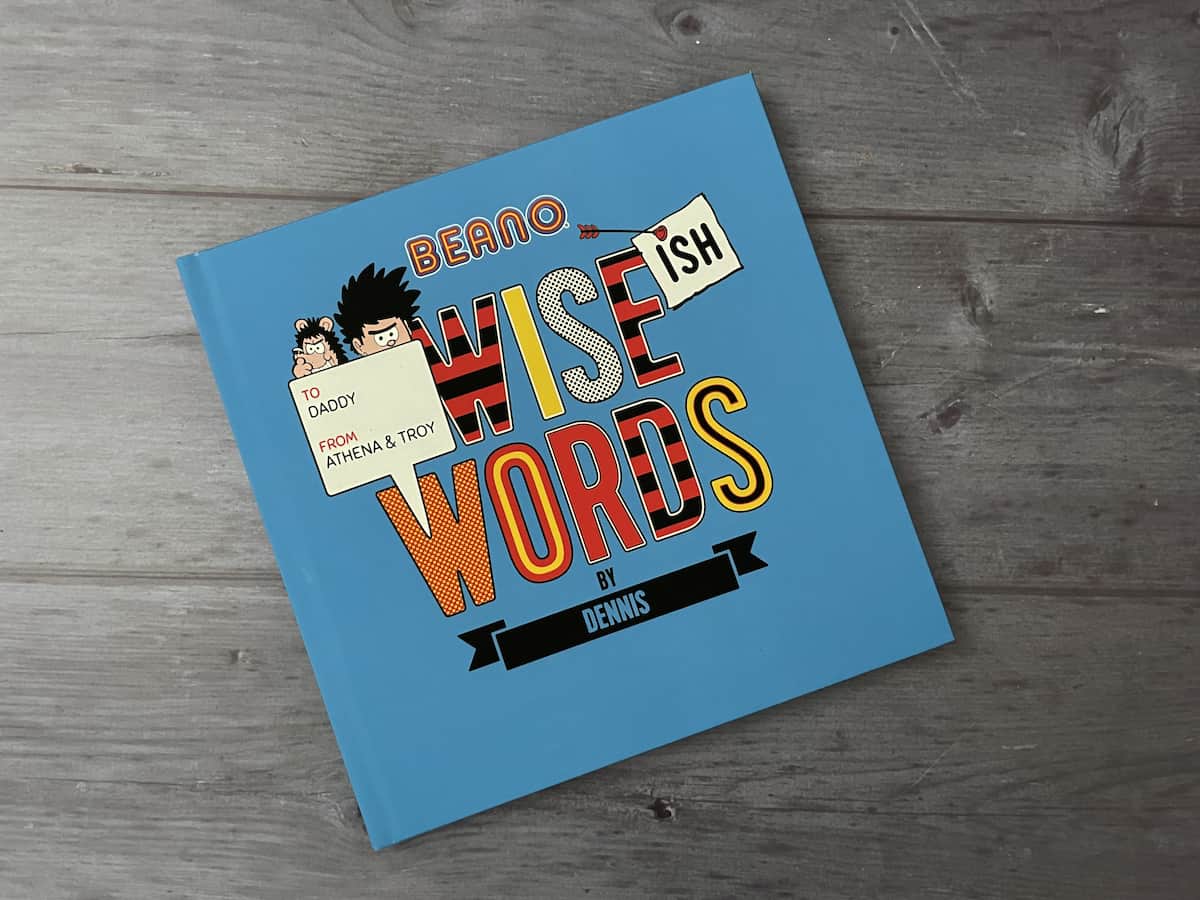 Bird feeding is something that brings people so much joy and so bird feeding products can be a great gift for someone who already enjoys having birds in their garden or someone looking to try something new.
Henry Bell have so many fantastic bird feeding products with many different styles of bird feeders and a great range of bird feed too. They're all well made and built to last – they would make a great addition to any garden.
If your Dad loves plants and needs something to brighten up his desk at work or anywhere around the home, Cool Pots have just the gift for him! They let you create funky, personalised plant pots with faces on them! Why not create a pot with your Dad's face all over it? Or the faces of his loved ones?! You can see their full range over on the Cool Pots website.
A day out is another great gift idea and Treasure Trails are some of the best days out we have been on. They make exploring your local area – or somewhere completely new – a really fun, eye opening experience for the whole family. It could be a treasure hunt or a spy mission where you search for clues and learn about history. At just £10 they are an absolute bargain and a fantastic gift idea that the whole family can enjoy together.
Everyone buys cards for Father's Day but have you ever thought about sending balloons? Bubblegum Balloons have an amazing range of balloons for every occasion – even Father's Day! The balloon displays are sent direct to the recipient, ready inflated, ready to float straight out of the box! Such a fun, beautiful gift for any dad.
Something practical
It's always nice to gift something practical, that the recipient can use regularly and that makes them think of you. One lovely gift this year is a Luxtra Toiletry Bag. Made from plant based, vegan leather it's a great size for any weekend away or business trip.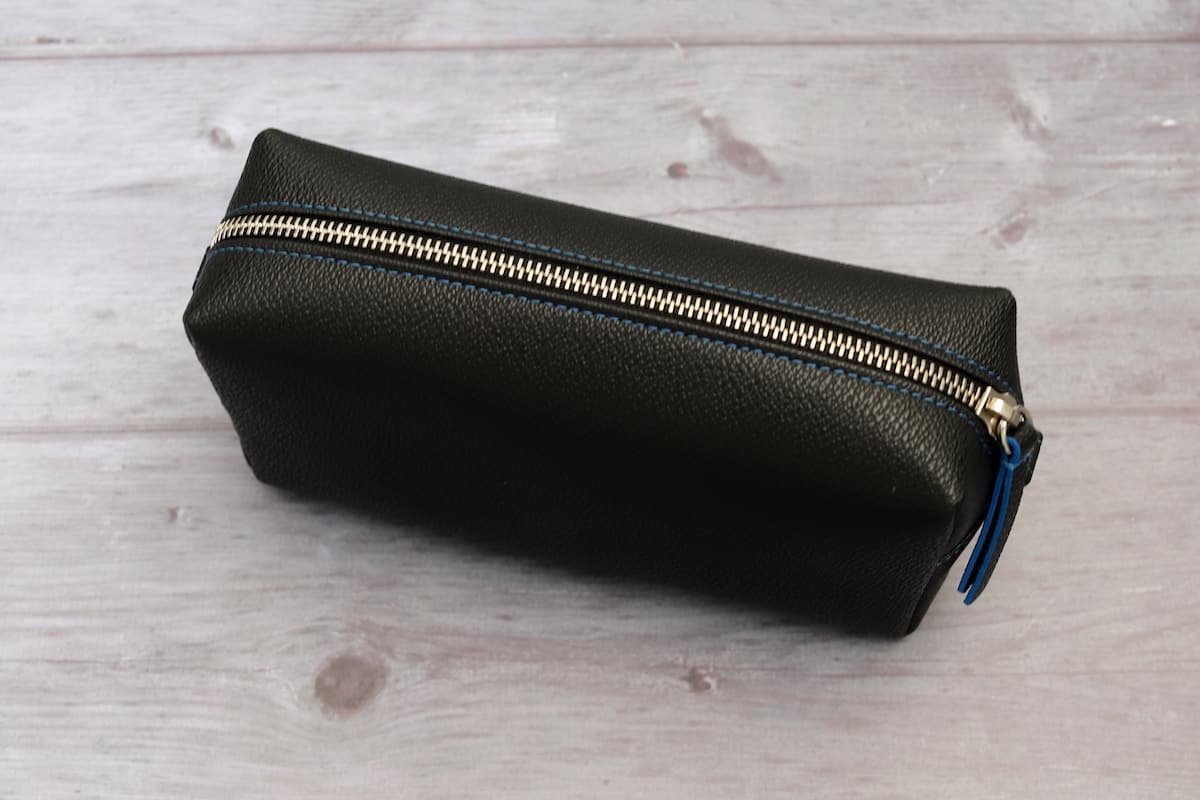 The toiletry bag is well made and a great gift for anyone who loves to invest in sustainable products and reduce their impact on the environment. It's made from apples! You can see the full Luxtra range of bio-based leather alternative products over on their website.
Another lovely but practical gift is a set of pens. They're something that most men could use at work or in day to day life and are something timeless that will last for years. One of my favourite sets this year is this Waterman Ballpoint & Rollerball Pen Set from Pen Heaven.
Gloss black and with a chrome trim, it comes in a beautiful presentation box and with the option of engraving too. They are pens that really show you care and are something that any dad would treasure and use for years.
If, even after all those suggestions, you have no idea what to get your dad this year, a VEX Gift Certificate could be just the thing. Exchangeable for so many different gift vouchers at a huge range of stores and services, letting your dad buy anything from clothes to homeware or even an experience day. It could be a great option when you just don't know what to buy.