*This is a paid post
Over the years we have played so many educational games and apps with the children but we're always looking for new ones that will really spark their curiosity and keep them engaged whilst they learn.
I've recently been introduced to Kazow who have launched their first two educational apps – created by teachers! Times Table Go and Magic Spell are two great game apps that will help any child with spellings and times tables in a really fun and rewarding way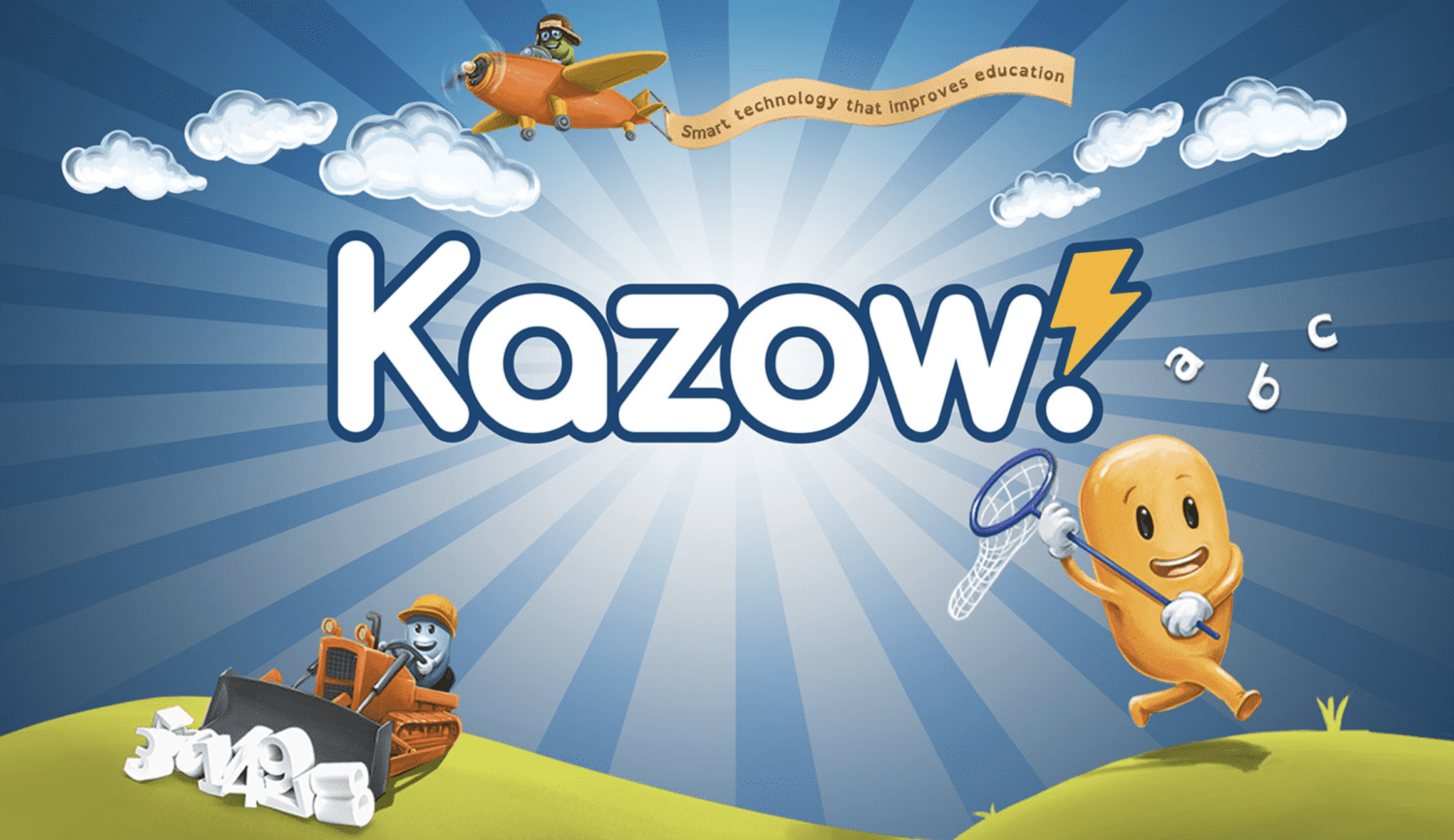 Who are Kazow?
Kazow are a technology company who really care about education and giving children the right tools to learn. You see, Kazow are a team of experienced teachers, as well as parents, who understand child development and primary education better than any other edtech company out there. Education is at the forefront of everything that they do and you can really see that when you spend time playing their games.
It's always reassuring when children learn things from experienced teachers, you know that those teachers are qualified to teach and to help your children learn. And that immediately gives Kazow games a seal of approval from us. Kazow know about education – and that is why they've been able to create such fantastic educational games.
What's great about Kazow's games?
Kazow's range of games don't have any advertising, subscriptions or in app purchases. Once you've bought the app there is nothing else to pay, nothing that will get your children asking you to spend money and nothing that needs unlocking financially to move further through the games.
They are a really safe environment for children to play within and you know that as long as they stay within the app they won't be redirected to any other websites or have adverts popping up constantly. I love this about Kazow. I know exactly what the children are going to experience whilst playing the games – another level of reassurance as a parent.
The games are also perfectly aligned with the National Curriculum, meaning that any school age child can pick them up and understand what they have to do immediately. They work perfectly alongside their school learning – and the children love them!
So what are Kazow games?
Times Tables Go
Times Tables Go is a dinosaur themed maths app that constantly adapts to challenge your child. It gives instant feedback and lets you build your own challenges as well as competing against friends.
The game lets you have different users, all set up as their own colourful dinosaur, all saved on the one device. This is fantastic for siblings or friends sharing the same tablet or phone and they can just carry on where they left off the next time they play.
Within the Times Tables Go interface you can create your own challenges and engage with friends – including on a dedicated social feed – whilst keeping track of your times tables progress too.
The app keeps a record of how long you've played for and the answers you've given so you can constantly check feedback. It also has a running score and shows which level you're on – with you climbing through levels as your ability and knowledge progresses.
Times Tables Go is so much more than just practicing times tables. You can choose specific times tables to practice but you can also work through equations, using times tables to solve maths problems and work out missing numbers. There are rounds dedicated to division sums and others that are a mix of all different equations, really testing everything you have learnt so far.
Each round is timed and as you answer the maths questions the time gets extended. When you run out of time or get an answer wrong you lose a life – and you have three lives on each round.
Little Man loved the challenge in this. He did get into a little bit of a flap at first as he wasn't used to having to answer sums on the clock but once he understood how Times Tables Go worked and realised he had to answer as quickly but as accurately as he could then he was much happier – and loved challenging himself to beat his previous scores.
Magic Spell
Magic Spell is another fast paced education game but this time focused on spellings. You use your wand to swipe correct words as they fly across the screen, making sure to stay away from any misspelled words or nonsense words!
Other rounds open up where you have to pick the correct word from the wrong word or spell a word in the right order using letters that appear on the screen.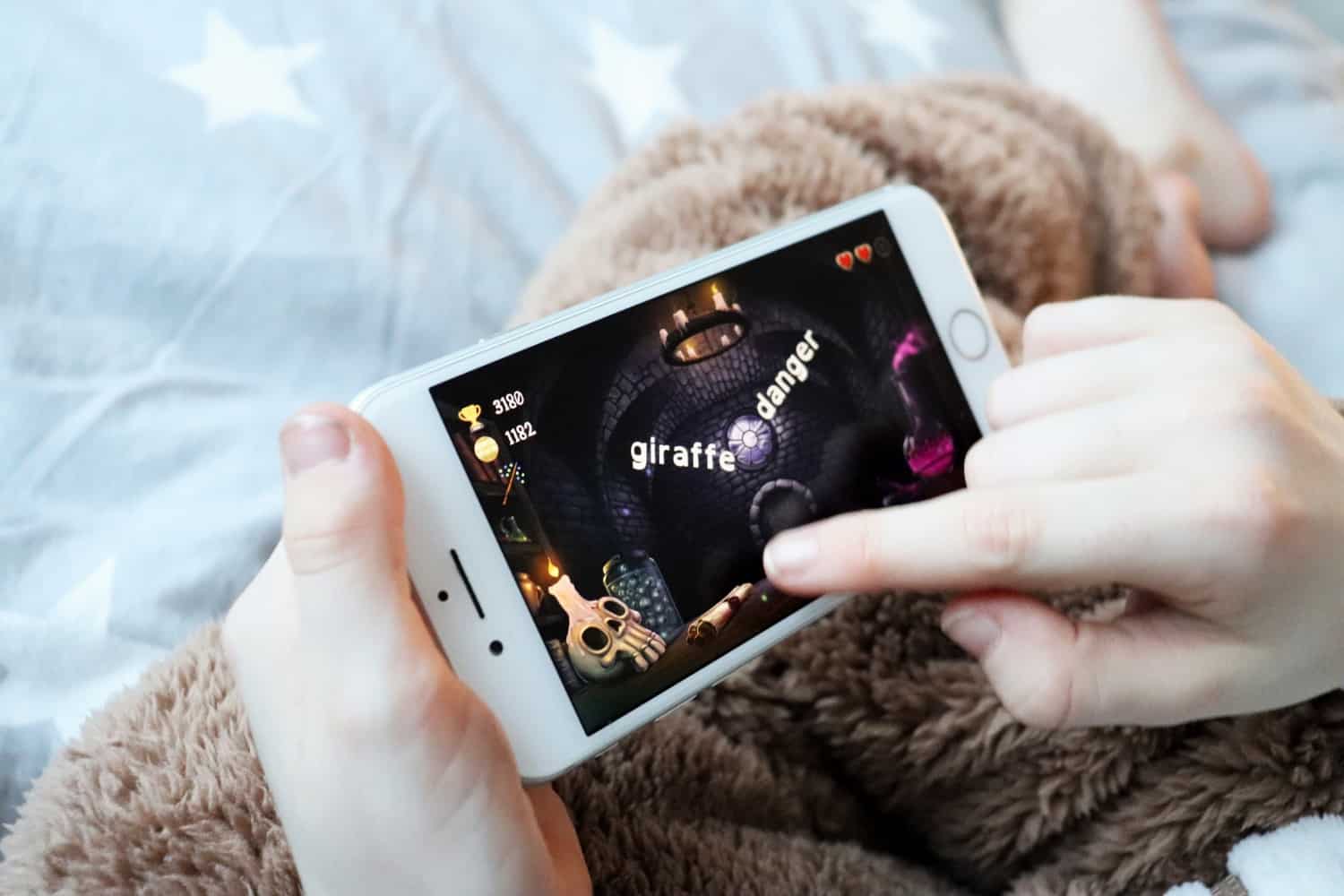 Magic Spell gives the option of playing individual rounds or working through a campaign where you try to get a high score, gain up to three stars and move on to the next level.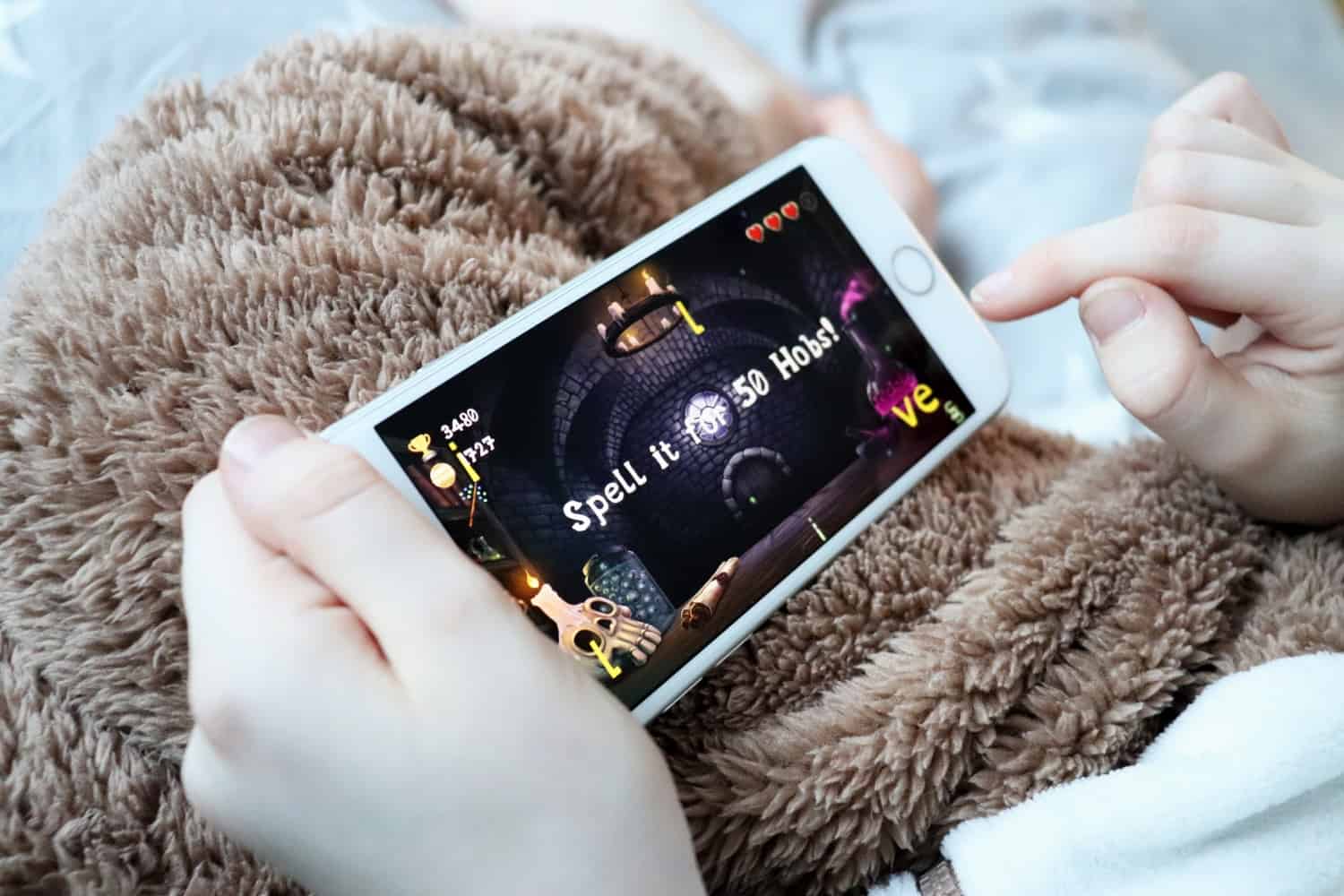 Each round gives you three lives, like in Times Tables Go, which helps to keep children engaged, knowing they're not going to lose if they make a mistake and have a few attempts to get through each level.
One of the children's favourite parts of Magic Spell is the shop where you can upgrade your wand once you've earnt enough hobs, game currency, by playing the game.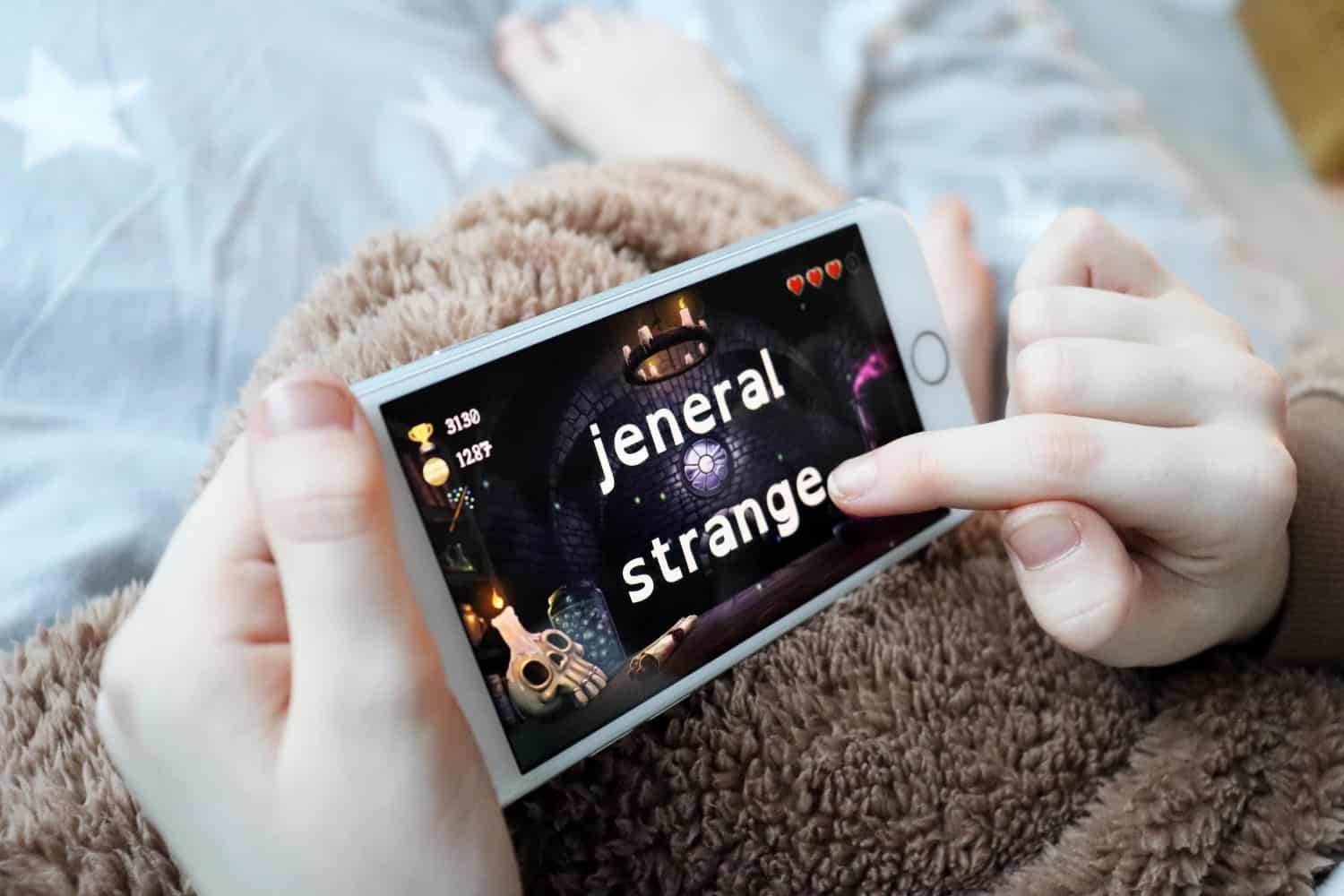 This gives a real, almost tangible, reward for their hard work. It keeps them engaged, inspiring them to play more to earn more game currency to get bigger and better wands as they play. A hook like this in a game is fantastic – it gives something to work towards and keeps children focused on that end goal.
What did we think of the Kazow games?
The children love Kazow games. They both really enjoy how the games made them challenge themselves and push to get higher scores and better results. They both understood that it didn't matter if they got any answers wrong, they just have to do their best – something we always teach them both. But the fast pace of both games helped them to think faster and answer more quickly without worrying about it too much.
Times Tables Go and Magic Spell have made a refreshing change from the apps that the children use at school and to support their learning at home. They're different, which makes them immediately engaging, and I can tell that the children are learning from them whilst having fun too.
We've found that over time the apps that the school use get a bit stagnant for the children and it feels like a chore for them to use them regularly alongside their reading homework. But, with the knowledge that Kazow games are created by teachers, using the National Curriculum, it's been refreshing to mix up the apps that the children use, giving them Times Tables Go and Magic Spell to use and learn from too.
LP and Little Man have really enjoyed using the Kazow apps and I know we'll be using them regularly going forward. They're fantastic apps that work to the children's ability level, constantly pushing them to better themselves and learn more in a really fun and engaging way.
You can find out more about Kazow over on their website and if you'd like to try Times Tables Go and Magic Spell for yourself you can download them from the App Store or Google Play on the links below for just £1.99 each!
Download Times Tables Go on the App Store or Google Play
Download Magic Spell on the App Store or Google Play