Over the last few weeks I have spent every spare moment in the garden, creating a play area for the children. You see, over the last few years our garden have started to gain more toys for the children and so the rose bushes and things didn't seem very child friendly anymore – the garden was crying out for a child friendly update!
I has a bad blogger moment and didn't take any 'before' photos but many readers will remember this patch, and our rosemary bush, as the backdrop to many review photos like the one below.
We had a flower bed that was mostly taken over with a huge rosemary bush and a couple of rose bushes fighting for space. The rest of the ground was covered in bark and slowly weeds were taking control, working their way through the weed-proofing and making the whole area hard to maintain. We decided to make this area into a dedicated play area and go back to scratch with it.
We dug up the rosemary and roses, aiming to rehome one of the roses in another area. This took quite a long time as the bushes were quite well established. Once they were gone we could clear the area and I spent hours shovelling old bark, weeks and really old membrane into garden rubbish sacks that Dave then took off to the dump – this took a couple of trips with the car crammed full as there was just so much to clear.
Once the ground was clear I levelled it out as best I could and then pegged down new weed proof membrane, making sure it covered the whole area and went slightly up the sides to contain the soil floor as well as possible. I then covered the area in play bark – not to be confused with standard bark chippings as play bark is made to be played on, absorbing impact better. This was then levelled out and our play area is now complete!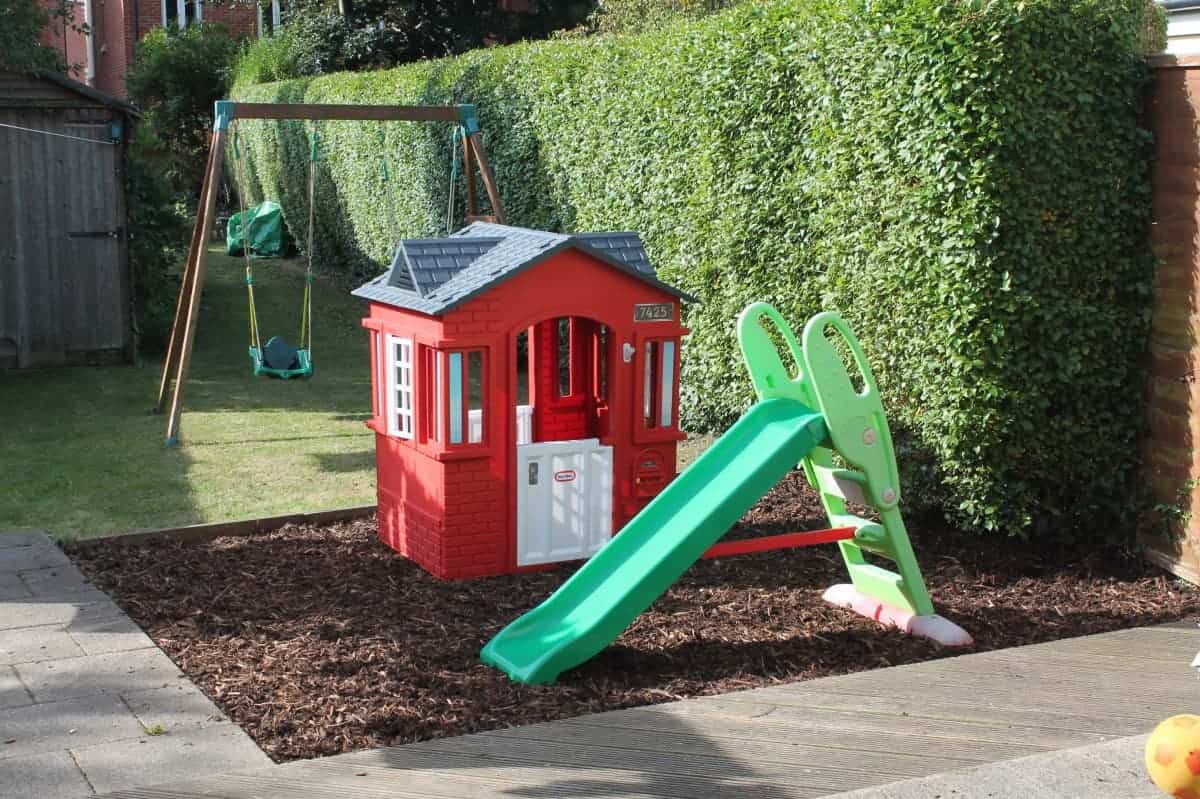 The children love it and it has given us our patio back. It's nice that the children have their own space to play but we have the patio to relax on too whilst they're enjoying themselves. I've ordered some new garden furniture too and this should arrive soon – I'll do another update then!