Disclosure: We were invited on this day out for the purpose of this post however all opinions are my own.
Yesterday we were invited to see Circus 1903 at the Royal Festival Hall, part of Southbank Center in London. We watched the show's trailer and were blown away – circuses are everywhere at the moment but Circus 1903 looked like a whole new level of entertainment.
Circus 1903 is from the producers of the world's biggest magic show and includes elephants created by puppeteers from War Horse and features a cast of the very top circus performers from across the globe. It had its European debut at Southbank Centre's Royal Festival Hall this December and we were so excited to take the children to see it.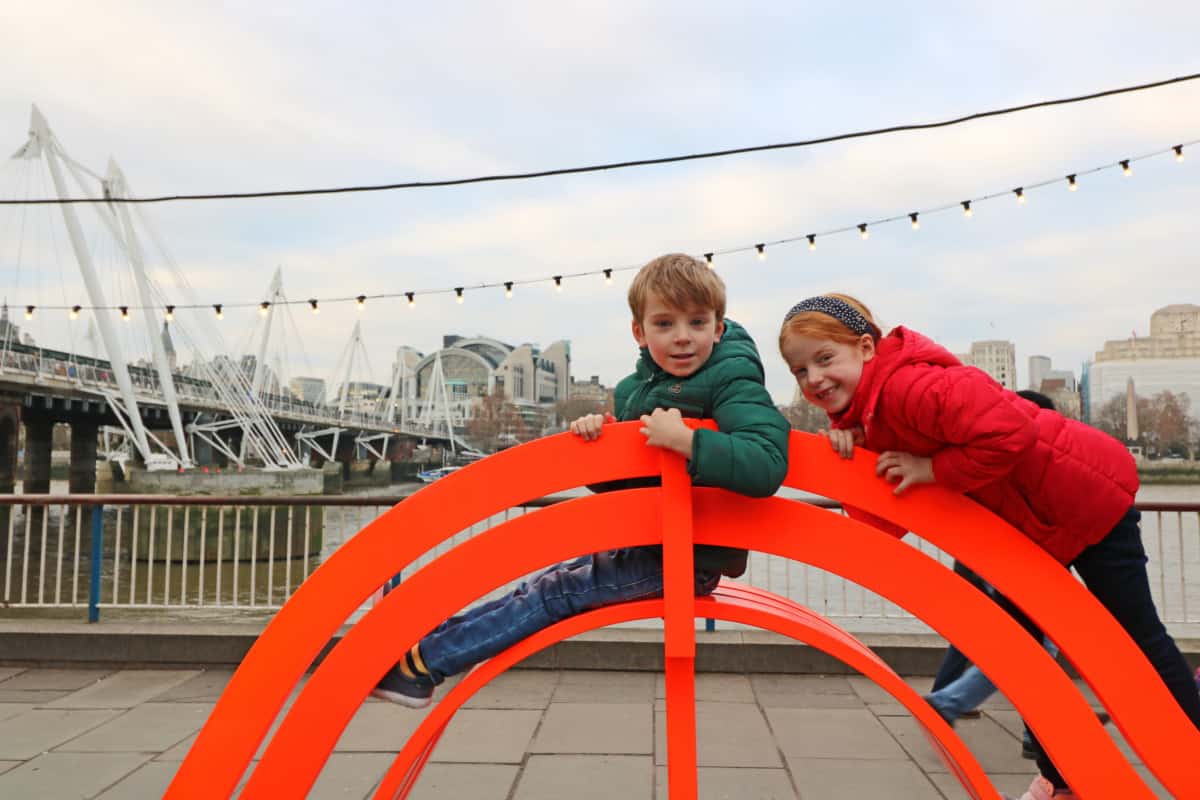 We had never been to the Royal Festival Hall before but the theatre was vast – with so many seats, all with a great view and even booster seats for children. Whilst we waited for the show to start an entertainer made his way round the crowd – who we later realised was the Ringmaster from the show.
The Ringmaster, David Williamson, was amazing. He could easily have captivated the audience himself for hours and every time he appeared on the stage we were mesmerised by his tricks, stories and jokes. He presented the show and acted as a distraction for the audience as each scene changed but this was absolutely seamless. He invited children up onto the stage with him at regular intervals and included them in magic tricks – LP got to go up and I think it may well have been a highlight of her life so far.
After that the show took us through every aspect of circus skills – with juggling, balancing and tightropes with so many jaw dropping moments of suspense. We were on the edge of our seats throughout. We couldn't look away even if we wanted to – it was gripping.
Circus 1903 kicked off with a display of acrobats flying around the stage – jumping on a seesaw and doing tricks in the air. It was fast, fun and immediately got our attention.
The circus is something that generations have grown up with and in recent years it has been catapulted back into the limelight thanks to things like the Greatest Showman and Cirque de Soleil. Because of this, I had such high expectations of 1903 – yet it exceeded every one of them.
The acts were better than the Greatest Showman – the aerial artist Lucky Moon was phenomenal and the knife thrower was incredible. Have you ever seen two people ride bicycles across a tightrope with a plank suspended between them whilst someone does acrobatics on it? No, neither had I. Seeing really is believing and Circus 1903 makes you realise that anything is possible.
The icing on the cake was the addition of puppeteered elephants – both an adult and a baby – that made the circus really feel like it was straight out of 1903. The elephants were realistic and the puppeteers were hardly noticeable, making the elephants such a fantastic part of the show for the whole audience.
For two hours we were in the Golden Age of Circus. With a contortionist who was like nothing I had ever seen before to the most amazing balancing acts – I have never seen so many balls spinning at once.
Circus 1903 was a show that made us wow. We were mesmerised throughout the whole time and we spent the short interval willing the show to begin again. Never before have we had such constant entertainment from a show and come away feeling so in awe and satisfied. Circus 1903 was incredible and it's a show I know we will all be talking about for years.
After seeing Circus 1903 I can almost guarantee that a big top circus show will never be able to compete. It translated so well to the theatre stage and gave the whole audience a fantastic view. It's a show I cannot fault and I would happily visit again tomorrow.
Circus 1903 is at Southbank Center until 5th January and you can find show times and more information here. Make sure you watch the trailer too: