Brownies are pretty much a staple bake for any kitchen. They are so easy to make, taste great and I've never met anyone that doesn't appreciate a brownie still warm from the oven.
Gooey chocolate brownies are one thing I always buy from coffee shops, a go-to cake that I know is so hard to get wrong. We love to bake brownies at home and this gooey chocolate brownie recipe is something we bake all the time. Making the brownie mix with white chocolate chips adds more depth of flavour and moisture to the bake. But, if you don't like white chocolate ones or don't have any you can use any chocolate chips – or cut up chocolate chunks – that you have to hand.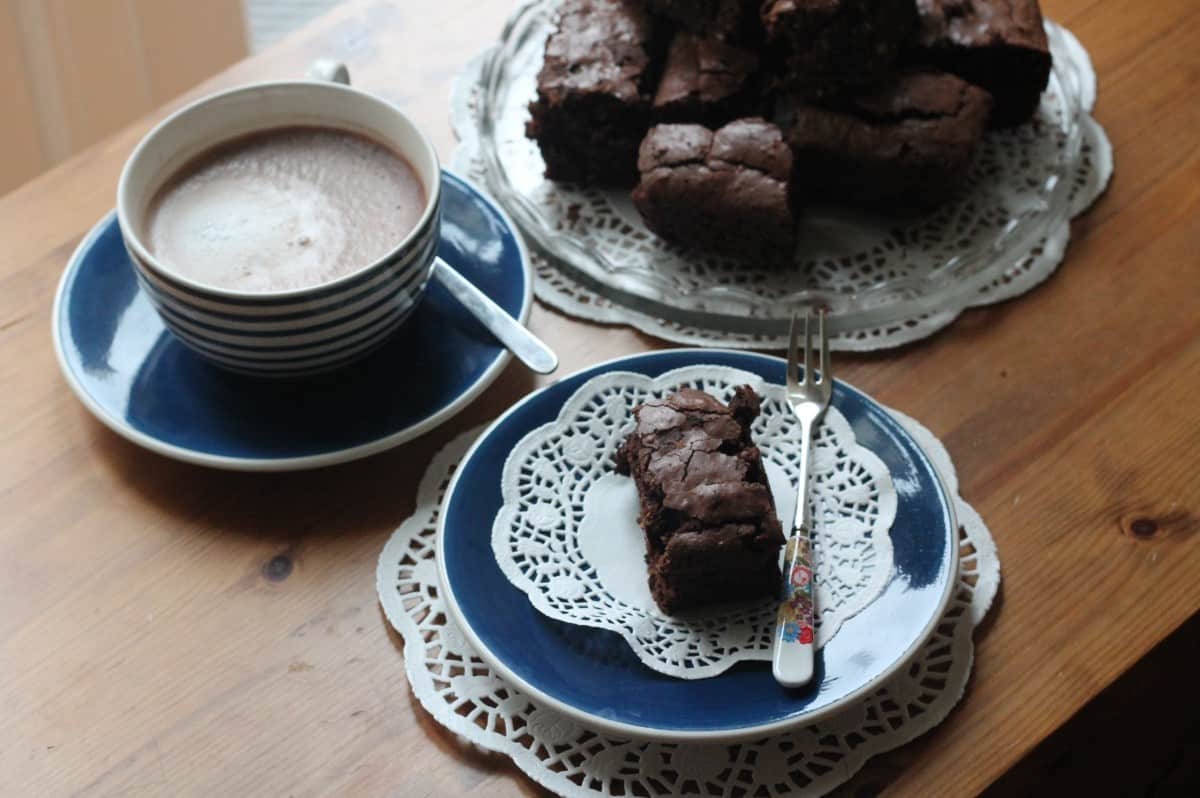 We have been making chocolate brownies since the children were tiny and chocolate chip brownies are always something they really enjoy. We have always made them as something to share with family and friends or as a lovely gift. Everyone loves fudgy brownies – that lovely consistency in the middle – along with the nutty crunch too. This is definitely one of our favourite baking recipes.
So here's our Chocolate Brownie with White Chocolate Chips recipe:
Ingredients for brownies
4 medium eggs
500 g caster sugar
325 g unsalted butter
125 g cocoa powder
1 tsp vanilla extract
150 g roasted hazelnuts
50 g white chocolate buttons
250 g plain flour sifted
2 tsp whisky
2 tbsp icing sugar
Instructions
Preheat the oven to 160c.
Beat the eggs and sugar in a mixer until white and fluffy.
Melt the butter over a gentle heat and stir in the cocoa, then stir in the egg mix. Add the vanilla, nuts, flour, white chocolate buttons and whisky.
Pack the mixture into the baking tin and smooth the surface with the back of a spoon. Cook for 20-25 minutes.
Leave to cool. Turn out and cut into pieces of your desired size.
Sprinkle with icing sugar
If you'd like to print or pin the Chocolate Brownie with White Chocolate Chips recipe for later you can do so below. Enjoy!
Chocolate Brownie with White Chocolate Chips
This is such a lovely bake for any occasion
Ingredients
4

medium eggs

500

g

caster sugar

325

g

unsalted butter

125

g

cocoa powder

1

tsp

vanilla essence

150

g

roasted hazelnuts

50

g

white chocolate buttons

250

g

plain flour

sifted

2

tsp

whisky

2

tbsp

icing sugar
Instructions
Preheat the oven to 160c.

Beat the eggs and sugar in a mixer until white and fluffy.

Melt the butter over a gentle heat and stir in the cocoa, then stir in the egg mix. Add the vanilla, nuts, flour, white chocolate buttons and whisky.

Pack the mixture into the baking tin and smooth the surface with the back of a spoon. Cook for 20-25 minutes.

Leave to cool. Turn out and cut into pieces of your desired size.

Sprinkle with icing sugar