Last week was our 5th wedding anniversary and Dave and I always try to buy wedding anniversary gifts using the traditional meaning for each year. This year, our 5th anniversary, is wood. I looked everywhere to find the perfect wooden gift but nothing seemed to fit quite right, nothing suited Dave as well as I would like for our wooden anniversary.
To give you some anniversary gift ideas for a fifth anniversary, I found the following on my travels around the internet:
Wooden Watches look fantastic and were my top gift choice for Dave on our wood anniversary – If he didn't already have an expensive watch!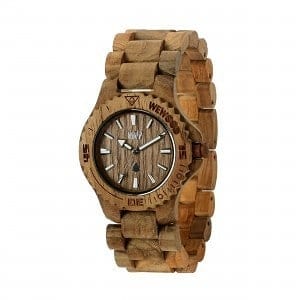 Wooden Block Clocks look really nice and stylish but I wasn't sure they would fit into the decor in our house, even though I knew Dave would love one! This one is from Cotswold Trading.
Wooden Chopping Boards can often be personalised with your own unique message. If Dave was more of a chef this would have been a great present! This one is from Getting Personal.
Wooden Crates are widely available, personalised for any occasion. If Dave was a gardener or even much of a drinker then this would have been ideal – I'd love a personalised crate but not sure Dave would have a use for one! This is from Plantabox.
In my hunt around the internet I found so many things that I would love as presents and would male lovely unusual 5th wedding anniversary gifts – I have quite a wooden, rustic style and love the quirkiness of a lot of the reclaimed and upcycled products available online. So which of the romantic wooden gifts did I buy for Dave?
Well, one of my Twitter followers pointed me in the direction of Auntie Mims, a company that make a whole range of personalised gifts including wooden things and I immediately fell in love with an oak leaf and acorn keyring which I thought would be great as a personalised wedding anniversary gift after five years. This keyring symbolises so much – Dave and I both have a leaf and Little Man and LP have an acord each – From us our acorns have grown and one day they will be their own oak trees. Bit corny but I loved it!
So I placed an order with Auntie Mims for my keyring and it arrived a couple of days later, well packaged and in a gorgeous recycled cardboard presentation box. To say I was pleased was an understatement – I adored it and luckily Dave loved it too!
The keyring was great quality whilst keeping it's lovely natural wooden charm. Each piece was expertly cut and the names on each were perfect. Add to that a good quality metal keyring and you really do have a perfect gift.
If you're looking for a personalised wooden gift for wedding anniversaries or any other occasion then take a look at Auntie Mims, such lovely ideas many of which I haven't come across before.