March has been a really busy month and we have managed to tick another couple of things off the Bucket List so I'm linking up with Beth at Twinderelmo for her monthly Bucket List linky.
So here's how our Bucket List now looks at the end of March: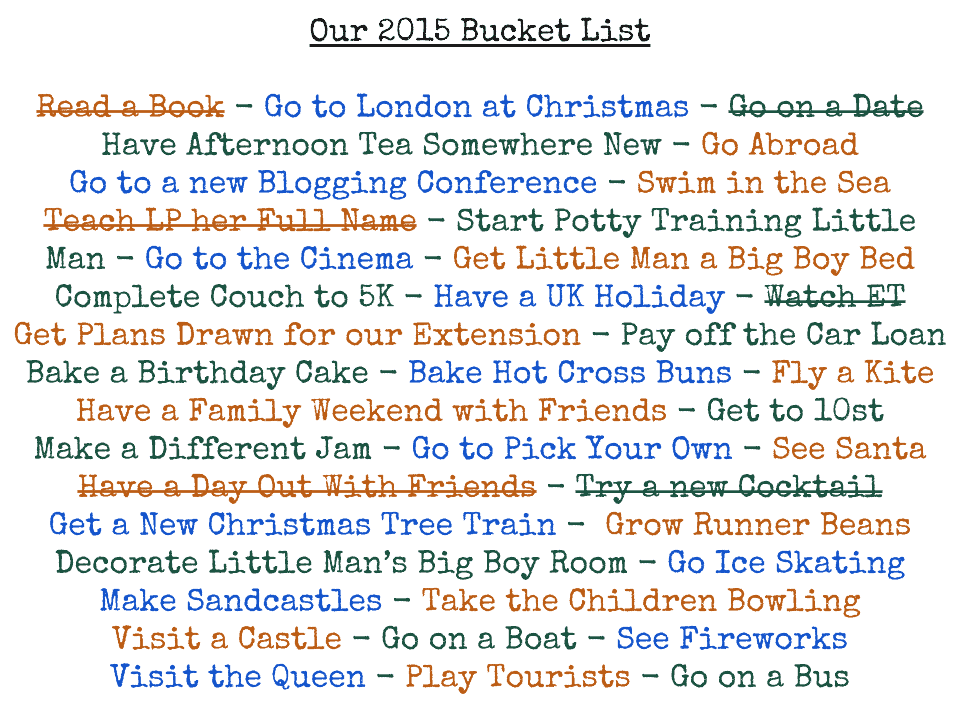 Dave and I went on a date to Warner Bros Studios to see their Hogwarts Express Expansion. It was lovely to get out in the evening for a few hours, just the two of us and really doesn't happen often. We're planning a night out or night away for our anniversary in May and after that we probably won't go out again until Oct/Nov for our Birthdays but at least going out every few months makes it special rather than just routine.
One of my Mothers Day presents was ET on Blu-ray, a movie that I have wanted to watch again for literally YEARS so when we got home on Mothers Day evening we sat and watched ET with the kids. LP thought ET was a 'baby alien' and that he was 'ever so cwoote'. A success I think and we'll be watching it again soon!
We have also got Little Man a big boy bed – he's inheriting his sister's old bed as she now has a new cabin bed. We haven't moved him into the new bed though so I won't tick that off just yet. We also have plans in place to decorate his bedroom in May after his Birthday so wheels are definitely in motion to tick more things off over the coming months.
How are you doing with your Bucket Lists and resolutions?