Disclosure: We were sent the featured products for the purpose of this post however all opinions are my own.
This post contains affiliate links and I may receive commission if you visit a link and buy something. Purchasing via an affiliate link doesn't cost you any extra, and I only recommend products and services I trust.
I work from home and, like many families, we now have a home that pretty much runs on the internet. We have tablets for the children to use, laptops for work and homework and so much smart technology like smart heating, Alexa and we even had a WiFi kettle at one point. But, with all this modern technology our house has found it hard to keep up.
We live in an older Victorian house with quite thick walls that has increased in size over time with various add ons and renovations. When we had our downstairs extension finished a few years ago we invested in a WiFi setup that used powerline technology to repeat the signal to a different part of the house through the existing electrical wiring.
This setup involved an ugly adaptor in our shiny new kitchen and a different network name. It worked intermittently, with the signal being much weaker upstairs and over time we really noticed the performance reducing.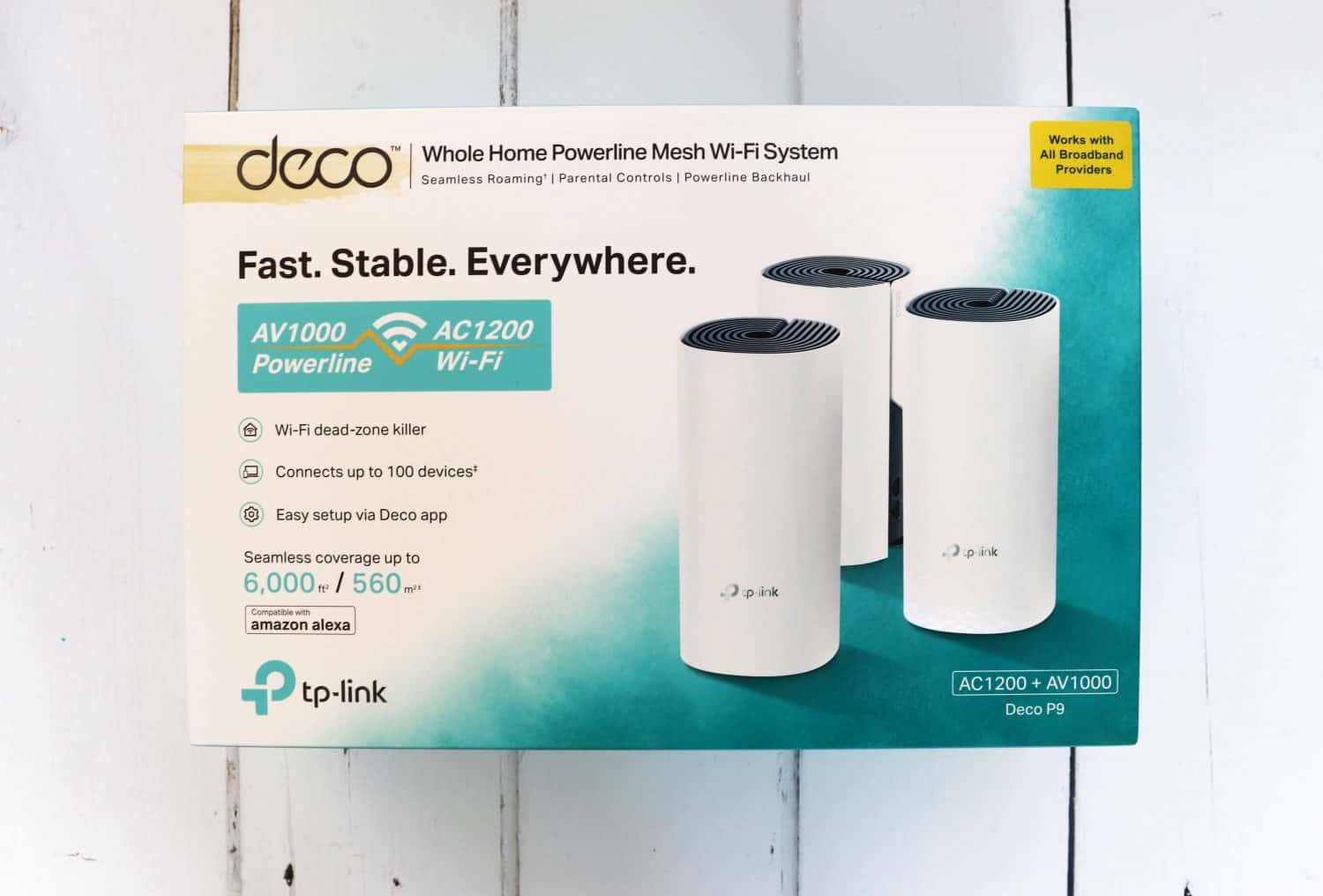 All we want is working internet throughout our home over a wireless network but it proved quite difficult to find a solution. TP-Link came to the rescue though, and offered us a powerful new mesh system in the shape of their Deco P9 range. Dave was excited as he hoped it would mean an end to me moaning about the slower WiFi in the kitchen or upstairs and forever having to change networks!
Well, the TP-Link Deco P9 has eliminated all of this with one easy installation that was up and running within minutes. With a handy app that is available on iOS and Android, upgrading our WiFi was a breeze and I wish we'd done it much sooner.
The TP-Link Deco P9 utilises both powerline and mesh technology. This gives extended coverage of up to 6000 square foot using the hybrid network and with only one WiFi network name, our devices automatically lock on to the strongest signal wherever we might be in the house. It's completely seamless and we never notice a loss of signal or any downtime when switching between signals. We have WiFi that works continuously – and I couldn't be happier.
The Deco P9 is sold in a three pack and will suit us perfectly when our loft conversion is completed later this year. We are currently only using two of the units and have perfect WiFi coverage all over the house, with the goal to add the third unit in the new loft conversion. The Deco P9 is billed as suiting a 3-5 bedroom house and I think that's pretty spot on. We have a slightly larger than average three bed house at the moment and the Deco 9 will suit our needs when we convert the loft to create a 5 bedroom home too.
The TP-Link app is a fantastic resource as well. It comes packed with features like household profiles, bandwidth optimisation, age appropriate web filters, blocked websites, blacklisted devices and even a guest WiFi network. It keeps track of the websites visited and the amount of time spent on them, a great way of supervising your children without looking over their shoulders! You can even tell the Deco P9 to prioritise certain devices over others if you require a quicker connection for a certain task.
The Deco P9 is fully compatible with Amazon Echo devices. You can ask Alexa to complete tasks like turning on the guest network, setting night mode for the devices – turning the LED off on each unit or for prioritising devices for faster connections.
Our home WiFi network has become much more reliable and stable since we started using the TP Link Deco P9 setup. With it's stylish white minimalist design, the units don't look out of place in a modern connected home and they provide you with a rock steady WiFi network capable of handling anything you can throw at it.
I am now confident that our WiFi network at home will be able to grow with us as a family, it will cope with future advances in smart technology and it will let me work seamlessly from home for years to come.
The TP-Link Deco P9 has an RRP of £199.99