Here's this week's instalment of Blogger Behind the Blog where I interview a blogger all about their reasons for blogging and what it means to them. This week I'm joined by Zoe from No Light Without Darkness.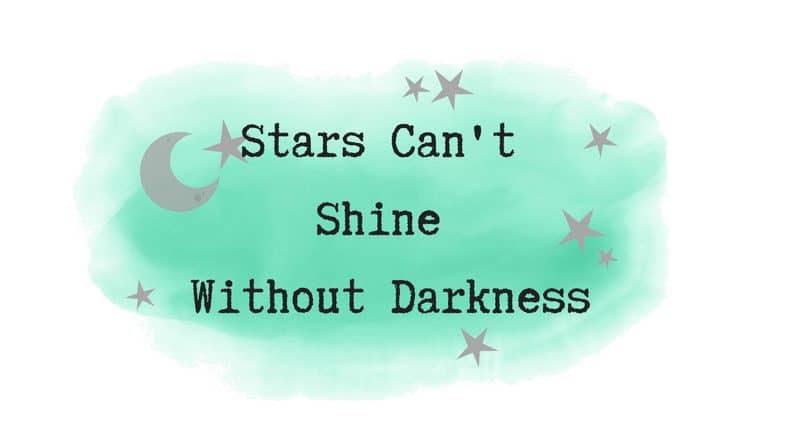 Here's Zoe with more about her blogging life:
Where did your blog name come from?
It comes from a well-known quote I love, "Stars can't shine without darkness." Meaning you can't have good times without bad times, and I try to apply that to myself when I think life's throwing it all at me.
When did you start your blog and why?
I started in August 2016, after I'd completed 11 months of counselling. I wanted to use the time I'd gained wisely, and my counsellor recommended me keeping a journal, which soon turned into a passion for writing!
What did you do before you blogged?
I mostly cried, moped, and used my journal as an outlet and an escape. Depression sucks.
What was your first post?
It was 'How Do I Want to be Remembered?', and I thought it would be a good post to start with to give everyone a feel of who I was and what I was trying to do. I'd already been active on Twitter for around 6 months shouting about mental health and stigma, and I still remember the excitement of putting myself 'out there' for the first time.
What inspires you to blog?
It's quite sad, but usually a bad experience inspires me. Suffering a massive panic attack, being dismissed by professionals, or digging up a painful memory makes me want to write it down. For myself, so I can let it go and deal with my emotions, and for others, to relate to if they have been in a similar situation.
What post has had the best response, which post are you most proud of and which post did you enjoy writing the most?
The post that got the best response was 'I'll Never Be Emily', and it's probably the one I'm most proud of as well, because I felt like I finally let go of all these awful feelings that had been weighing me down for so long. I cried when I read it back, and it was heartbreaking after publishing it to read that other people had dealt with the same issue from their parents that caused them to have low self-esteem and relationships problems down the line.
Have any of your posts not had the response that you expected?
'Ways to Beat Everyday Stress'. Living with anxiety, stress affects me a great deal, so I wanted to share the ways in which I've learned to combat it over the years. Unfortunately, this one didn't get the attention I hoped it would.
Where do you see your blog in a year's time?
Still going strong, hopefully! It's all about raising awareness for mental health, I've already had one of my posts shared by Time to Change (How to Help a Loved One with Depression), which was a huge achievement for me.
What is your favourite thing about blogging?
I love when I write about an experience I thought was unique to me, only to end up engaging with a reader because the post really resonated with them, and we both get the mutual feeling that we weren't alone, after all.
…and your least favourite?
Nobody warned me about how much promotion I'd have to do! It can feel awkward sometimes, plastering social media with "Hey, look at my blog!", and scheduling tweets and pins takes up So. Much. Time.
What's the best blog post you have ever read?
#MeToo from Anxiety In London. She was one of the first people I spoke to when I was new to Twitter and we always cheer on each others posts. She opened up to me briefly before about her experiences when the Me Too movement was gaining a lot of momentum, and shortly after she published her amazing blog post all about it. It was such an important, empowering read, and her strength really comes through in her writing. I'd really recommend it – and she's a great person too, so go and follow her on Twitter!
What blog do you love to read and why?
I love to catch up on Dorkface posts, especially when I'm feeling down. Reading Jemma's posts is like catching up with an old friend, and I love seeing what she's been up to and checking if she has any new items in her shop.
Do you do anything differently now to when you started blogging?
I'm a bit easier on myself now. I used to stick to a rigid schedule and kick myself if I 'failed'. I understand that life can get in the way, and living with mental illness can be so challenging, my blog is supposed to be an outlet, not a chore.
Is blogging what you expected it to be?
Not at all. There's A LOT of work involved!
What's been your favourite blog collaboration to date?
I haven't worked with any brands, but Charlotte Underwood and I wrote guest posts for each others blogs. I respect her very much as a writer and a person, so I loved working with her.
Are there any brands you would love to work with, why?
Not a 'brand' as such, but I would love to collaborate with a mental health charity and
be a part of spreading awareness about mental health.
Have you had any blogging fails so far?
Nothing yet – although it's only been a year so there's still time!
What is your biggest blogging hope, dream or ambition?
I suppose it's not got much to do with blogging, but I really hope to write a book one day. Blogging and journalling keep me writing regularly, but life feels so busy already I feel like I'll need an extra day in the week to keep up soon.
What do you do when you're not blogging?
I'm usually found at the cinema losing it over the newest Disney/Pixar/Marvel release, I love films and there's so much to watch now!
and lastly, tell us all a random fact about yourself
Oh no – I never feel interesting enough for these questions! I speak a second language, German, which I studied at school but then didn't go back to for years, so it's a bit rusty now. But I've been brushing up on German with Duolingo in my spare time (Which is such a rarity now!).
Now that you know all about Zoe from No Light Without Darkness, make sure you go and read her blog. Make sure you follow her on Twitter too. Thanks so much Zoe for being involved!