Now for this week's instalment of Blogger Behind the Blog where I interview a blogger all about their reasons for blogging and what it means to them. This week I'm joined by Kate from LesBeMums.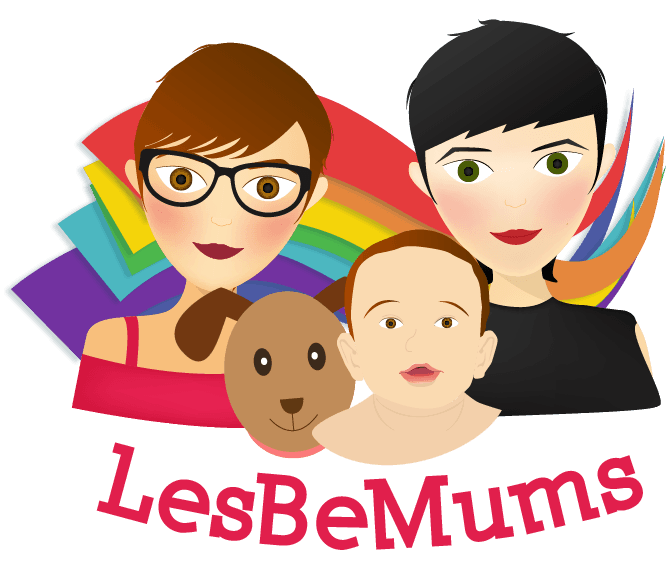 Here's Kate with more about what blogging means to her:
Where did your blog name come from?
I'd like to say that it was a stroke of genius, but it was just me and Sharon messing around with words and it came to us. It's a play on 'Lesbians' and 'Let's Be Mums'.
When did you start your blog and why?
We started it back in 2012 when we just started trying to conceive T. We wanted somewhere to document our "journey" (as tacky as that sounds) as we were worried we'd forget it all or have nothing to look back on if we were ever successful.
What did you do before you blogged?
Reading blogs! It started with following beautiful and/or fun Instagram accounts, and then a few of those accounts lead me to their blog, and wow. A whole new world was opened up to me. I never knew such a community existed.
What was your first post?
Don't judge me – I had just started writing and I hadn't quite grasped the style I wanted. I still don't. It was this one – 5 years, 11 months and 5 days.
What inspires you to blog?
My son. Being part of the LGBT community. Other bloggers! A lot of things roll around in my head and I often need to get them on to proverbial paper.
What post has had the best response, which post are you most proud of and which post did you enjoy writing the most?
My birth story. Although a little hectic, it was the end of one (long) journey and into another.
Have any of your posts not had the response that you expected?
Thankfully, no. I tend to avoid anything to do with religion and politics, so maybe that's why.
Where do you see your blog in a year's time?
Wow. I have absolutely no idea. I'd like to hope that it would have helped a few same sex couples start their journey, or at least be reassured that it can happen. I'd like to hope that our blog doesn't change too much (apart from a few theme changes!).
What is your favourite thing about blogging?
The community. Without a doubt. From the TTC community, to the blogging community as a whole – our blog has opened to the door and found us some wonderful people who we now class as our friends (even though we haven't met half of them!). I love the interaction from our readers as well from the authors of the blogs we love. It's a wonderful place.
…and your least favourite?
This is a hard one as there's quite a few things I dislike. I dislike the self-doubt, the constant comparing with others, the fact that I no longer have time to blog! Blogging is hard, especially when you want to write but don't have the time. I very much class it as a hobby, but I still wonder whether it's all worth it. The time. The effort. I often question why I do it, but then I look back through the blog posts and read about all the things that have happened that I may not have remembered if it wasn't for the blog.
What's the best blog post you have ever read?
Now thats a question! Charlotte's posts from Write Like No Ones Watching are always so beautiful, and LGBT posts from My Two Mums are always so current.
What blog do you love to read and why?
I love reading The Goblin Child by Amber Wilde. As well as an amazing photographer, she writes such beautiful posts about her family of four children and Josephine the dog with her wife Kirsty. They're a beautiful family.
Do you do anything differently now to when you started blogging?
I write better (I hope)! I hate, hate, hate reading my old posts as I sound like a 14 year old girl – writing like I'm talking. It's embarrassing. I just hope people look past the way in which I write and look at the message I'm trying to get across.
Is blogging what you expected it to be?
Yes and no. I knew what I wanted to get out of the blog (my space to write and let loose) but I didn't know what would come from it (the community, the experiences, etc.)
What's been your favourite blog collaboration to date?
Review-wise, I really enjoyed working with Mountain Buggy – they're really friendly and their products are great. Blogger-wise, I really enjoyed sharing my 'What My Kid Did' with Lauren from Belle Du Brighton. It encouraged me to write monthly posts about T which means I now have stuff to look back on. Stuff I never realised would be so important until I looked back on them.
Are there any brands you would love to work with, why?
I would love to work with GoPro as we're a really active family, and they're such advocates of adventure.
Have you had any blogging fails so far?
I'm sure I have, but I've shoved them to the back of my mind so I never remember them! Most of the time it's technical issues that get me.
What is your biggest blogging hope, dream or ambition?
Oh gosh. I have no idea. I think I'd like to see my blog help someone, someone who's currently in the same position as I've been previously. I'd like to think that one of my posts could help them or at least make them feel that they're not alone.
What do you do when you're not blogging?
I work full time in the public sector.
and lastly, tell us all a random fact about yourself.
I have a ridiculous fear of frogs. It's a fear I've picked up from my mum, and even though I try and ignore it, I break into a sweat when I'm near one.
Now that you know all about Kate from LesBeMums, make sure you go and read her blog. You can follow her on Twitter, Facebook and Instagram – thanks so much Kate for being involved!