Here's this week's instalment of Blogger Behind the Blog where I interview a blogger all about their reasons for blogging and what it means to them. This week I'm joined by Amanda from The Family Patch.
Here's Amanda with more about her blogging life:
Where did your blog name come from?
The Family Patch was originally called Amanda's Patch. I wanted to choose something that would grow with me, and Amanda's Patch felt like it covered enough ground to do that. It also included a little play on words – it's like my little patch of the internet, but it also covers things I love like sewing and gardening.
When O came along in 2011 I realised the blog was no longer just about me, so I changed it to The Family Patch. I don't actually write that much about parenting and family life any more and considered switching it back to Amanda's Patch. But I've been known as The Family Patch for so long now that it feels wrong to even think about changing it.
When did you start your blog and why?
I've been blogging since 2006 and The Family Patch is actually my third blog!
I first discovered blogging in my final year at university, and fell in love with it almost immediately. I had a few friends who used LiveJournal, but it wasn't until I discovered family and craft blogs that I really discovered how wonderful blogging can be.
I loved getting glimpses into other people's everyday lives, and that's still what I love about blogging today. After lurking for some time, I finally found the courage to leave my first comment (on "delurking day" – anyone remember that?) at which point I realised it might be time to start my own blog so that I wasn't just a random name, but a person with a story.
Needless to say, I quickly fell in love with writing a blog. I'm a writer and a linguist – I make sense of the world and my life through words. It's just what I do. I'm also a big thinker, so the process of writing my posts (pretty much as a conscious stream of thoughts) and then editing it to make sure it makes sense to somebody else, really helps me gain perspective on things.
And I absolutely love it when someone comments to say "me too" (or I read another person's blog and think "me too" myself), because it reminds me that even those things which I am so terrified about myself aren't that bad. Blogging has certainly built up my confidence in myself, simply through reminding me that we are all human and my biggest "failings" really aren't that awful after all.
What did you do before you blogged?
This is a tough question, as I've been blogging for so long now, so I don't really know which part of that timeline to share. If we go right back to the beginning of my blogging journey, I had been a language student at university. I studied German and Russian at Nottingham, and as part of that I spent 3 months volunteering with the Salvation Army (mostly in a care home) in Germany and then studied in Russia for 3 months too. I also volunteered at Woodlarks each Summer, and travelled as much as possible during the long Summer break!
Over the years since then I have worked in a variety of roles including: childcare; student support; tourism; PA; volunteer management; and sales and customer service. I also had my son. And co-authored a book.
And in 2016 I left employment and began focusing solely on my work as a freelance writer, web designer, and social media manager. It's been quite a crazy decade to be honest.
What was your first post?
I had no idea, I had to go and look… apparently it was a random rambling about how much I had hated uni, and how I was about to start my dream job (which actually only lasted about 6 months because childcare pays so little I couldn't afford to live on the salary and had to go home!) I read it and cringed slightly… I've grown a lot since then (both as a person and as a writer). If you want to see what the 22 year old Amanda wrote on a 2006 style blog, then feel free to head over here and have a laugh!
As that isn't my current blog, I thought it might be a good idea to also include my first post from The Family Patch too. Although it looks like I may have deleted the very first post welcoming people to the new blog (whoops) as this is the first one listed in my dashboard. It's a tutorial for people like me (who don't follow step-by- step instructions very well and prefer a more flexible approach to tutorials haha).
What inspires you to blog?
Tough question! I think mostly I am inspired to blog by things that I just happen to see in the world around me and which make me so passionate about them that I feel I need to share. It could be a conversation with a friend, a news article, a brilliant blog post by someone else, a beautiful walk in nature, a gift I've received, a question someone has asked, a challenge I need to figure out… honestly, there isn't any single source of inspiration for me.
What post has had the best response, which post are you most proud of and which post did you enjoy writing the most?
Again with the tough questions…
Okay, my best ever post is probably the one I wrote about exploring emotions with kids. It was originally published on yet another blog I wrote (yep, another one!) and one day the traffic suddenly spiked to over 1,000 hits and I wondered what on earth was going on. I never get traffic like that. Turns out, someone had added it to StumbleUpon and it had gone a little bit crazy from there.
The post I am most proud of has to be this one which I wrote to try and help my son understand how poorly his daddy was. That post was chosen as one of the BritMums Blogger Keynotes in 2015 and I got to read it out to a whole room full of bloggers. I still remember the absolute shock of realising that the conference organisers had chosen it – I'm such a small blogger and that was such a huge honour for me.
The post I enjoyed writing the most is probably the hardest one to choose, because there are so many that I have loved writing. I think I'm going to go with one of my latest posts though, which is this one where I shared yet another poem I had written. Except this time I combined my words with images and music. I really enjoyed the challenge of creating the video and I would love to try and explore this a bit more moving forwards.
Have any of your posts not has the response that you expected?
This is another tough question to answer for me, because I don't think any single post has received less of a response than I expected. But I do wish my blog as a whole got a better response than it does, if that makes sense? I feel like such a small fish in such a very large pond, but I know that this is because there are so many amazing bloggers out there these days, and that most spend a lot more time and effort on their blogs than I do.
So it's not so much that my posts receive less response than I expect, because I don't expect them to receive much of a response in the first place. Rather it's a wish that I had a bit more oomph about me to actually do something about that!
Where do you see your blog in a year's time?
I would love to say that I see it growing over the next year, but the reality is that I am far more ill than I have ever been right now and if I'm honest I think it's more likely that my stats will drop. So I think my focus for this year is to become a "more content blogger", one who is less terrified of doing or saying the wrong thing and is okay if the blog never really goes anywhere. You'd think I'd have that sussed after so many years, wouldn't you? But I haven't…
For instance, one of the reasons I moved all the faith stuff onto a separate blog a couple of years ago was that I was worried that sharing faith based stuff here would put people off. But doing so really stifled my creativity and love of blogging, as I had tried to go "too niche" and struggled to write anything either here or on my other blog.
Another example is how I didn't share how sick I was becoming, for fear of people judging me. I was so worried that potential clients would see my health issues and never want to work with me, or that people I had worked with in the past would question my previous work in light of my illness. And I am terrified that people may see me as lazy or a "scrounger" for being reliant on benefits right now.
But I'm such an honest person that not being able to write about these things really affects how I blog. This year I hope to embrace everything and not just the things I deem "safe". I feel as if doing so will allow me to connect more with my tribe and be really beneficial for my own well-being.
What's your favourite thing about blogging?
Having a space that is mine, where I can share what is on my heart, and know that it is a reminder in years to come of the journey I have been on. When I look back on the past 12 years of my life, I have a diary of sorts that highlights not just my thoughts at the time (as a private diary would) but also the love and support that I have received by being a part of this glorious community.
I can see conversations that have inspired me, comments by people who have randomly found my blog and said, "me too" making me feel less alone, and I can see how much I have managed to achieve despite some truly awful challenges. Even when I am too sick to work or even get out of the house, I can slowly work on adding something new to the blog. And I can look back at the opportunities blogging has brought me over the years, such as conferences I have been to, and I can remind myself that one day I'll be able to do them again.
…and your least favourite?
That would have to be the pressure to be at the top of your game, to keep up with all the latest things, to be *everywhere*… I cannot tell you how many times I have felt completely inadequate as a blogger (especially as someone who has been at this for so many years) when I see other bloggers building up huge audiences, working on major campaigns, turning their blog into their business etc. I know I've touched on this earlier, but it really is so hard not to get swept away with the current and think I *should* be able to do all of that too. (I hasten to add this is far more about my own insecurities than anything other bloggers do!)
What's the best blog post you have ever read?
Oh I have read *so* many over the years, how am I supposed to choose just one? I have thought for days about this and finally I've chosen a post by a blogger I found in my early days who doesn't blog that often anymore.
Sarah lives in Kentucky and though we have never met I consider her a dear friend. Which is why, when she wrote about finding peace with having an Only Child it really spoke to me. I have since found my own peace about this (which is tested when O starts getting upset because he desperately wants a sibling!) and I am sure that seeing someone who knew exactly what my heart was experiencing making that step towards peace really helped me do the same.
Our reasons for being parents of just one child may be different (hers is through infertility, mine is through other health issues), but the feeling is the same for me as it is for her. There was a time when I truly wondered if I would ever be able to have a child, so as she puts it, "It may not be what I would have chosen, but one is so very much better than zero."
What blog do you love to read and why?
Again, so many I love for so many different reasons. But if I had to choose just one, I would say Slouching Towards Thatcham. Tim's blog is pretty much everything I love about blogging – it is a snapshot into his life, covering so many different things in such a lovely conversational way.
Do you do anything differently now to when you started blogging?
Oh yes… when I started blogging I rarely included images, never thought about SEO, and the only social media I used was Facebook to keep up with friends. Nowadays I never post without at least one image, usually at least two (one for Pinterest, one as a featured image) and use Canva to create images for Facebook, Twitter, and Instagram too. I also often use stock images rather than my own photos, as I'm not that great at taking photos that fit my posts. And that's before we even get into SEO and Readability! Gone are the days when I simply wrote my thoughts down and hit publish with just a cursory glance to check for typos etc.
Is blogging what you expected it to be?
No. I don't think it has ever been what I expected it to be. Just when I think I have my head wrapped around what it's all about, something changes and I find myself scrambling to figure it out all over again. It has certainly become a lot more work than I ever expected it to be (and that's just as a hobby blogger!) But saying that, it has also taught me so many new skills I never expected to learn either, such as web design, SEO, copywriting etc
What's been your favourite blog collaboration to date?
I haven't done many, but I have to say my favourite by far has to be with Cosmic Kids. I originally wrote a review of their Star Wars video when I first found it, as I loved it so much. I contacted Jaime to ask if I could use their logo etc in my post and that began a lovely journey for me.
The highlight has to have been when we got to go to a live event at YouTube HQ. I loved the entire
experience, it was great to meet Jaime and Martin in person, and it led to a giveaway to win some of their DVDs on my blog.
We actually genuinely love Cosmic Kids – O won a competition to name a character in one of their books (we have all 4 books, we're big fans!) and I am currently doing the kids' teacher training with them (albeit incredibly slowly whilst I'm so ill!). Supporting someone whose work you truly admire is such a joy, isn't it?
Are there any brands you would love to work with, why?
I would absolutely love to work with brands that have a spiritual or natural health approach to life. Both of these have always been important to me, but as my health has deteriorated over the past few years they have become absolutely crucial to my well-being. As I want to start writing more about both of these, it would be great to make some connections with brands who are also passionate about them.
For instance, having seen Rachel Ridler share her Bible Journaling and seeing the items available at God At My House, I would love to work with them. I've never tried my hand at Bible Journaling, but I feel it would bring together my love of colour and creativity with my exploration of key verses.
Similarly, as I absolutely love to read and explore faith traditions from around the world, I'd love to work in some way with someone like Watkins Books who have such a wide array of books and events that sound fascinating to me.
And any herbal tea, gluten-free, or eco-friendly home and beauty products would always be welcome – seriously, I can never get enough of any of those, and regularly share great finds with others!
Have you had any blogging fails so far?
I guess it depends on how you define a blogging fail. There have been many times when I have tried something and it really hasn't worked out, but I'm not sure I would consider them fails as such. Take, for instance, my decision to move my spiritual posts onto a separate blog, only to find this completely stifled my ability to blog as I had gone "too niche". I am now having to copy over and rebrand all those posts back into The Family Patch, which is time consuming and annoying.
But it actually taught me so much about myself – i.e. I cannot separate the integral parts of myself in that way, and I had worried too much about what other people thought of me. It might have been a wrong turn in my blogging journey, but it taught me a big lesson and I can't see anything that does that as a true fail!
What is your biggest blogging hope, dream or ambition?
I would absolutely love to turn my blog into some kind of viable career. Right now this is just a dream, but I have hopes that one day my health will improve enough for me to do this. And when that day arrives I would love it to be connected to the things I love – faith, creativity, health, families…
I envision expanding my resource library to include purchasable items as well as freebies. Things like devotionals for those who are struggling, and activity packs for families wanting to celebrate the Pagan Sabbats. I'd also love to run short courses for local groups who want to learn how to use social media and websites to connect with others (I run our church's Facebook page and it has drawn attention from other churches in our circuit).
And, from a purely creative point of view, I would love the opportunity to work with others to expand what I can do. I've always loved the idea of working with a musician to create a song. And I'd love to work with an illustrator to give my kids' stories more oomph. And, of course, I would love for people to follow along with my novel as I continue to write it.
What do you do when you're not blogging?
When I'm too sick to be on my laptop (which happens a lot at the moment), I will usually be reading something. I love reading, both fiction and non-fiction, so that's what I tend to do when unable to do anything else. If I'm feeling a little more "with it" then I might crochet something or do some colouring, anything to get my creative fix! And on days when I am able to, I love to do a bit of yoga.
And lastly, tell us all a random fact about yourself
I always find questions like this so tough to answer, because I'm so open about myself that there isn't much left to surprise you with. I asked my husband and all he could come up with was how many x-rays I've had in my life, so I'll go with that…
I can't actually remember how many x-rays I've had, but it is a lot! It started when I was 5 and my mum noticed I was walking funny. An x-ray on my leg showed a "shadow" which the doctors couldn't explain and several times I had to trot back up to the hospital with my mum for another x-ray to see if it had changed at all. They were just about to operate to investigate when it suddenly disappeared, so we never did find out what caused it.
The rest of my childhood was littered with accidents that often involved a trip to A&E for an x-ray: falling onto the fireplace whilst trying to give my big sister a piggy back and hurting my wrist; falling off the trampoline and hitting my face (although that one may not have involved an x-ray); ending up in hospital for two days with concussion from a chair falling on my head at school… you should see my hospital file!
And then, of course, there were x-rays connected to my teeth – my mouth is far too small for my teeth (and has a super high palate) so it took 5 years with 3 types of braces under hospital supervision to get my teeth to sit straight. This, alongside all the accidents, is most likely caused by my hypermobility – I'm not simply unlucky haha
When you add in the CT scan and bone density scan I've had over recent years it all starts to add up. I remember being amazed when in a science class at school I realised some people have never had an x-ray (how is that even possible?) and that even those who did tons of sport had only had 2 or 3 x-rays in their life (whenever I try to run I am liable to injure myself!) We had a good old laugh about how I must "glow in the dark" from having had so many x-rays, although it does make you wonder doesn't it, how much of an affect that many x-rays could have… (I don't glow, by the way!)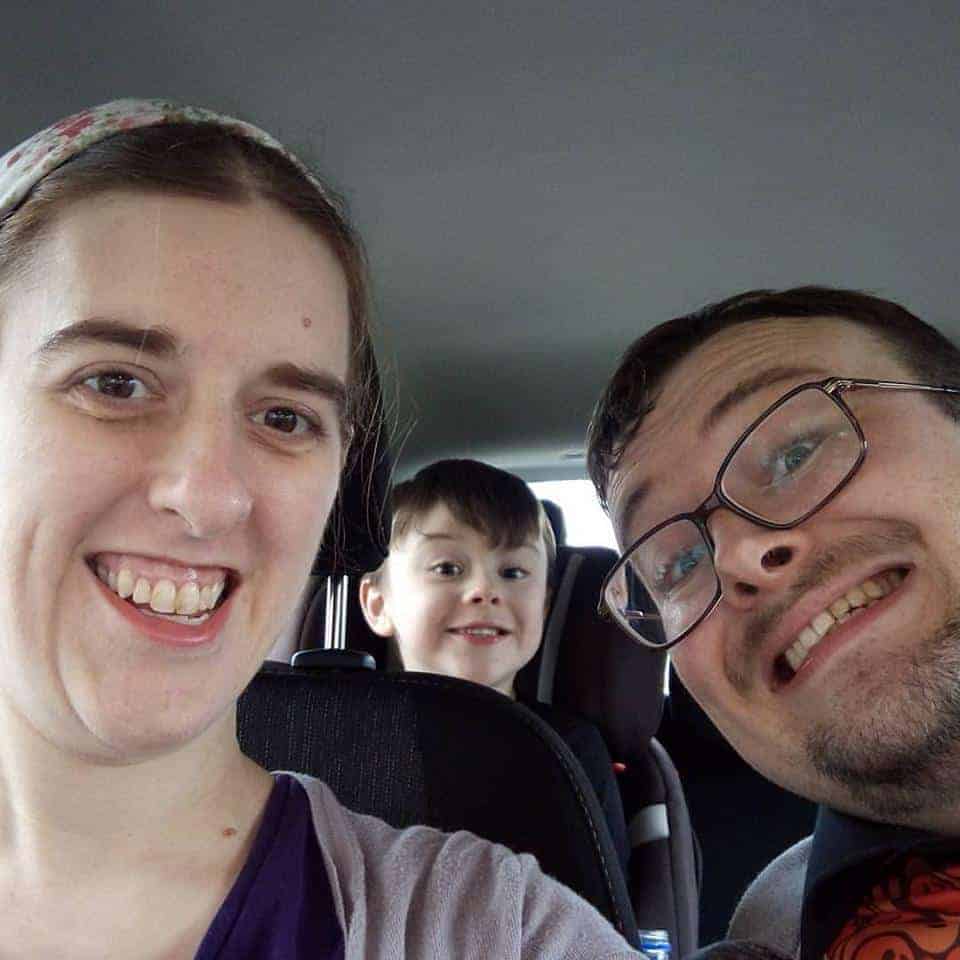 Now that you know all about Amanda from The Family Patch, make sure you go and read her blog. Make sure you follow her on Twitter, Facebook and Instagram too. Thanks so much Amanda for being involved!