Here's this week's instalment of Blogger Behind the Blog where I interview a blogger all about their reasons for blogging and what it means to them. This week I'm joined by Laura from Dear Bear and Beany.
Here's Laura with more about her blogging life:
Where did your blog name come from?
We call our girls Bear and Beany, it's their nicknames and it felt like the perfect name for my blog. You will often her Holly shouting 'Alice bear', when we are out!
When did you start your blog and why?
I started blogging in January 2016. I first thought about starting a blog three years ago when I was on maternity leave with my eldest daughter, but I wasn't brave enough. The thought never went away and I finally decided to go for it after a push from my husband. I am now kicking myself that I didn't do it sooner, as I love it.
What did you do before you blogged?
Watched trashy TV and wasted my evenings!
What was your first post?
It was a post called 'Family Day Out to see Great Nan – The Ordinary Moments'. I was so excited to be joining in The Ordinary Moments linky that I had read for so many years before I started my own blog.
What inspires you to blog?
I love to write, it's been a passion of mine since childhood and I just want to keep getting better at it. I love that I can write about our life and capture all our family memories in one place.
What post has had the best response, which post are you most proud of and which post did you enjoy writing the most?
The post that has had the best response is one I wrote and nearly didn't publish because I didn't want people to think I didn't love or want my girls, because that isn't the case. It's titled 'I will never know a son's love'.
The post that I loved writing the most is 'I learnt from the best…My mum' It was one of those posts where the words just flowed out.
Have any of your posts not had the response that you expected?
My first one, I don't think anyone but my mum read it… ha ha!
Where do you see your blog in a year's time?
I would love for it to be in a place that people want to come and read, where they are excited to see what I have posted next.
What is your favourite thing about blogging?
That I have something that is mine, a place for all my rambling thoughts. That I can take it in any direction that I choose. It's my rules…
…and your least favourite?
I find it hard to feel part of the blogging community, I feel like I am stood on the sidelines with my big toe dipped in and I don't know how to make the next step.
What's the best blog post you have ever read?
That's a tough one, there are so many I have read it's hard to remember them all.
What blog do you love to read and why?
I love to read Mummy Daddy Me, I have read it for 4 years, since I had Alice. She has two girls that are a similar age to my girls and I can relate to so much that Katie writes about. She writes so effortlessly and I love to now read about her son too.
Do you do anything differently now to when you started blogging?
I haven't been blogging that long, but I am always learning new ways to do things. It might be things that make something better, or quicker. I am constantly changing how I do things.
Is blogging what you expected it to be?
Yes, and so much more. I started my blog to write and that is still the same. What I wasn't expecting is everything else, it has been a complete eye opener and I am excited about the future.
What's been your favourite blog collaboration to date?
Working with Micro Scooters and pushing myself to do my first video alongside my blog post.
Are there any brands you would love to work with, why?
I would love to work with Jo Jo Maman Bebe, I adore their clothes on my girls and I love the story behind the brand.
Have you had any blogging fails so far?
Not yet, that I am aware of. But I am sure one will come my way soon.
What is your biggest blogging hope, dream or ambition?
Now that my eyes have been opened to the wider world of blogging that I had no idea existed. I would like to see where I can take it, to be braver and to take some more steps into this wonderful world.
What do you do when you're not blogging?
I am at home with my two girls making memories, tidying the house and trying to keep all the plates spinning.
and lastly, tell us all a random fact about yourself
When I was 10 years old I was a finalist in a christmas carol competition on the local radio. We had to write our own song and perform it live in a shopping centre, which went out on the radio!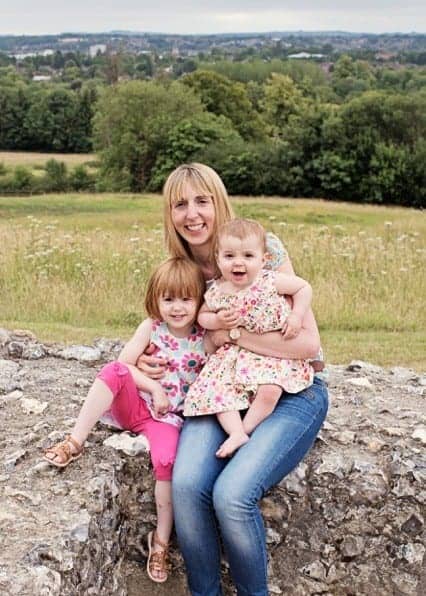 Now that you know all about Laura from Dear Bear and Beany. make sure you go and read her blog. You can follow her on Twitter, Facebook and Instagram – thanks so much Laura for being involved!