Here's our latest week of Beginning of Us and this week we're hearing how Leanne from A Slice of my Life…Wales met her Husband. Here's Leanne…
Spencer and I met through friends, he was a good friend of my sister's partner (I'll refer to him as my brother in law even though they aren't married because they practically are!). We knew who the other one was and would say hi but that was about it.

July 2007, one of our first pictures together

One day in February 2007 my friend and I went along to my brother-in-law's local pub with my sister to watch the rugby. Spencer and I got chatting and we had a great night. At the end of the night my friend & I struggled to book a taxi so decided to walk home, it was a cold February night and about an hours walk so not the best of ideas. Spencer lent me his coat while we stood outside trying to phone taxis as he didn't want us to walk, my friend went back into the pub and we had our first, drunken kiss.

July 2008, our first holiday

We started to walk home when my friend came back and Spencer decided that he would be a gent and walk us home, while constantly trying to phone a taxi because he really didn't want to walk us home, he only lived two minutes away from the pub! He eventually managed to get us a taxi, paid the driver and we said our goodbyes. No exchange of phone number, no arrangements to meet again, nothing.

The next day, to my relief, my sister asked me if she could pass my number on to Spencer. I said yes and eagerly waited for a text. Nothing. I was cursing him to my sister, but what I didn't know was that he was also cursing me for not replying to his text. It turns out that my brother-in-law still had my old phone number and had passed that number on, Spencer had sent a text but I never received it. This was before the days of facebook (we're old) so we had no other way of contacting each other. Once this was figured out he was given the correct number and thankfully text me straight away.

October 2009, the day we got engaged

We arranged to go out to the cinema. He picked me up from my parents house and off we went to watch Music & Lyrics. After the film we stopped off at a pub for a drink & a chat, we had a great time and really hit it off.

Our relationship grew quite quickly, there was none of this messing around and pretending not to be interested, we would both text each other quite often and made it clear that we liked each other.

November 2012, our Wedding day – photo by Paul Adams
In July 2008 we bought our house, in 2009 we got engaged, in 2012 we got married and this year (2015) we have been lucky enough to bring a beautiful baby girl into the world.
February 2015, with our baby Aria
Thanks Leanne for sharing your love story. When you know, you know and I will never understand the messing around – so glad you two just went for it! It was obviously meant to be!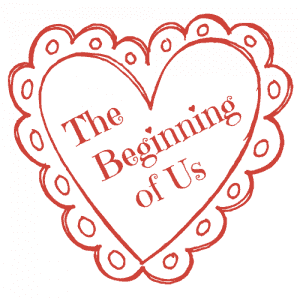 You can read more Beginning of Us stories over on the Beginning of Us page and if you would like to feature in the series please do get in touch!