This week's beginning of us comes from Laura over at My Thoughts on Things. Go and check out her blog for lots of beautiful family photos, family posts and recipes. Here's Laura with her story…
27th April 2008. I was coming out of hibernation, after my S.A.D. kept me shut away for much of winter! I'd heard of "Alpha Chris" – named because of his involvement with the Alpha Course at church, not because he was top dog – but none of our mutual friends had introduced us. I was out for lunch with said friends after church and, as we reached the end, Chris walked in to meet one of them. I recognised him as the chap that my friend and I had done a stint at the Christmas Market with. We all headed to Shakeaway for pudding. Chris kept trying to talk to me, which I found odd – I'm not great at talking to people I don't know. I managed to mention something about the wonders of the milkshakes, then tried to talk to someone I knew. In the shop he was at it again, striking up conversation.
I didn't tell him my name. But that night I saw his Facebook friend request. I had myself a genuine Facebook stalker! I was a combination of weirded out and flattered, so I accepted and sent a message asking how his first Shakeaway had been.
At a friend's birthday I learned Chris had been talking about me; my old housemate questioned whether I could fancy him! I figured yes, but wouldn't invest too much – good looking, eligible, Christian men were few and far between, and there were a lot of us single ladies. I wasn't the cream of the crop. Anyhow, we kept bumping into each other. One evening at the pub after church we talked the entire time, mortifyingly to the exclusion of friends sitting near us. Two days later he asked me out. Two dates later – 18th May – we were official. We got engaged in June 2009 and married December that year.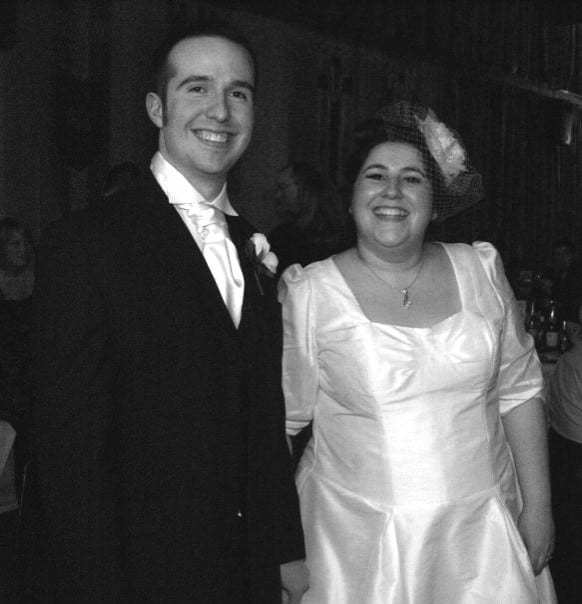 Thanks Laura for sharing your story – a perfect happily ever after!