Today's beginning of us comes from Kate over at LesBeMums. I remember quite clearly the first time I came across Kate's blog – it was when she followed me on Twitter, probably quite a while ago now. I thought the blog name was just so good, so funny and so memorable. It has only been, though, over the last few months of getting to know Kate that I've realised how much the fun and quirky name suits her personality, and is perfect for her blog. She's one of the loveliest people that I have got to know in the blogging world and it's always a pleasure to read her blog and hear more about her adventures with her wife and little boy. You can find LesBeMums over on Twitter too and here's Kate to share how she met her future wife…
I warn you now, our story isn't that exciting. If you're expecting an action packed dash through an airport, kisses in the rain, or a childhood story, you're not going to get it. Instead, you're going to get a tale of how two very shy lesbians got together. Here goes…
When I "came out" back in… Crumbs… 2003? 2005? It was as if I'd been allowed entry into the hottest new club. I was excited. But when I finally reached the metaphorical dance floor called 'The Gay Scene', I quickly realised that it wasn't a place for me. I wasn't into flings and drama, and I certainly wasn't prepared to step into a scene from 'The L Word'. The gay scene was/is very incestuous, and everyone knew/knows everyone. Not for me.
Sure, I remained out and proud, but not on the scene. Instead, I found myself chatting to people online. It was a time when there wasn't a thing called 'Facebook' (gasp!) or 'Twitter' (shock!) and mobile phones simply sent texts and made phone calls. The Internet was a weird place. This weird place, however, was where I started chatting to Sharon in November 2006. By this time, I had met my fair share of "interesting" people, so to say I was frosty with Sharon was an understatement (she didn't have a picture at first, so that didn't help).
Despite coming out of a messy relationship, Sharon persisted in getting my attention. Not only did she immediately upload a photo of herself (she hates photos of herself) when I queried it, but she called me the night I gave her my number. See, I had already been messed around so I had a habit of being rude frosty shy with new people. Whilst chatting on the phone (remember when we did that?), we found out that not only were we from the same area (Orpington, Kent) before our families moved away, but we were both born in the same hospital! It was as if fate had brought us together as by this time we were several miles apart!
Over the course of a month, we met up a few times. I would nervously play a game of 'Would you rather' every time we met up and Sharon would keep our drinks topped up. It wasn't until a P!nk concert, though, that things moved up a notch.
Neither of us knew that the other would be at the concert so when Sharon text me asking what I was up to, and I replied that I was at the concert, things started moving. I, for one, can't remember the concert apart from the fact that we were texting throughout it and at every interval we'd both dash to the same bar. Sharon's efforts almost put her in A&E after she almost face-planted the floor whilst trying to climb over barriers to get to the bar I was at. When the concert had finished, Sharon called and we chatted all the way home (I was on a train back to Brighton and Sharon was in a limo with her friends back to Redhill (no, she didn't offer me lift)). We were buzzing (as were our ears!).
In December 2006 (the day after the concert) we finally made it official. I was sat in some damp court room (I was on jury duty! Come on, people!) and Sharon text to ask whether I'd be her girlfriend. It was all very disgusting and cheesy, but I'm a sucker for all that. You may also notice that it had only been a month since we started chatting (this is pretty standard for lesbians, actually).
Fast forward almost 10 years and we're happily married and with a gorgeous son. We still chat a lot (still just as much on the phone) and Sharon still has a habit of falling over when you least expect it.
I couldn't imagine what my life would be like without Sharon, and I am forever grateful for her persistence. Anyone else probably would have told me to lump it.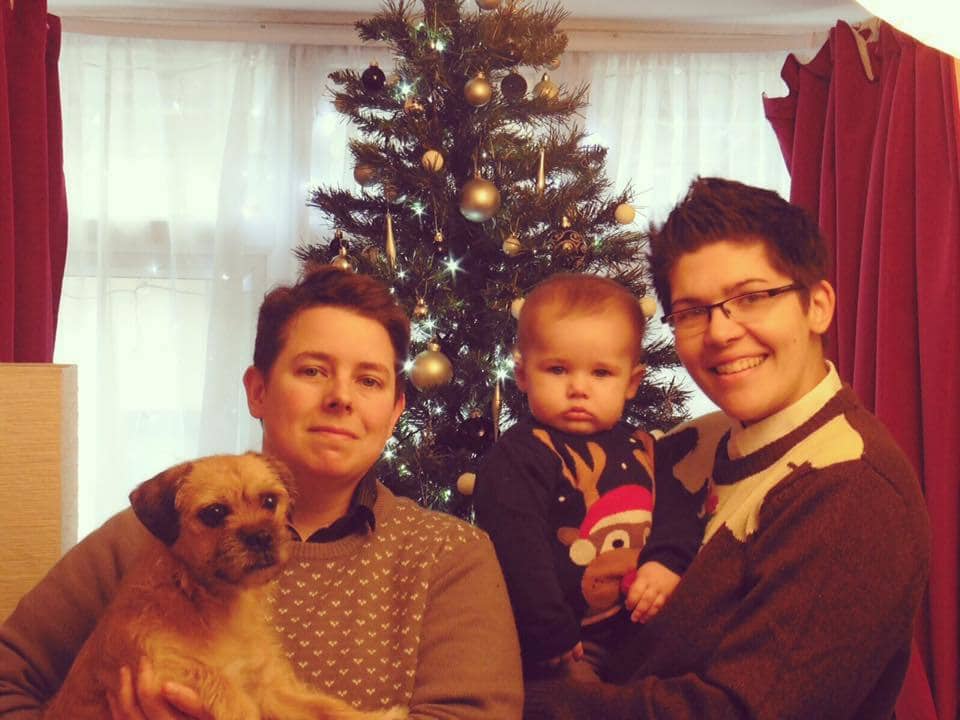 Thanks Kate for sharing your story. Some times the simplest stories are the loveliest and it definitely sounds like you have met your match. It's so nice that you knew so early on that you were meant to be!
If you would like to read the other posts in the series you can see them all here and remember to come back next week for another lovely story!