Today our Beginning of Us post comes from Ellie who you can find on Twitter @elliessence and on her lovely little blog. So over to Eleanor to tell us her story of how she met her Husband!
To begin with I am originally from Co. Cork in Ireland. My mother met a guy online and in February 2010 she decided to move to Wales to make a go of things. I was in a relationship and that broke down in the April so to clear my head I was going to move to wales for the summer. I moved in the May of that year.
About a week before my mother told me that her partner's son was moving in as his relationship had broken down. As he had a son he got the spare room and I got the settee. I was not best pleased! When I got there I didn't bother with the son as I was not happy about the living situation but he tried his hardest with me; asking me to go for drives etc. I was thinking he was over friendly haha! Then one night we watched a DVD together and he kissed me! I'm not joking but it felt so different! Like fireworks! We continued this in secret because of the whole his dad, my mum situation. People eventually found out and we got stick for it.
It was my time to go back home and I told him this, he chose to ignore me and cut me off. I didn't think we were serious as it was only 2 months. After a week I realised how much I missed him, I texted him and said I wanted to talk. He broke down and said he had fallen in love with me and didn't want me to go. I didn't know what to do!! The next day I sat him down and told him I was in love with him too and wanted to stay!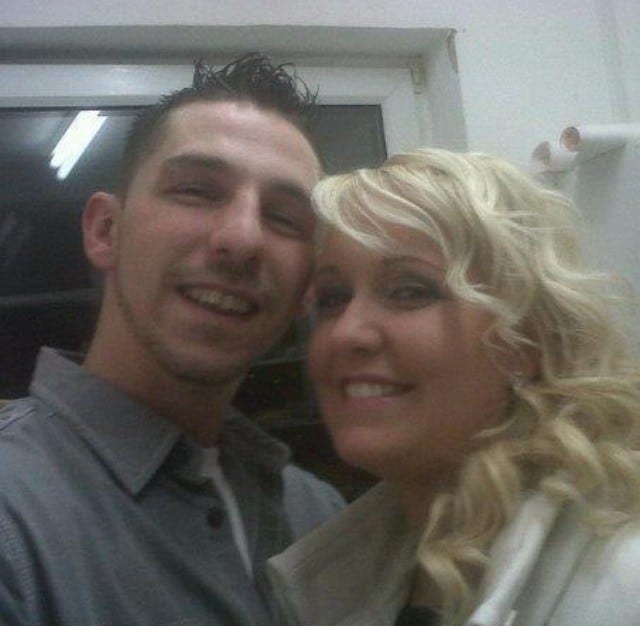 Our parents broke up in the August so that was all good haha! 🙂 We got engaged in December 2011, married July 2012, Sophie arrived in January 2013 🙂

Thanks Ellie for sharing your story! What a whirlwind! It would have made things interesting if your parents had got married too…!