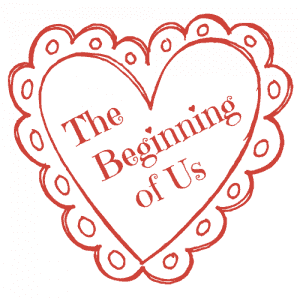 This week's Beginning of Us post comes from Clare over at Sons, Sand and Sauvignon. Clare blogs about family life with her three boys and autism as well as regular lifestyle and wedding themed posts. Clare's blog is a really lovely mix of posts with beautiful photos, honest and laughter. You can also find her on Twitter and Facebook – and here's Clare with her story…
In May 2007 I moved from my Assistant Manager role in Leeds to the same role in Enfield, North London. I had been working for a well known Carvery brand for the past 5 years and had worked my way up from a weekend pudding maker to a fully fledge assistant manager. I loved where I was, but I needed a new challenge, and this job stated that it would be perfect for an experienced Assistant wanting to further their career in a high profile site, so I went for it, and it was the best decision I made in my young life.

Once I'd started there and got to know many of the team, there was one in particular who I thought was a complete tool! He was cocky, over confident, and borderline arrogant. But he was a bit rough around the edges and I fancied him a bit. He would flirt with me whilst on shift, but he did that with all the girls. We started to get on, and I soon realised he was actually really funny to be around. One day, when my mum was visiting we all sat having drinks in the garden, and as he made my mum and step dad laugh with his ridiculous silliness I realised I had quite a thing for him. I'm not really sure how it happened but before I knew it he was taking me out on a date. I'd never been on a date before. It was a secret though. There is a bit of a saying in the catering trade (it probably appears in most other trades too) "don't poke the payroll" and as I was management, we didn't know how our manager would react to us starting a journey that could see us 'together'.

The date went well and he dropped me off back at my flat, the cleaner of the pub saw him kiss me, so that was one person in on the secret. I can't stay quiet about things either so I confided in my friend Gemma who also worked with me. We saw each other in secret a few more times and then one night on the way home from a night at a club, I asked the designated driver to drop me off at James'. The secret was well and truly out the bag now! That night we also decided to become official 'boyfriend and girlfriend'. James said he would talk to Jo our manager the following day and would quit his job if she didn't want us together.

Jo took it really well, and said as long as we kept personal stuff away from work stuff then there wouldn't be a problem. When I told my mum, she asked if I meant the guy from the garden that was really funny. Her response when I said yes was "I knew something would happen with you two!"

From that point our relationship blossomed quickly, we met each other's family and friends, did many things together and decided to go on holiday in the September (11th July was when we became 'official'). We talked about that holiday at a later date and both agreed we had thought that holiday would be the making or breaking of us, and it was. On returning from holiday James never left my flat again.

That Christmas James already had tickets to go to Canada and visit his mum, step dad and sister, and there was no way I could have Christmas off. As I waved goodbye to him, tears pouring down my face, I had a really horrid feeling that would be us over. I have no idea why I felt like that, but I couldn't shake it off. We had three ridiculous arguments over the phone whilst he was away, one being Christmas Eve. I think I was just lonely and trying to find fault when all I really needed was a cuddle. James wasn't due back until the 4/5th January but when he showed up on the morning of New Years Eve, I knew I had been totally stupid and that he was definitely the guy for me.

We were pretty much inseparable from then. We did almost everything together. We went on another holiday in April that confirmed to us we were well suited, and yet another in September. It was on this holiday James proposed to me. That man that I thought was cocky, over confident and borderline arrogant, is actually the sweetest, kindest, most generous and loving man that I have ever met, and I am so glad he is mine!
Thanks Clare for sharing your story. It just goes to show that you really can meet the perfect partner at work – and moving to London was definitely the best decision you made!
If you would like to read the other posts in the series you can see them all here and remember to come back next week for another lovely story!