Disclosure: We were invited on this day out for the purpose of this post however all opinions are my own.
This afternoon we were invited to our local Wyevale Garden Centre in Windsor to have Afternoon Tea with the Easter Bunny and to say LP was excited was an understatement – it was the first thing she talked about when she woke up this morning and I had to keep her entertained and distracted all day until we got in the car to go to the event!
What are Wyevale Garden Centres like?
I have never been to a Wyevale Garden Centre before but the one in Windsor has everything you'd expect from a garden centre and we made quite a few purchases before we had afternoon tea – we're getting the garden ready for summer at the moment so it was great timing!
What is Afternoon Tea with the Easter Bunny at Wyevale Garden Centres?
As expected, the Wyevale Garden Centre afternoon tea was held in the garden centre restaurant area and a few tables had been laid out especially for the Easter event and we arrived to find Alice (in Wonderland) and the Mad Hatter greeting everyone and pouring drinks. They were really welcoming and it was nice to see that although the event was fully booked there weren't too many people – about six families – making a more intimate event.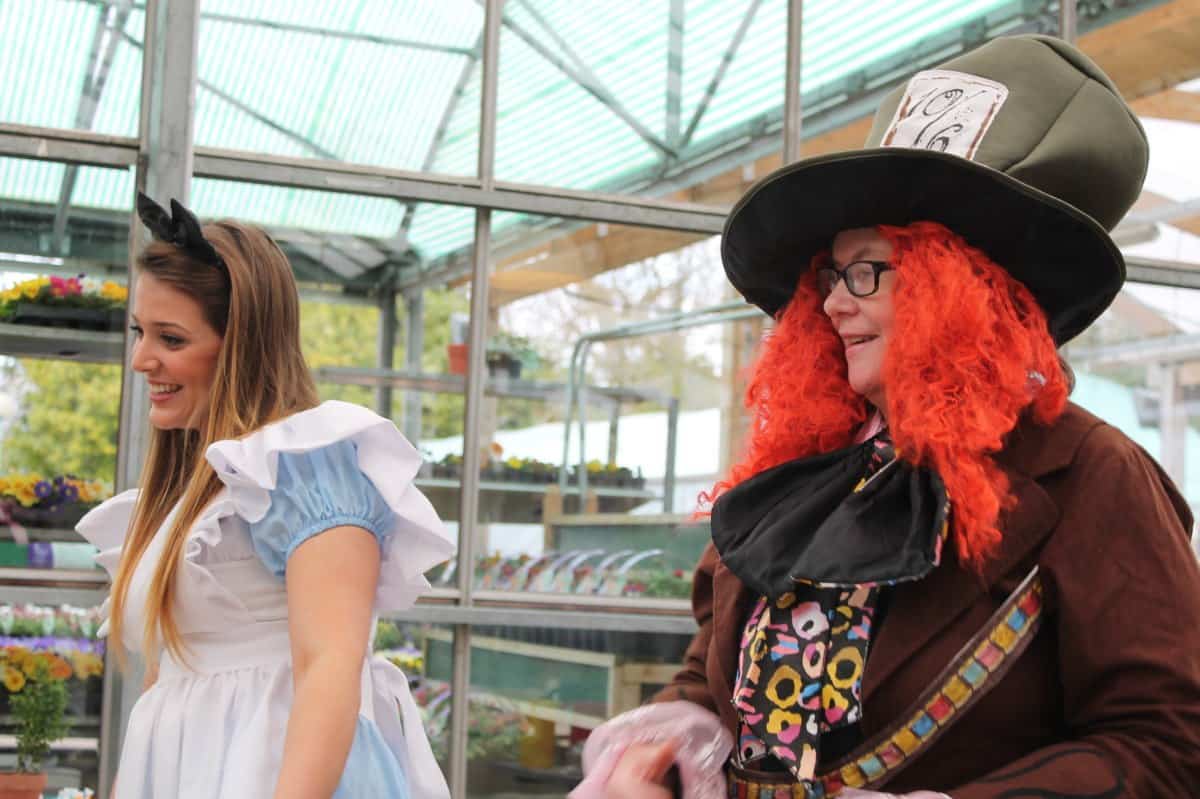 The children got entry into the soft play area, a great addition to the ticket but not something we realised was included so we didn't make use of the soft play – we would have arrived earlier if we'd known! Instead, we had about ten minutes to pass so the children sat at our table and did some colouring. The tables had been laid out with colouring pages and a Lindt bunny for each child – a very welcome treat that we saved until we got home.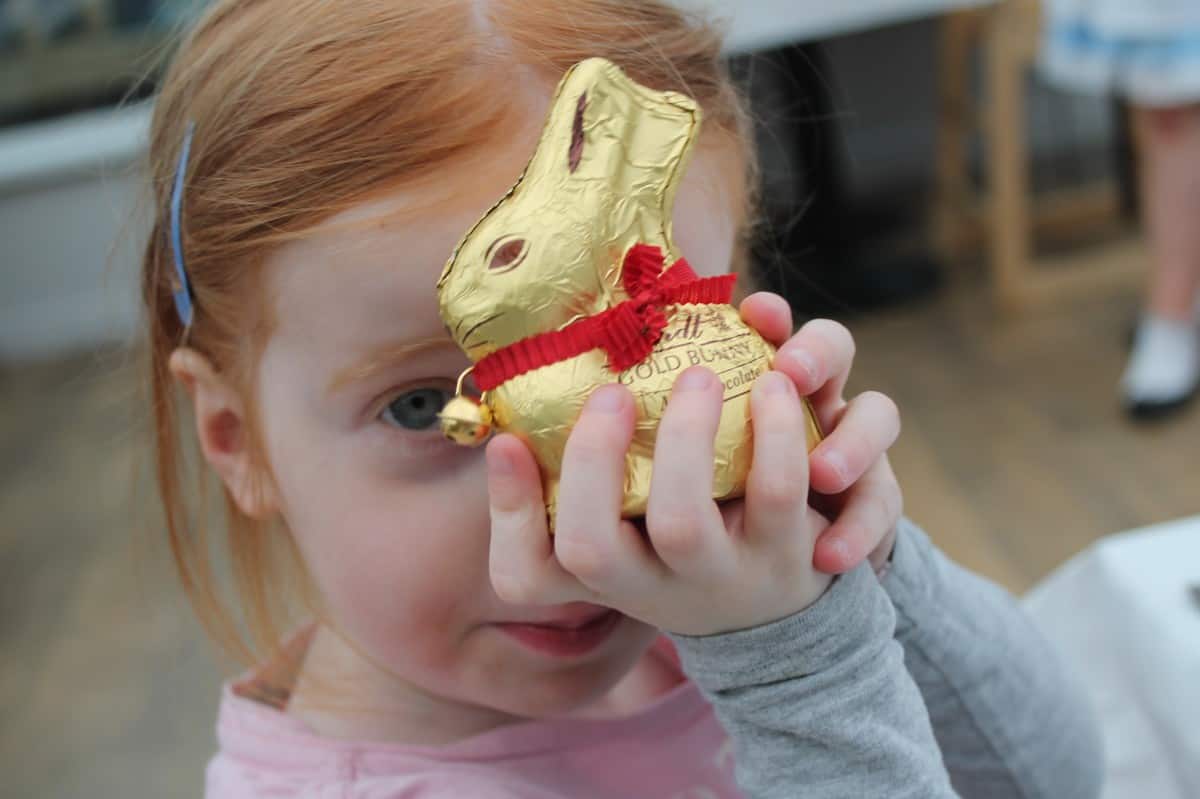 The Easter Bunny then came and said hello to all the children with time for photographs before our afternoon tea came out. The children had sausage, chips and beans which was a really good size portion and Dave and I had the adult's afternoon tea of egg mayonnaise sandwiches, ham and tomato sandwiches and scone with jam and cream and then a square of lemon meringue cake. The food definitely exceeded expectations and was a lot better than the menu had made it sound when we booked – a real treat and the children loved their meals too.
From the moment we got to the event and until we left we were offered constant refills of tea, coffee and juice and it really felt like we could have as much as we liked – a definite bonus and something that I always appreciate, rather than having to make the most of just one or two cups of tea. It would have been nice though if the tea had been in teapots on the table rather than being given teabags and hot water each time.
After we'd all finished eating and drinking the children got up and had a dance with the Easter Bunny – having a general boogie to some music and then doing head, shoulders, knees and toes. Both LP and Little Man loved this and were laughing throughout. Alice, Easter Bunny and the Mad Hatter all seemed to really love entertaining the kids too and it really came across in the event.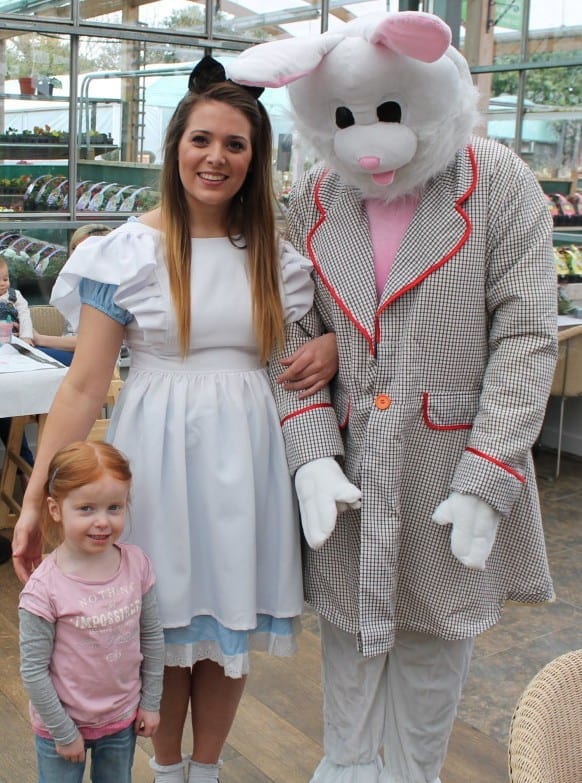 After the dancing the children sat back down to decorate cookies with icing and sweeties before being given a cuddly rabbit from the Easter Bunny having yet more photo opportunities.
How long does Afternoon Tea with the Easter Bunny at Wyevale Garden Centres last for?
The whole thing lasted about an hour and we had a fantastic time. It was really nice to get out in the afternoon to something that was so packed full of entertainment for the children and something so well organised too.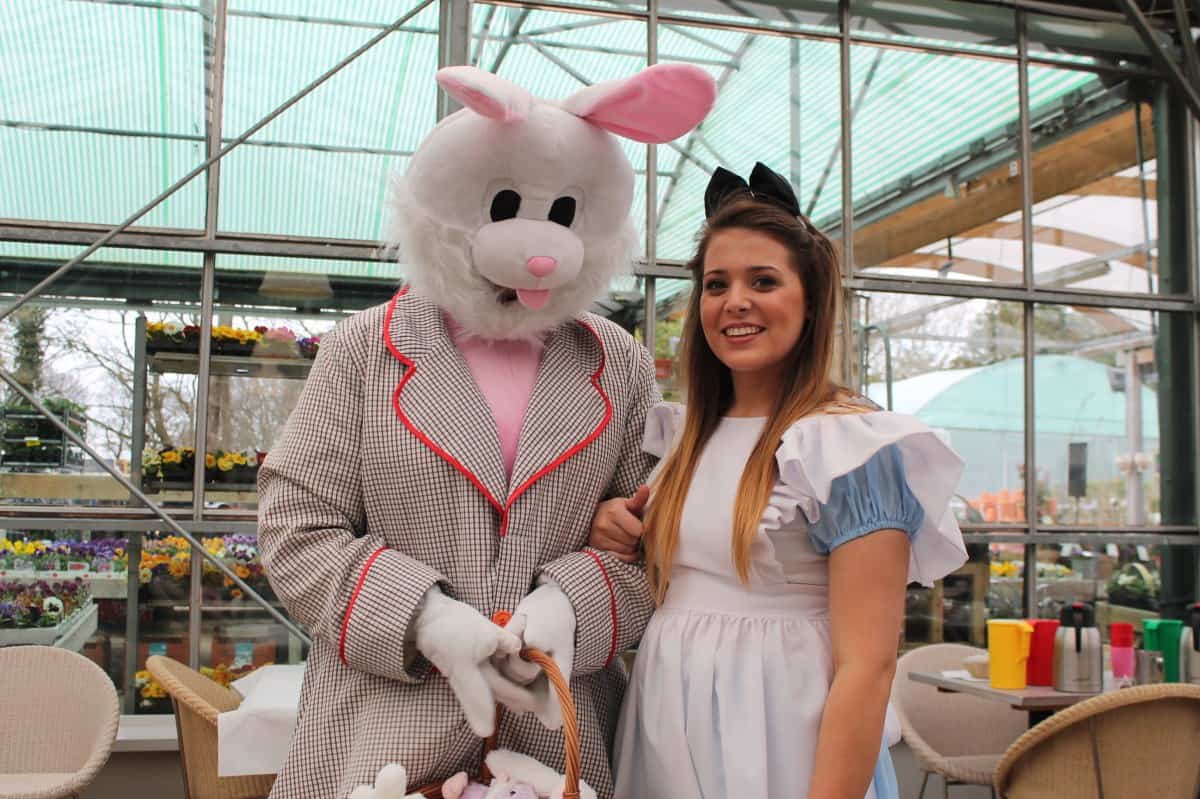 Wyevale Garden Centres have the option of breakfast or afternoon tea with the Easter Bunny and it's running until 5th April. Children cost £9.99 and Adults vary in price from £3.99 depending on the food options and I think really it is incredibly value as children get not only a meal but entry to soft play which is usually £1.50 for an hour, a cuddly toy, a Lindt chocolate Bunny and the great entertainment too.