*This is a collaborative guest post
Let's face it, laundry day can be a real hassle, and one which most of us could do without. As much as we might all try and make laundry day vanish, that pile of clothes in the laundry bin never quite seems to fully disappear. Like many other parts of housework, there's just no getting around doing the laundry. But there might be a way we can make laundry day a bit less painful, a bit speedier and a bit more organised as you do it. From how to try your clothes quicker to laundry without a tumble dryer and a few 'lazy man' tips for when your other half needs to be left in charge; I've laundered, folded and dried 8 great tips to make your laundry day a bit easier.
We all want to get out laundry done. Out of the laundry bin and out of our mind, as ignoring it is never an effective solution. Neither is running around without any clothes, especially in a British winter. Here are my 8 top laundry hacks and tips.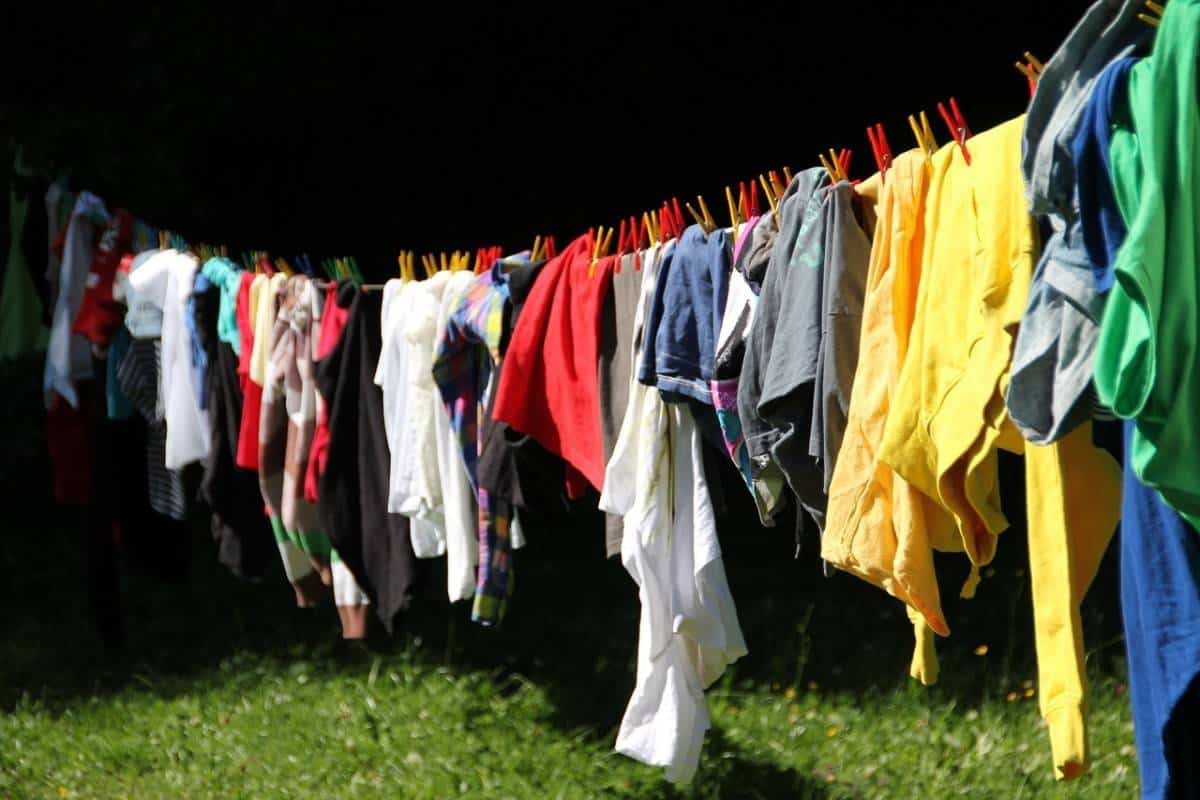 1. Don't make a day of it:
Sorting, washing, drying and ironing. A whole day of doing laundry is probably as boring as it sounds and probably isn't the most efficient or effective way of getting your clothes cleaned. If you really don't like doing the laundry (and really who does?) then think about doing it little and often. Switching up your routine and breaking a task like laundry into bite sized chunks makes it easier to set aside a little time each day to do it. You don't end up with huge mountains of laundry to do, or run out of your favourite clothes. Switching up your routine can make washing your clothes a breath of fresh air.
2. Dry your clothes quicker
Whether you use a tumble dryer or line dry your clothes, this is usually the longest part of doing laundry. You can pop your clothes in the dryer or hang them on the line and forget about them. However, you'd probably like to speed the drying process up a bit. We all know using the spin cycle before tumble drying cuts down on drying time but there are other shortcuts you can also take. A couple of drying balls added to your dryer can cut down on time. They work by heating up and spreading that heat through your laundry. They'll also soften your clothes and turn them over more, drying them evenly. You can pick up a pair from around £6.99. A cheaper nifty little trick is to add a big dry towel in with your drying. The towel acts as a moisture separator, speeding up the drying process.
3. Drying your clothes, even when you don't have a dryer
This one is where you need to get a bit more creative. Just like before, start by spinning your load to remove as much moisture as possible. Again we can use the towel trick here, but adding it in for the spin cycle. If you have a warm one straight from the airing cupboard, even better. When you empty the machine, have a couple more extra fluffy towels on standby. Lay your clothes out on the fluffy towel and then roll them up, like a swiss roll. Starting at one end twist the towel tightly as you move along. This removes as much moisture as possible from your clothes before you can hang them up. The best way to then hang them up is to pop them on a drying rack close to a heat source, such as a radiator or storage heater. Remember to keep them far enough away that it doesn't cause any issues. There are other tips on getting your laundry dried in a flash in this guide.
4. Get organised
Next to drying, just sorting out your laundry can often take an age. Let's face it it can be a real pain. Sorting through baskets of laundry for each family member can add ages to your weekly laundry chores. Who wants to be sorting through to find colours, whites and delicates. The best way to make laundry day easier here, get organised and get the family to help too. Using divided hampers, which have space for each of your sets of laundry. Get the family to pre-sort their laundry as the pop it into the laundry hamper.
Another organisational hassle is socks. It doesn't seem to what what you ever do, socks seem to go missing and you end up with lots of missing, unfulfilled pairs. You can solve this little laundry day problem with sock bags. Get each family member popping their dirty socks in this bag at the end of the day and you can add them straight to your washing machine. When the laundry and drying cycle is finished, you've got a bag of toasty warm socks to hand back to them.
5. Get it done quickly
No matter how many laundry tips I give you, I can never make laundry day more fun. The best I can do, is to speed it up a bit for you and take some of the hassle out of it. Planning ahead with things like separate laundry bins and sock bags can certainly save you time but we can go a little further. Getting rid of clothes which you don't wear anymore. If anything has been in your hamper for more than a few weeks without you taking it out, you probably don't wear it or miss it that much. Cutting down the amount of clothes you have, whilst keeping your favourite's means you can get through laundry day that bit quicker.
6. Be a (little) more lazy with laundry
Do you wear something once then take it off and wash it? Okay, if you have a spill or a stain on something then yes it needs washing straight away. Similarly exercise clothes or anything where you have been sweating should probably be washed quickly. But other clothes might not have to be washed straight away. A lot of people feel like they can only wear something once. But we can often wear something like jeans several times over. In fact clothing like jeans should be washed as little as possible, Levi's recommend you never wash them unless strictly necessary as washing them causes damage to the denim.
7. Drop and roll
Not all clothes need ironing and hanging up in the wardrobe. Lots of clothes today are either easy iron, or crease-free non-ironing clothes. Things like a t-shirt's can be left out of the ironing pile. Take them straight out of the dryer, fold your clothes such as t-shirts up and then roll them up to pop in a drawer. This cuts down on laundry time by getting rid of time spent ironing. Rolled and popped straight in the drawer, you'll also be able to see what clothes you have ready to wear.
8. A quick, cool wash
Unless your clothes are literally caked in mud and dirt then you probably don't need to wash your clothes on higher temperature settings or longer programs and a cooler, faster wash cycle (those typically used for delicates) will suffice. The best part of this is that washing on cool settings helps preserve your clothes colour. Hot water can often lead to clothes fading and even locking in tough stains on your clothes. Today detergents and washing machines are designed to work just as well as lower temperatures. Bonus, a lower temperature wash will dry quickly and uses a lot less energy too.
Laundry might be a fact of life, something which we just can't get away from. But there are ways you can make it quicker and easier.