I love our slow cooker but the best thing about it is that we can make affordable meals that the whole family will love, often cooked in bulk, portioned up and frozen to enjoy not just on the day but as lots of meals for the future too.
This is fantastic for family organisation but also a great way to save money too and most of these recipes are the ultimate comfort food as well – one pot goodness and often healthy slow cooker meals as well.
Here are our favourite cheap slow cooker meals for the whole family:
Beef Chilli
Our favourite meal – and favourite from our selection of one pot recipes – is this easy slow cooker Beef Chilli. We used to have it over rice but since we discovered homemade nachos we have chili and nachos once a week or so. It's a meal we could all eat every day if given the chance and just so easy to make. Mince or ground beef is so cheap too, we make it in bulk and freeze it.
Slow Cooker Beef Chilli Recipe
This has to be my all time favourite slow cooker meal. Chilli is such a versatile meal – serve with rice, nachos, in wraps – however you like. It's great to cook in bulk and freeze and tastes even better once frozen and reheated.
Check out this recipe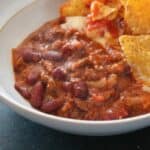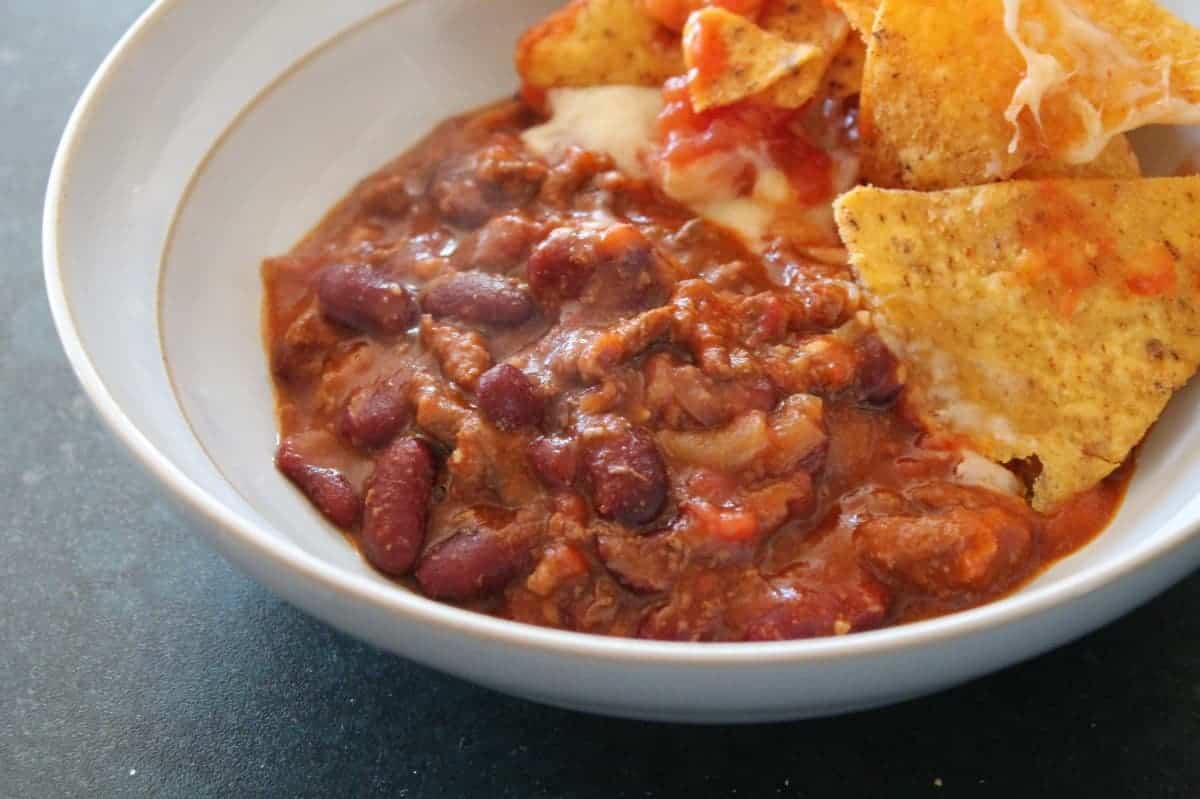 Sausage Tagliatelle
The children love sausages and so Sausage Tagliatelle has always been a winner with them. It has a pretty simple tomato sauce and we serve it with tagliatelle or spaghetti but it would go well with any kind of pasta really.
Slow Cooker Sausage Tagliatelle
This is one of our favourite family meals. The chilli flakes give it a little spicy kick without being overpowering and the sausages take on all the flavours from the sauce. It freezes well and is great for cooking in bulk.
Check out this recipe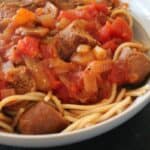 Lazy Cottage Pie
As much as we love a cottage pie I find it a bit of a faff to cook all in one go so we'll often have this Lazy Cottage Pie where I slow cook the mince mix of the cottage pie and serve it with mashed potatoes. The mince mix can then be frozen ready to use for a quick meal another day. At these times I'll often defrost it and make a proper cottage pie, taking a lot less time than cooking a cottage pie from scratch.
Slow Cooker 'Lazy' Cottage Pie Recipe
I grew up with shepherds pie as one of our staple meals – We never ate beef so I didn't have a cottage pie until I made one myself. Since then I have regularly cooked cottage pie but served with mash rather than made into a pie – My 'lazy' cottage pie!
Check out this recipe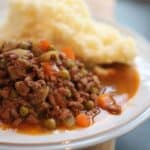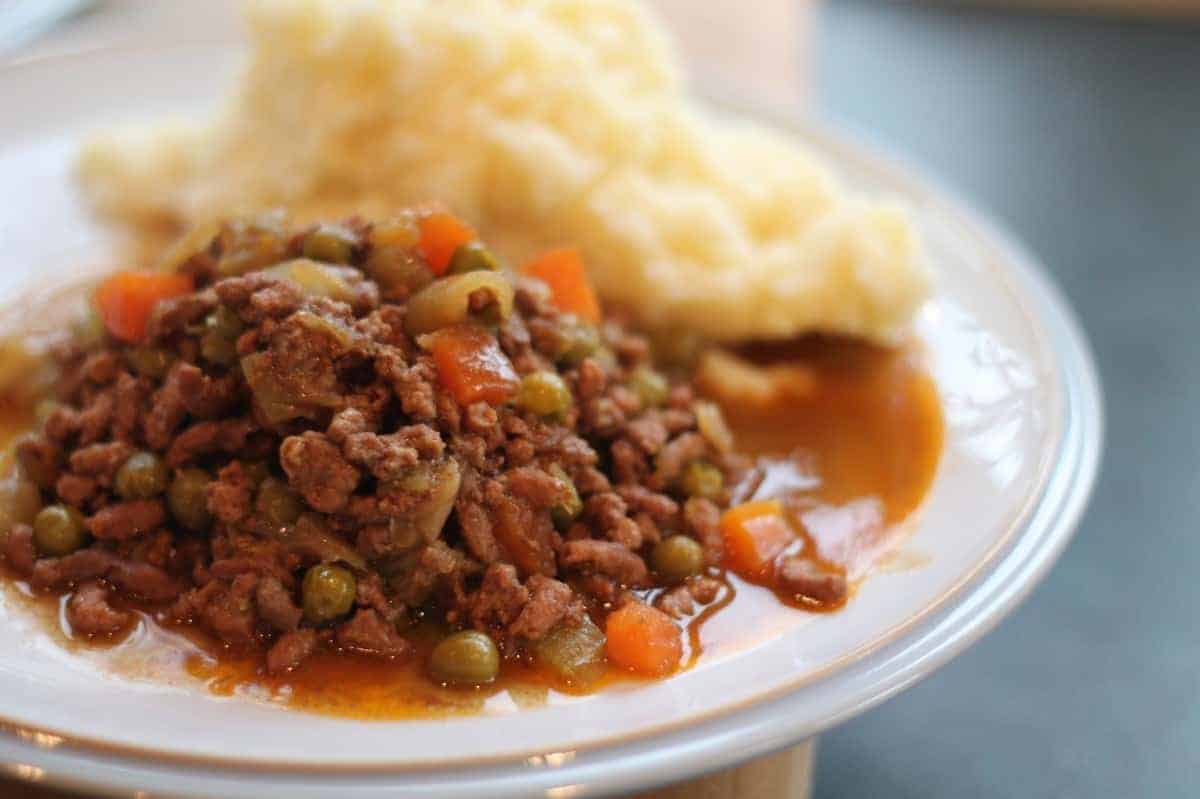 Poor Man's Cassoulet
One of the most economical meals that we cook is Poor Man's Cassoulet. This is a really nice slow cooker pork sausage, bacon and pulses casserole and even with cheaper sausages they soak up the casserole flavours and taste wonderful. This is lovely served with mash or roast potatoes.
Slow Cooker Poor Man's Cassoulet recipe
This Slow Cooker Poor Man's Cassoulet is one of our favourite recipes and the children love it too – Who knew that sausages, pulses and bacon could taste so good?! It's also incredibly easy to double up and make more of!
Check out this recipe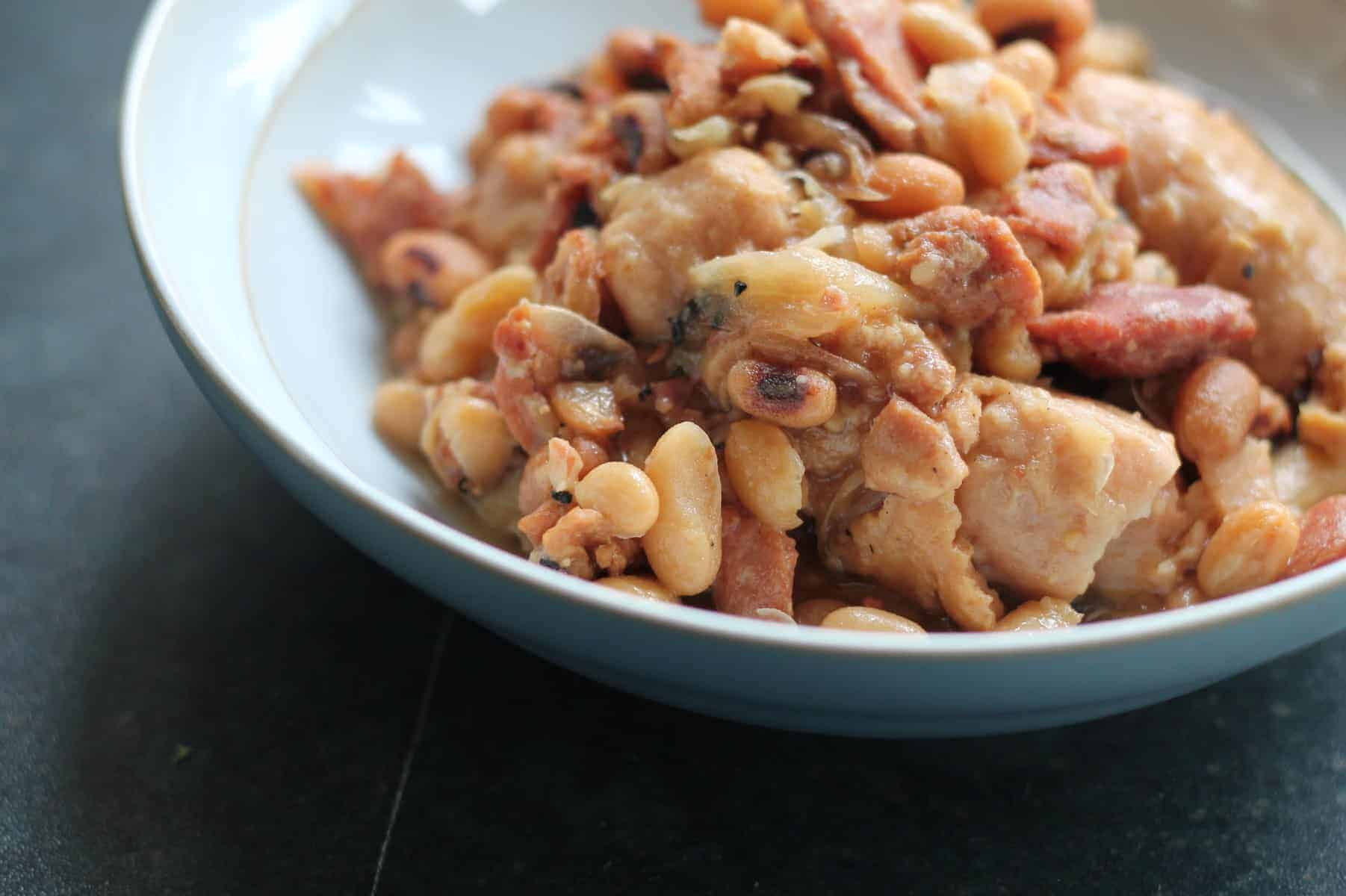 Spicy Lentil and Sausage Hotpot
I love a one pot meal that you can just ladle out of the crock pot and serve with bread and the Spicy Lentil Sausage Hotpot is just that. It may not be the prettiest meal but it's really, really filling and lovely for the colder months of the year.
Slow Cooker Spicy Lentil and Sausage Hotpot Recipe
If you love a dish that can be eaten with crusty bread from a bowl then our Slow Cooker Spicy Lentil and Sausage Hotpot Recipe could be perfect for you.
Check out this recipe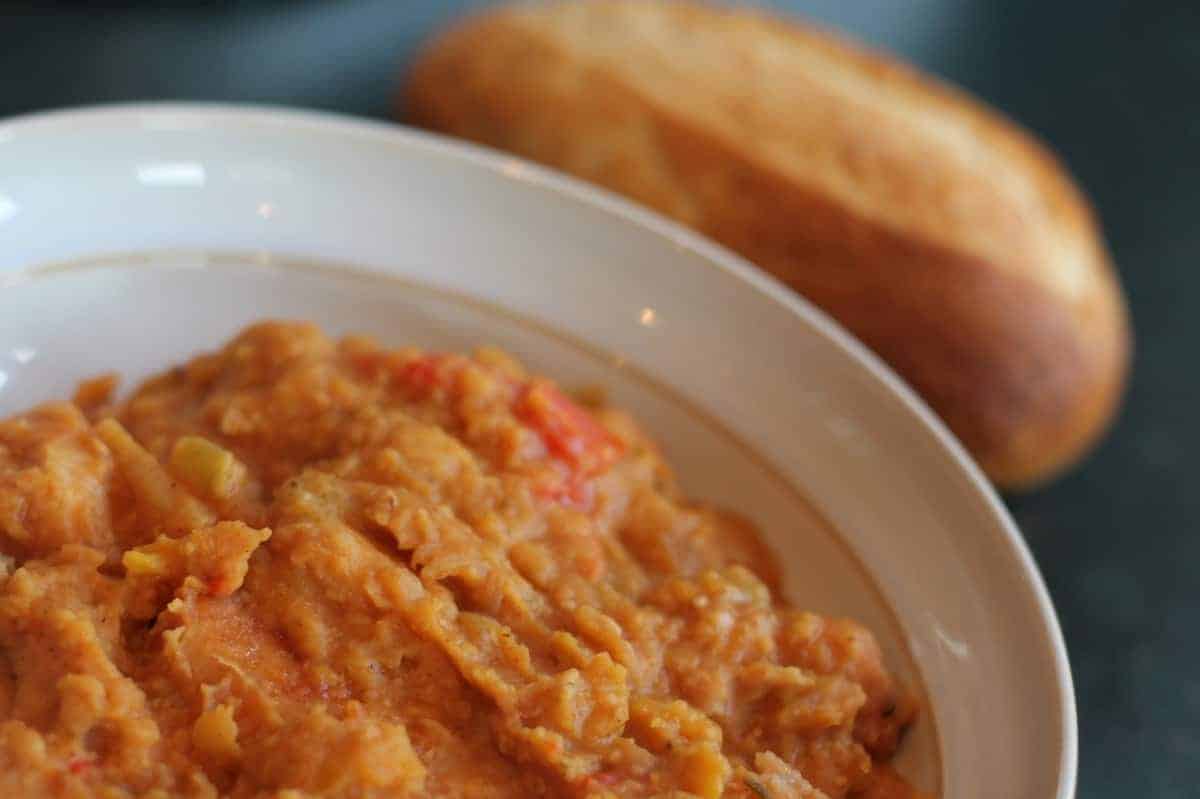 Turkey and Sausage Stew
I'm a firm believer that turkey is a completely underrated and underused meat and so this Turkey and Sausage Stew is a favourite meal for us as not only is it really tasty but using turkey makes it cheaper than a slow cooker chicken recipe. A really lovely one pot stew that the whole family will love.
Slow Cooker Turkey and Sausage Stew Recipe
This is such a budget friendly hearty family meal and it can be cooked after Christmas but also enjoyed throughout the year.
Check out this recipe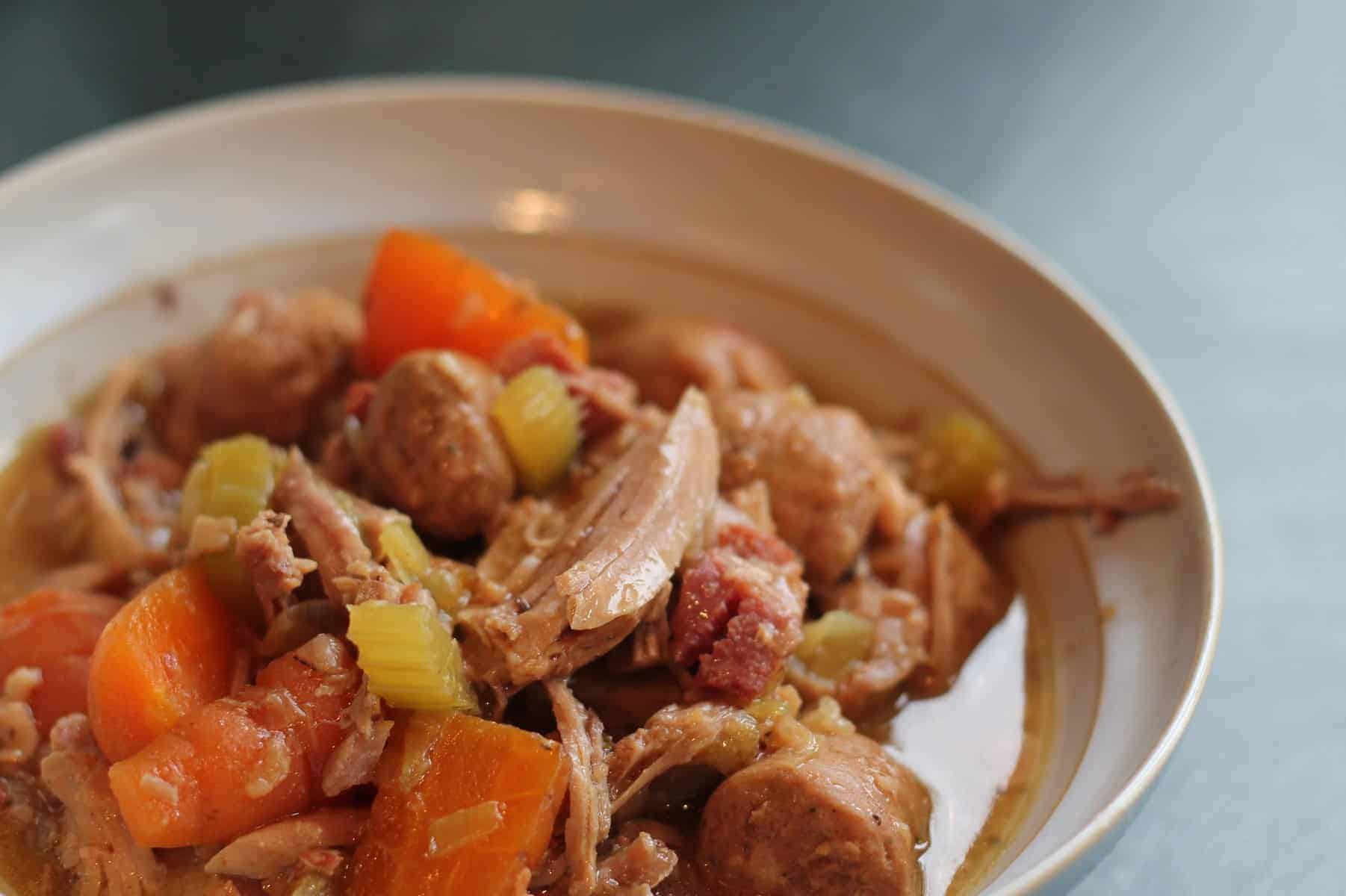 So there are our favourite easy crockpot recipes for a family that are tasty and cheap to make. Other favourites are slow cooked chicken curry, pulled pork, slow cooker lamb shoulder and a slow cooker beef stew full of rich red wine and flavour. You really cannot beat slow cooking throughout the year.
If you're looking for more family meal inspiration check out our recipes section for so many more slow cooker meals.