When you're trying to manage a blog, work, do everything house related and look after the kids too it's nice to find things that make your blogging life easier. Here are my top five resources for saving time when blogging and a huge plus point is they are all online based so available wherever you may be and on any computer.
PicMonkey
PicMonkey is still my go-to place for editing photos. I can quickly and easily crop, resize and add different filters and overlays to photos. Quite a few options with PicMonkey are only available when you upgrade and pay a monthly fee but I have been using the free option for over a year and it does everything I need it to do.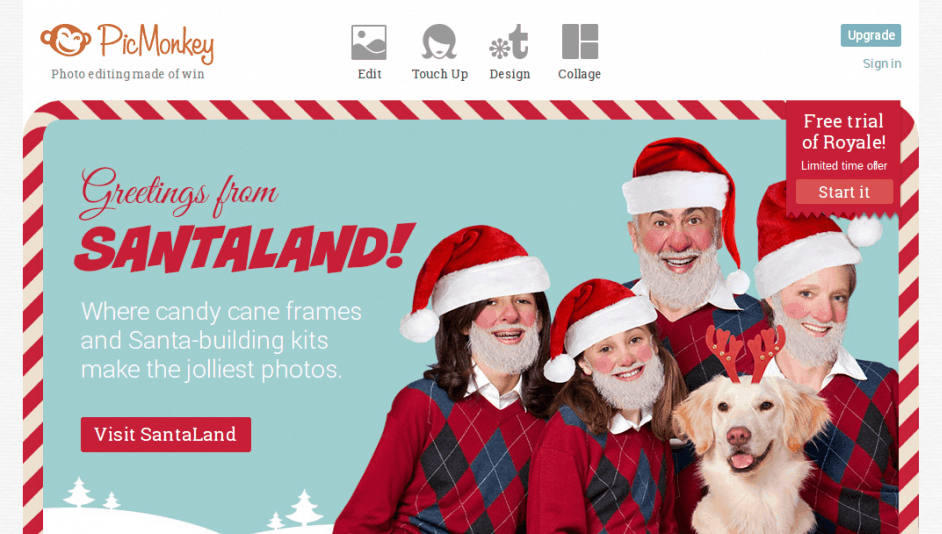 Canva
Someone said to me at Britmums, looking at you Pippa, that the best way to make any post into worthwhile content is to add a Pinterest friendly image to it. After Britmums I did more research and decided that any post I wanted to pin onto Pinterest should contain a specially created image that would make it standout as well as possible on the Pinterest boards. For this Canva is fantastic. You say what format you want your picture to be in – Pinterest, Facebook cover, Instagram post etc, pick a layout, add photos, text etc and you're done. Canva already knows what size images work best on which format and it makes it easy for you to make the perfect image for your needs.
Polyvore
I stumbled across Polyvore last year and have used it religiously since. It adds a button to your internet browser bar at the top and whenever you see something online that you like you click the button and it saves it to Polyvore. Now, why would you want to do that? For so many reasons! Christmas gift lists, mood boards, anything that takes your fancy. It's incredibly easy to use and you can even add text, arrows and things to give your creation an individual look.
Hootsuite
Hootsuite has saved me so much time over the last year. I use Hootsuit to schedule tweets to promote posts so that I can just use social media for chatting rather than blog promotion. Hootsuite is also great for keeping an eye on different search terms or hashtags on social media or for showing your different social media profiles in one place. I haven't used much of Hootsuite's options yet but the ones I have used save me a huge amount of time.
Google
I don't mean ACTUAL Google. I mean Google Drive. Google Drive is amazing. All my documents, spreadsheets, pdfs and more are all in one place. I can update them wherever I am and access them from any computer. It also has a handy pdf merge function that I couldn't be without. I could take about Google Drive for hours but really, if you're not using it you should be.

Another part of Google I love is GMail. If you don't have a GMail account you really should have one. It's so easy to follow conversations, put emails in different folders and promotional newsletter type emails get filtered out into a separate folder automatically. Add to that the 'boomerang' add on you can get to schedule emails and GMail really is the best invention ever.
I also came across a site with 101 Blog Post Ideas that is a great inspiration if looking for content ideas. We all get blogger's block from time to time so definitely use this as a prompt if you can't think of what to write about!
So there are my top blogging resources. Is there anything you swear by that helps you organise your blogging life? Feel free to leave me your top tips!