LP and Little Man love magazines and we always take them on long car journeys and weekends away. I thought it might be nice to put all their favourites in one place in case you're looking for inspiration.
Little Man's latest favourite is the Blaze and the Monster Machines Magazine which has all of his favourite Blaze characters, stories, activities and things to do as well as really great toys free with each issue.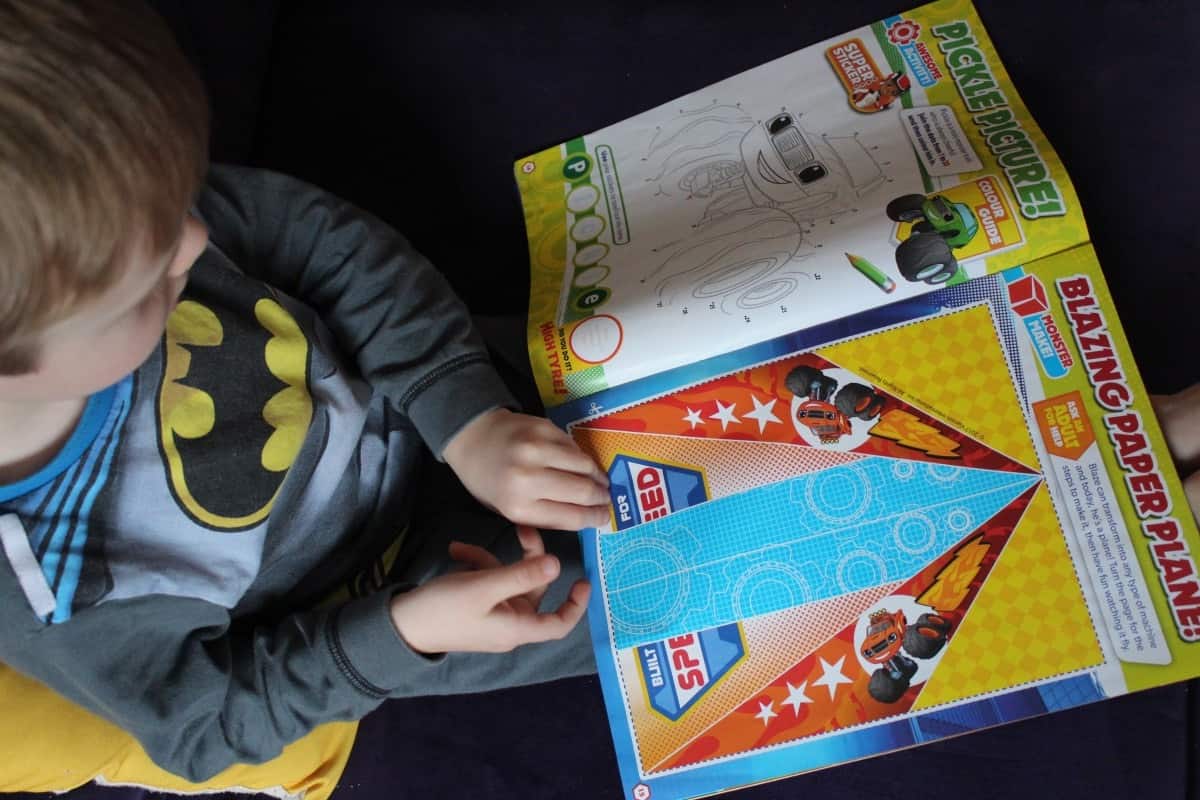 LP and Little Man both love the Something Special Magazine as they are both HUGE Mr Tumble fans and the magazine is just as bright and colourful as the show. They love everything about it from the games and activities to Mr Tumble being on most of the pages and the free gifts with each new magazine.
LP and Little Man didn't really know the Clangers before they started reading the Clangers Magazine but now they love the cute Clangers characters, know all their names and love the Froglets too. This is a magazine that makes me nostalgic but the children love – something for all of us to enjoy.
Little Man loves Paw Patrol – nearly as much as he loves Thomas the Tank Engine so Paw Patrol Magazine is now a clear favourite. It has all of his favourite characters, so many things to do and lots of stories and cartoon strips to read and enjoy.
A magazine that the children love to read with Dave and I is Amazing! Magazine. It aimed at slightly older children than LP and Little Man but with Dave and I to help explain things they really enjoy the themes. Amazing! Magazine is written alongside the national curriculum and lets the children learn more about things like science and how the world works.
LP and Little Man both love Andy's Amazing Adventures Magazine. It's just like the TV show that they both really enjoy and has so many animals and creatures in it – it's a magazine that teaches them loads more about the wider natural world from dinosaurs to whales. It's educational but just so much fun.
No child will ever be too old for Storytime Magazine – it's packed full of stories of all different lengths, perfect for children to read or adults to read as a bedtime story. The stories can be enjoyed any time and they are the sort of magazine that can be kept and enjoyed over and over again.
Any little fan of Bob the Builder will love Bob the Builder Magazine. Little Man loved it from his very first read and it had all his favourite characters, so many building and tool based activities within the pages and lots of things to read too. A firm favourite for our Little Man.
Another magazine that both LP and Little Man love is Hey Duggee Magazine. This is one we still read regularly now and I think the children love it so much as it's just so bright, fun and colourful. Every single page is packed full of their favourite Hey Duggee characters, phrases and, most importantly, all those badges. Plus, the free toys are pretty great too.
Any Bing fan will love Play and Learn Bing Magazine – another magazine that is fun to read, full of all those favourite characters and with so much to learn and do too. This magazine is packed full of activities and LP and Little Man love following Bing through the pages and on adventures.
I am sure over the coming months and years the children will read so many more magazines but at the moment, aged nearly four and nearly six, these are some of their favourites. What do your children love to read? I'd love to hear your recommendations.