When LP became mobile we bought some foam play mats from a local supermarket. They weren't an investment – they were cheap and would do the job. Since then they have been almost destroyed with use and we were looking to get something similar that would cope with two children playing on it – we needed an investment this time!
Soft Floor Kids UK sent us a set of foam playmats to review and so far I cannot fault them! This set of playmats is a lot bigger than our old set and cover the whole of our lounge – there won't be any chance of Little Man moving off of them and hurting himself any time soon. The foam playmats can be arranged to fill a space 5ft x 8ft, 4ft x 10ft or 6ft x 6ft – We have gone for 5ft x 8ft and it fits the space perfectly. I am also a huge fan of the square edges – on a lot of similar products they are left with a 'jigsaw' edge which could get easily damaged or can be tripped over. The square edges on this set of play mats add to a really safe play environment.
The floor tiles are quite deep at 12mm and are very well cushioned being made of medium density foam. Each mat also has a pattern on the top of them to add some traction to make sure children don't slip on them. This gives them an uneven texture that is still very soft to play on – I know myself as LP made me do roly polys on them!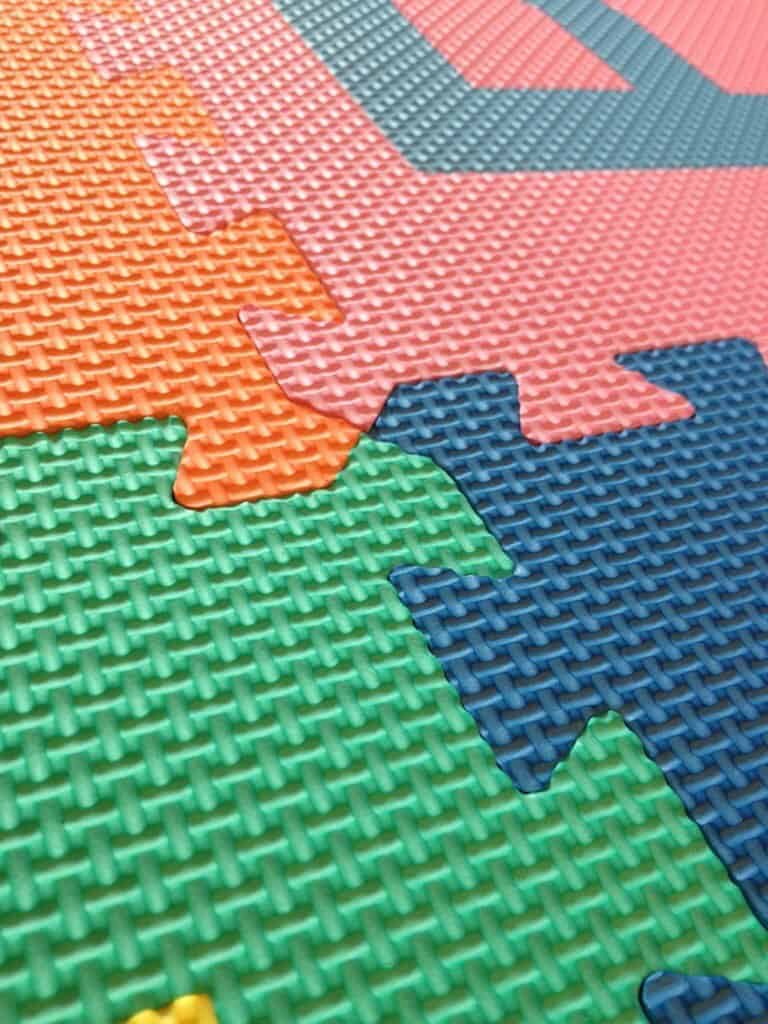 The set of foam playmats come in a clear zip bag for easy storage and they can be used indoors or outside – although they are advertised as for temporary outside use. I would happily take them outside on a sunny day or for a party but wouldn't leave them out in the rain. We will be keeping the foam playmats as a permanent fixture in our lounge as it doubles as the children's play room. The bright colours of the mats would be great in any play area and even though some of the mats are pink I think that overall they are incredibly unisex.
I've set the foam playmats up so that the numbers and letters are in sequence and know that this will be a great tool when we start teaching LP to count and read. LP is already a fan of the Star play mat and is learning the other shapes!
Overall I love this set of foam playmats. They are more expensive (£49.95 RRP) than a lot of similar products sold by supermarkets and toy stores however, you get what you pay for. These mats are thick, hard wearing and a good size – each tile being 30cm x 30cm. They also don't look or feel out of place in our lounge.
Disclosure: We were sent a set of foam playmats for the purpose of this review however all opinions are my own.