Legoland is somewhere Hubby and I had always wanted to take the children to. It's one of those places we didn't bother to go to before having kids but both of us have always lived fairly close to Legoland and when we were offered tickets to go we knew that LP would love it – and that we would too!
Unfortunately, the first thing we realised when we got to Legoland is that you have to pay £4 to park for the day. I personally think that on top of the huge ticket prices, to then charge parking is disgusting and this is something that will always grate on me with tourist attractions – I don't mind paying a reasonable parking cost if ticket prices aren't inflated or if we're visiting a free attraction but I am sure Legoland ticket prices more than cover the maintenance of the car park.
After parking we walked the short distance to the entrance and got in line. We were then advised by a member of staff that we had to go through one designated pushchair entrance at the end of the line of entrance turnstiles. I was amazed that somewhere like Legoland, aimed at young families, only had one turnstile that was accessible for pushchairs and wheelchairs. This is definitely something that needs updating as the queue for this turnstile was three times as long as the one we had been in and on top of the parking charge it didn't really start our day on the right foot!
Fortunately though we were soon in the park and because it was school holidays Legoland seemed packed. We soon realised though that the 'Beginning' part of Legoland is just very busy with people coming into the park, using the toilets and visiting the gift shops. Legoland is so big that the number of people soon seems less as you wander through the park.
Legoland is split into clear areas with different themes – A Duplo area, Pirates, Vikings etc and most areas have rides suitable for different age children. We went on a few rides throughout the course of the day and they were mainly ones where the child had to be over 1m tall and accompanied by an adult or any height children but accompanied by an adult also. There were plenty of rides in the park to happily entertain shorter/younger children and I felt that Legoland have done a great job of merging rides for slightly older children in with ones for younger children to make sure that they are catering for the whole family.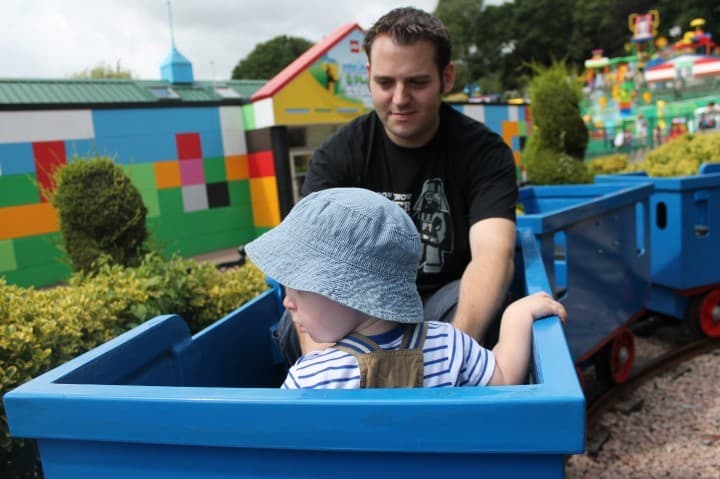 Throughout the park there were plenty of play areas and things to look at that didn't require you to queue or have an extra charge – LP loved the Duplo Valley play park and we could have spent the whole day in MiniLand – There was just so much to look at and LP was fascinated with it all being her size. LP also didn't mind that a lot of the Lego buildings and figures in MiniLand and the rest of the park were starting to look old, dirty and in need of a bit of TLC. New areas are being added all the time but the older parts could do with a refresh every so often too.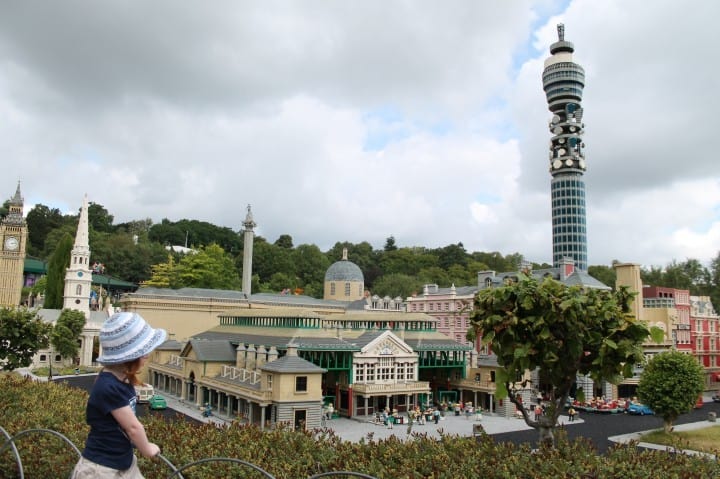 Everywhere in Legoland there are food outlets – restaurants for a proper sit down meal or kiosks to grab something to eat on the go. Overall the prices are as you would expect from a tourist attraction – quite high! But, if you don't want to pay the prices, bring a packed lunch. Although having said that, places to sit and picnic are few and far between. We chose to have lunch at the Duplo Family Buffet which was £11.95 each for Hubby and I whilst under 3's eat free. This includes an eat as much as you like style buffet and drinks – fizzy drinks or juice but the juice machine was sadly out of service when we went. The restaurant was clean and the food was varied – A soup and bread section, salad, chips, fish fingers, sausages, beans or proper meals like chilli, curry, lasagne, pasta. It was typical hot plate food and we didn't have any complaints except that the highchairs didn't sit at the tables very well and we had to rearrange the benches to make everything fit.
There were plenty of water areas within Legoland too – water rides, splash parks and just places for kids to get well and truly wet. We avoided this although when Little Man is slightly older and more confident on his feet I think that both he and LP would love these areas.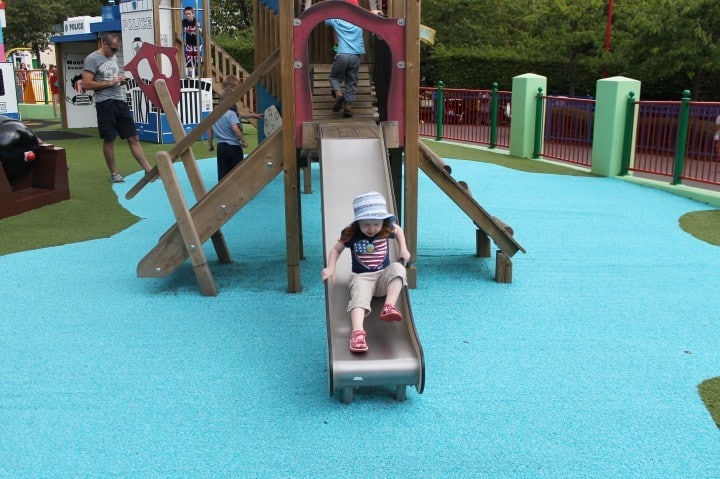 Like with any theme park there are added expenses but these are optional. When the children are older they're able to learn to drive and afterwards you can buy them a driving licence – for £10 each. However there is a free card version you are given that you can then add a photo to at home. Many rides also have a photo taken on them and these have a cost of £10 per photo or £25 for four. Then there are the gift shops… So much lego and lego themed souvenirs! We bought LP a pink Lego sword and a fridge magnet but we could have easily spent a fortune! But, at Legoland once you're inside you really don't need to spend anything else and it needn't be an expensive day out – Take a packed lunch, give a £5 budget in the gift shop and don't get sucked into photos and things unless you really want to spend the money.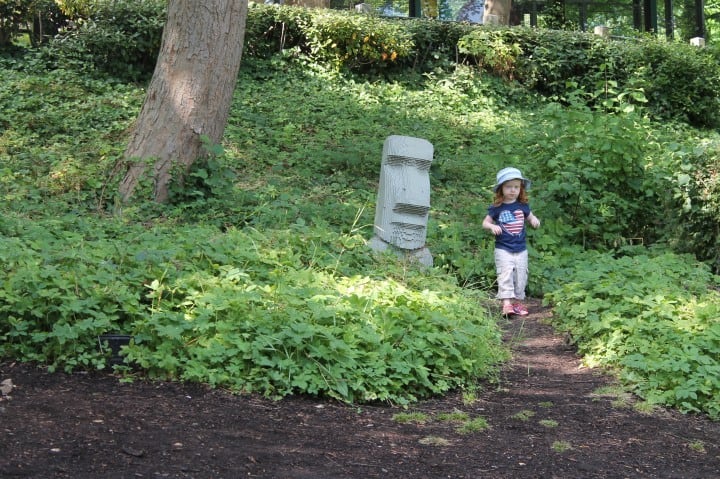 One thing we did spend £3.50 on was panning for gold as Hubby had said before we even arrived at Legoland that he would love to pan for gold with LP. So he did and LP walked away with a shiny gold metal medal that she loved – Well worth the £3.50!
Legoland is a fantastic day out. Make sure you get tickets when they're on offer through Tesco vouchers, cereal boxes or any other way as they're expensive otherwise and plan which things you would like to see and do. Duplo Valley is quieter in the mornings and most rides had a 20 minute minimum wait and one – the submarine – we queued for over 40 minutes – some had waits of over an hour and we didn't even bother getting into the queue. Go on your most important rides first as we found that the day flies by and before you know it you're heading home and only made a small dent in all that Legoland has to offer.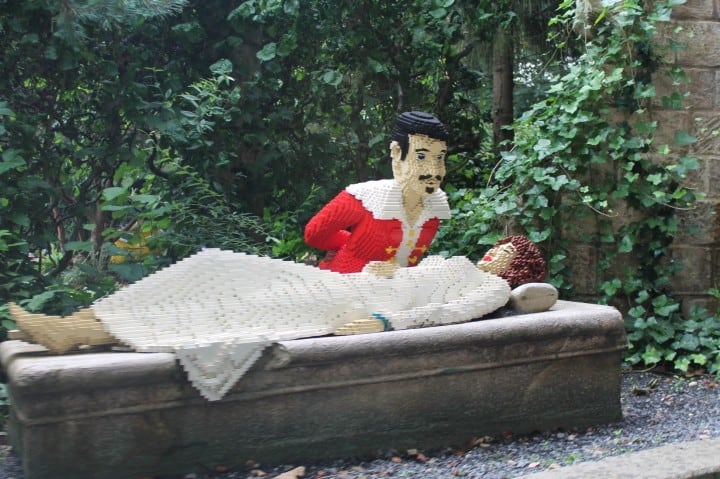 We'll be going back to Legoland soon to go on some more rides, play on some more adventure playgrounds and maybe even go in the splash pools! If you're looking to go maybe even make a weekend of it, there is far too much to see in one day.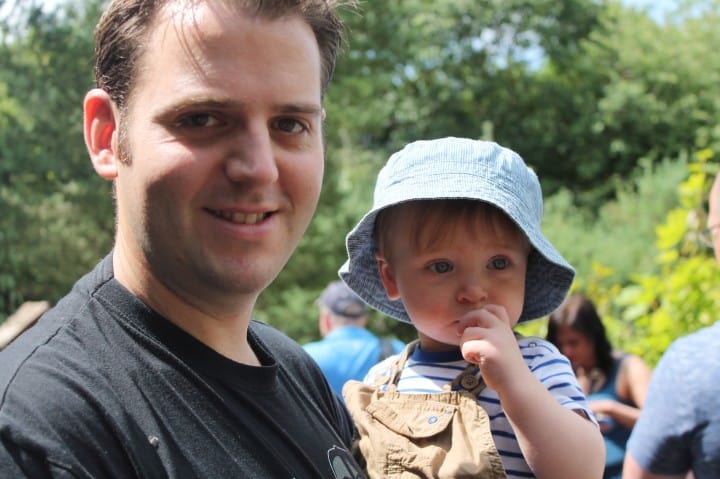 Disclosure: We were given tickets to Legoland Windsor as part of the Samsung #100DaysofFamily campaign but we weren't asked to write this review. All opinions are my own.