Any regular reader will know that I'm not crafty in the slightest but I do like to try new things and will give anything a go – I am always dreaming of becoming one of those 'Crafty Mums' that make amazing things out of egg boxes and washi tape when in reality I know it will never happen!
So when Hobbycraft gave me the opportunity to review one of Kirstie Allsopp's craft kits I thought I'd have a go. I like Kirstie Allsopp's style and the ranges of Kirstie Allsopp's gifts in shops are things I often buy as presents for friends as I really love the vintage shabby chic charm of the products. I wasn't told which Kirstie Allsopp craft kit I'd be receiving so kept an eye on the post for a surprise!
I was sent the Kirstie Allsopp Needle Felting Kit. This is a craft I had never heard of, let alone thought to ever try! But this made it great for me as someone that has no experience of it, just trying out. What better than a kit with everything I could need in it?
The Needle Felting Kit contains 20 different coloured wools, a felting mat, a needle felting tool and two individual felting needles. There were also instructions included but seemed to be advertising Kirstie ALlsopp's products rather than telling me how to needle felt – There were no 'how to' photos or even example projects, just things that can be made with needle felting rather than how to go about making them. As someone with no experience of needle felting, and the target audience for this kit, I found the instructions disappointing.
I turned to YouTube for videos of how to needle felt and to Pinterest and Twitter for idea of what to actually make. I'll be honest, I didn't even know what needle felting was, let alone what could be done with it and so I had a blank canvas to start with but no idea at all! I even tweeted Kirstie Allsopp for inspiration but unfortunately didn't get a reply.
After watching some YouTube videos I worked out that needle felting was basically getting some wool, sticking a needle in it countless times and ending up with something made of felt. I decided to try and make some felt fruit and got started.
The needle felting mat is a large rectangle of foam, nothing more than that but it stops you stabbing the needle in your fingers too often and protects the work surface. The needle felting tool has a guard over the needles that I found got in the way of actually poking the needles into the wool – You'd have to push quite hard for the guard to move out of the way and by that point the wool wasn't in the shape you wanted it to be. I gave up with the tool and decided to use the single needles like they had on YouTube.
I found the single needles much easier to work with that the needle felting tool but a couple of minutes into making my felt pear one of the needles snapped. I ask google why this had happened and found that it was a common thing because I had moved the felt before I'd taken the needle out. Lesson learnt I carried on.
After a few evenings work I had made something that could pass for a pear, apple and bunch of grapes although you have to squint slightly and I ran out of purple for the grapes so they are half purple, half green. I'm fairly pleased with my apple though – Complete with stalk and leaf. In reality all the fruit is still far too fluffy and needs to be stabbed with the special needle a bazillion more times but I just didn't have the patience for it. I was also disappointed by the lack of yellow wool – despite having yellow pictured on the box and instructions. I wanted to make a banana but didn't fancy making a green one.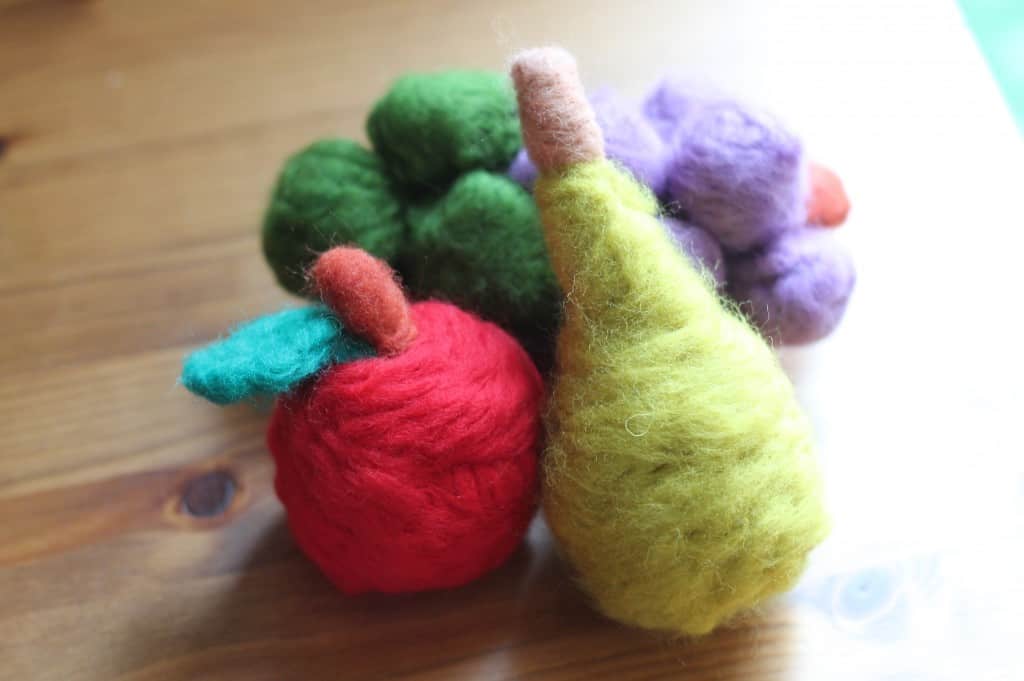 This kit would make a great gift for anyone that has an interest in needle felting, that knows what it is and what you can make with it and time on their hands to get creative. If you've never heard of needle felting and want a kit with step by step instructions to help you through the process and really teach you a craft then this wouldn't be for you.
The Kirstie Allsopp Hobbycraft range does include something for everyone though – Making pompoms, bath bombes, candles and even things with buttons. Some definitely look easier than others but they are definitely not children's kits, these are for adults getting in touch with their creative side.
Disclosure: We were sent the above kit for the purpose of this review however all opinions are my own.