All children love bath toys but it gets harder to find ones that are suitable as they get older. A few months ago we reviewed Swimming Mermaid Dora and LP loved it – she still plays with her in and out of the bath on a daily basis, so when Fisher Price asked if we'd like to review Dive & Swim Mermaid Dora I thought LP would enjoy it.
Dive & Swim Mermaid Dora comes with a comb for brushing her hair although in the instructions it tells you not to take her hair out of a ponytail as she swims better with her hair back. It also says that she swims better with wet hair so great advice there.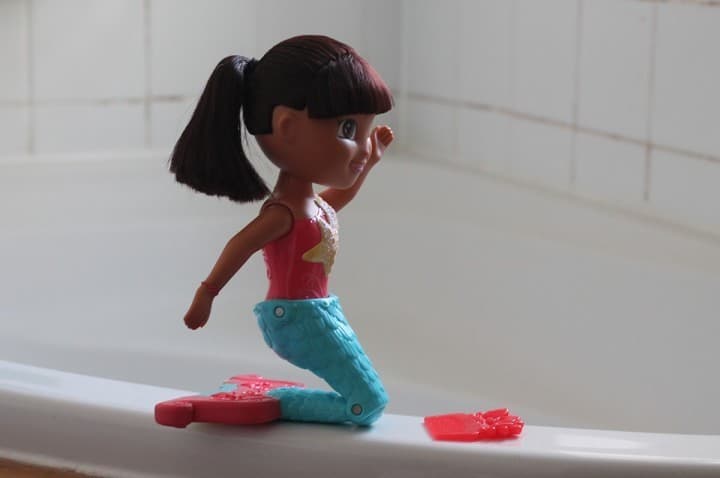 LP started to comb Dora's hair immediately and was happy to keep it in a ponytail. To make Dive & Swim Mermaid Dora  actually dive and swim you just bend her into a kneeling position and then rotate her arms to wind her up. You then just press her fin and she jumps into the bath and starts to swim.
If the bath is empty then Dora swims quite well and will happily swim to the end of the tub but when there are obstacles in the bath, like small children, she tends to flap around in a circle. I can image Dive & Swim Mermaid Dora being great for in the paddling pool in the summer as she would really get to show her swimming skills.
LP loves to play with Dive & Swim Mermaid Dora both in the bath and out – she finds it hilarious to make Dora dive off the sofa! Any fan of Dora would love this toy – and LP doesn't even watch the TV show very often and still loves Dive & Swim Mermaid Dora.
Dive & Swim Mermaid Dora has an RRP of £21.99
Disclosure: We were sent the above product for the purpose of this review however all opinions are my own.