I came across Baker Days cakes by post recently and was offered the chance to review one of their 5 inch Letterbox Cakes. I was looking for something personalised for a friend's Birthday recently and this seemed like a great idea so I was looking forward to receiving our cake.
With Baker Days you can choose from their wide range of designs for any occasion, personalise a design or even upload an image to have a completely unique cake. As I'd just had my 2 year anniversary of blogging, I asked Baker Days to make a cake with my blog logo on and this is the image I sent across to them.
When the cake arrived I was impressed that it actually did fit through the letterbox! I know, it's a Letterbox Cake, obviously it will fit through the letterbox! BUT it looked just like the contact lens postal boxes that we receive regularly, you would never realise there was a cake in the box! This would be great to send as a gift to anyone as they wouldn't need to be in to take delivery of the cake – The ideal surprise gift!
When I opened the postal box I was greeted not just with a cake but with a lovely presentation tin that contained the cake along with a note card, balloons, a candle and a party blower – Everything your cake recipient would need to celebrate their special occasion! The presentation and delivery really cannot be faulted.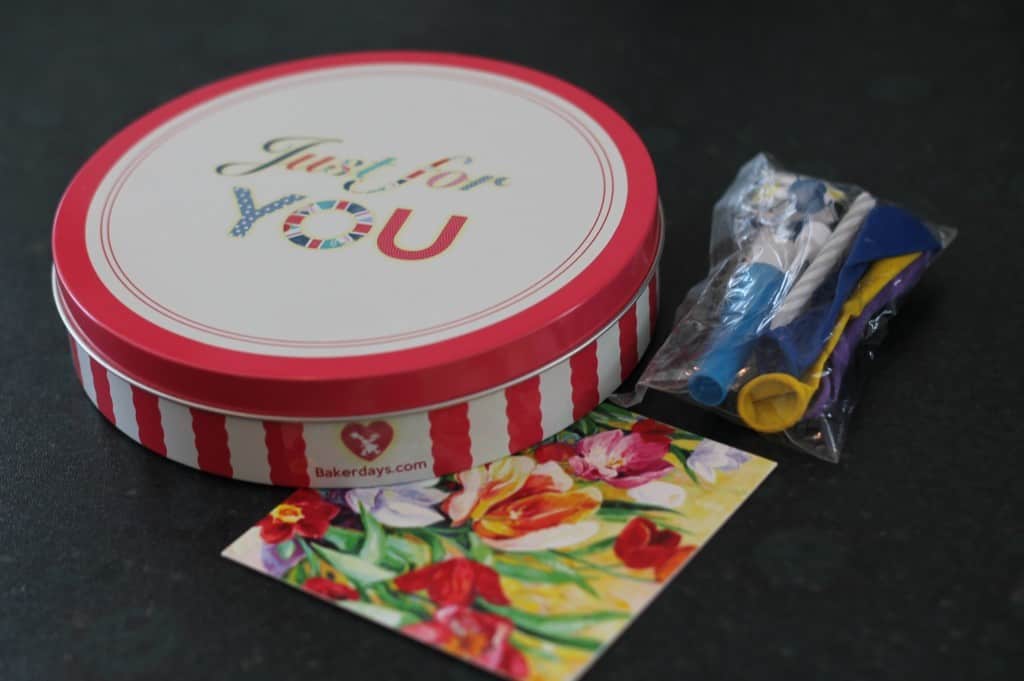 Considering the image I sent over, I was expecting a white cake with the logo on. The cake I received had an orange/blue effect on it that I wouldn't have requested and would rather have had a plain white cake. Add to that the fact that my blog name was spelt incorrectly and you really have one disaster of a cake. If I had paid for this as a gift to someone and they'd a) changed the colouring and b) spelt their name wrong, got their age wrong or the occasion wrong I would not only be embarrassed as the recipient would think it was my error but I would also be really angry and upset that a special occasion and thoughtful gift had been tarnished. I would also want a refund.
Spelling mistakes and colouring issues aside, the cake served Hubby and I with two generous portions each. It was a lovely light sponge that sat on a bed of buttercream. The balance of cake to icing was perfect and the icing was lovely and moist. Baker Days cakes have a best before date of at least two weeks from delivery and just need to be stored in a cool dry place – I would never usually expect a cake to last two weeks so this really is a fantastic shelf life.
Baker Days Letterbox Cakes are £14.99 and free postage is included with a 7 day delivery. If you would like the cake sooner you would need to pay an additional postage charge. The price includes a standard sponge cake and if you would like alternative fillings or a gluten free or dairy free option there are additional charges.
Overall I think that the idea of Baker Days Letterbox Cakes is great – I'd love to send a personalised cake to friends or family for a special occasion with the knowledge that it would be waiting for them when they arrive home. It would have to be a very special occasion though as I think that £14.99 is very expensive for what is essentially a small cake in a gift tin by post.
Update: After reading this review, Baker Days got in contact to apologise for the spelling error and stated that as they specialise in printing and design they'd thought they would add the colours rather than a plain white cake. They said they would send me another cake the following day which would be plain white as instructed.
The cake arrived and was indeed spelt correctly but again had the same colouring effects on it. It was a chocolate cake this time and tasted lovely so no complaints on that front however I am surprised that yet again it wasn't a white cake.
Disclosure: The above cake was sent to me for the purpose of this review however all opinions are my own.