I recently reviewed Aromatherapy Associates Deep Relax Bath & Shower Oil and use it regularly when I have a bath. Aromatherapy Associates have a great range of products all containing essential oils, each one with a difference purpose – to soothe, relax, de-stress etc. As I love receiving toiletry gift sets at Christmas they recently sent me their Miniature Bath & Shower Oil Collection to review.
The Miniature Bath & Shower Oil Collection contains ten different oils, each one is 3ml and perfect for one bath or shower. This would be a great way to introduce yourself to the Aromatherapy Associates range.
The gift set comes in a really good quality box to make it a perfect present at Christmas or any other time of the year. A bath with these Bath & Shower Oil in it makes the whole bathroom smell wonderful and the fragrances cling to your skin for a while afterwards too – you won't be complaining that the oils don't work!
I've loved using the Aromatherapy Associates Bath & Shower Oils and have saved them for baths as I prefer having really quick showers and thought that the oils would be better for nice long relaxing baths.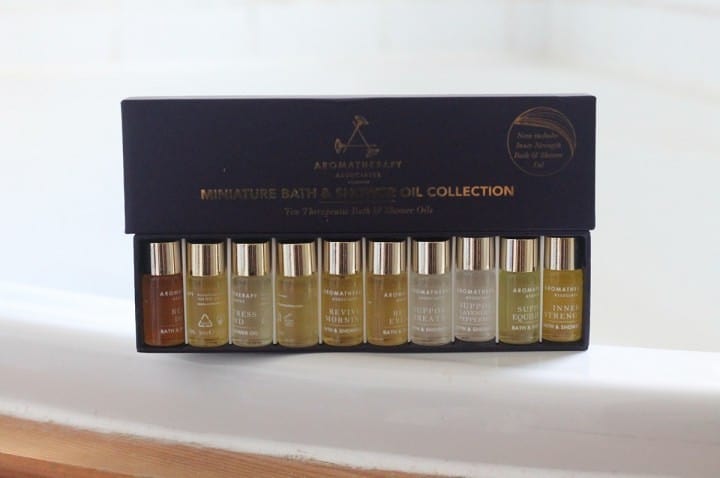 I've loved using these oils and see them as a really indulgent treat – the perfect thing for Christmas. If you're looking for something different to the usually high street toiletry box sets this Christmas then take a look at the great range from Aromatherapy Associates.
The Bath & Shower Oil Collection has an RRP of £35
Disclosure: We were sent the above product for the purpose of this review however all opinions are my own.