British weather is so unpredictable – One day can be quite warm and the next freezing, especially in the middle of the night. The Gro Company recently gave us the chance to review one of their 3.5 tog Winter Warmer Grobags and knowing the weather will soon be getting colder it was an opportunity I couldn't let pass me by – Up until this point I only thought any brand of baby sleeping bags went up to 2.5 tog. Knowing there's a 3.5 tog option is a fantastic revelation to me!
The Winter Warmer 3.5 Tog Grobag we were sent came in The Gro Company's usual packaging – a cardboard sleeve with all the information you need on it. It also comes complete with a useful hanger and a nursery thermometer so you can tailor your child's clothing and Grobag thickness to the temperature in the room. We have a little collection of these thermometers now and they're great for that little extra reassurance when putting your child to bed – whether at night or just for a nap.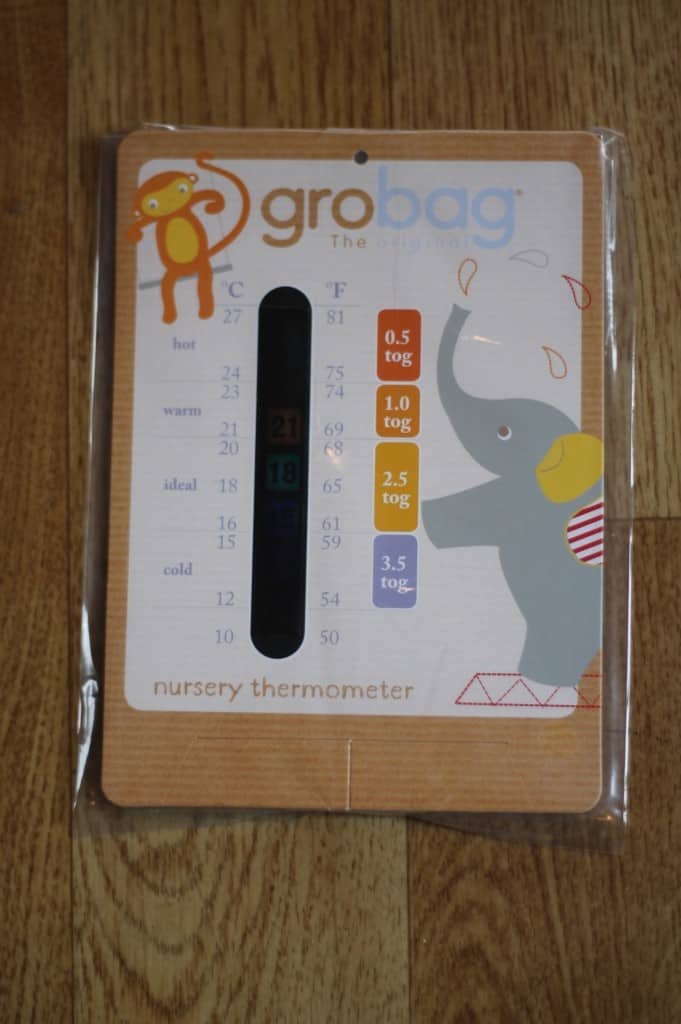 Our first impressions of the Winter Warmer Grobag were that it was so lovely and soft! It has a velour outer with the lining being 100% cotton jersey and it feels so soft and snuggly – I wish they did them in my size and I would be tempted to hang up my onesie for a 3.5 tog Winter Warmer Grobag instead! The Grobag is recommended for temperatures of 12-15C and the baby should wear a sleepsuit with or without a vest underneath depending on the temperature – All this information is included with the Grobag.
The Winter Warmer Grobag is available in sizes up to 36 months and Little Man felt snug but with a good amount of growing room in his 6-18 month Grobag. He also wore just a sleepsuit underneath – we're used to putting him in a lower tog sleeping bag, sleepsuit and vest so tailored his sleepwear to the new Grobag tog and room temperature. The Grobag also has a side zip which we find to be the best style of zip on baby/toddler sleeping bags, and shoulder poppers.
The Gro Company 3.5 tog Grobag is the perfect product for winter in the UK or holidays abroad. It feels luxuriously soft, great quality and Little Man slept well in it. I'd recommend a 3.5tog sleeping bag for anyone that finds their home feels cold overnight, doesn't want to rely on heating overnight or anyone planning a holiday anywhere colder than at home. I've found it to be a really useful addition to Little Man's bedding and am really pleased that a 3.5 Tog Grobag has been developed. Another great product from The Gro Company.
Disclosure: We were sent the above product for the purpose of this review however all opinions are my own.