LP starts school in September and we have been preparing her for it gradually – she has had a transition session already and I have explained that she'll stay at school longer after the summer holidays, she'll get to do PE, have lunch with her friends, go on excursions sometimes and have lots of school based adventures. But LP is more excited about wearing her 'school unicorn' each day.
Although LP can't say school uniform yet she knows exactly what it is, seeing her preschool friends wearing their big brother's and sister's hand me downs or the logo jumpers some of them choose to wear. She knows that she'll wear school uniform every day and she's excited to dress the same as her friends.
In preparation of starting school George at Asda sent us some of their school uniform range for LP to wear and I have never seen a child so excited – she couldn't wait to put it on, happily stripping off her clothes to try on her new school clothes.
2 Pack Pinafore Dresses – £7 / Pleated Skirt – £3.50 / Bow Detail Trousers – £3.50 / 2 Pack Polo Shirts – £2.50 / Flower School Shoes – £10
LP doesn't wear skirts often and so she was most excited to try on the George at Asda Pleated Skirt and the Pinafore Dresses. Both were so well made and fitted her well with room to grow. She'll be 4 at the end of August but is still very much in age 3-4 clothes.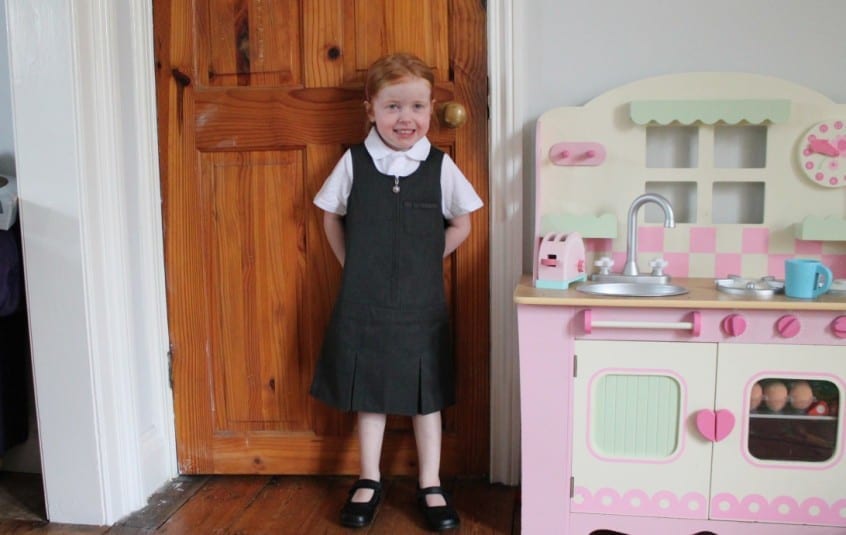 The Polo Shirts were also a good size, with three buttons at the neck and made of soft material – I think LP would happily have kept these on all day! The Trousers were on the big size but she will definitely grow into them.
One thing LP loved was the George at Asda shoes. She loved that they had flowers on them and a strap that she could undo herself. I really liked that they had a padded top to make them comfortable and look really well made. Above all, I loved the value. £10 for school shoes and only a couple of pounds for each uniform item – just £2.50 for two polo shirts! George at Asda have a great range of uniform for every age and every school uniform style. I know that LP will love wearing her new school uniform as soon as September comes.
LP is now all ready for school and is so excited thanks to George at Asda. Each day she asks to go to big school and I know she cannot wait for September to come. I'm not quite ready for school just yet but we have a whole summer to enjoy before then.
Disclosure: We were sent the above products for the purpose of this post however all opinions are my own.