Any regular reader will know how much I love finding new clothing brands for the children and so I was excited when I came across Lublue, an online children's boutique selling a variety of statement pieces for both boys and girls.
Lublue is an eclectic childrenswear retailer that caters for 2-6 years olds. Their hand-picked selection of clothes and accessories is cute and quirky and would suit children who like to be an individual.
Lublue gave me store credit to spend online and I spent quite a while looking through everything they sold. Their ranges cover tops, bottoms, dresses, outerwear and a great range of accessories. In the end I chose a few tops from their range, two for Little Man and one for LP – that I'm sure Little Man will also be wearing next year!
The Lublue website is easy to navigate, with clear categories and really nice pictures of their products. The checkout process was smooth too and they accept Paypal as well as major credit/debit cards. Delivery was really quick and came packaged beautifully in tissue paper.
I only realised after I placed my order that all three items I chose were from the same designer – Bene Bene – not one I had heard of previously but one I now love and will be looking out for.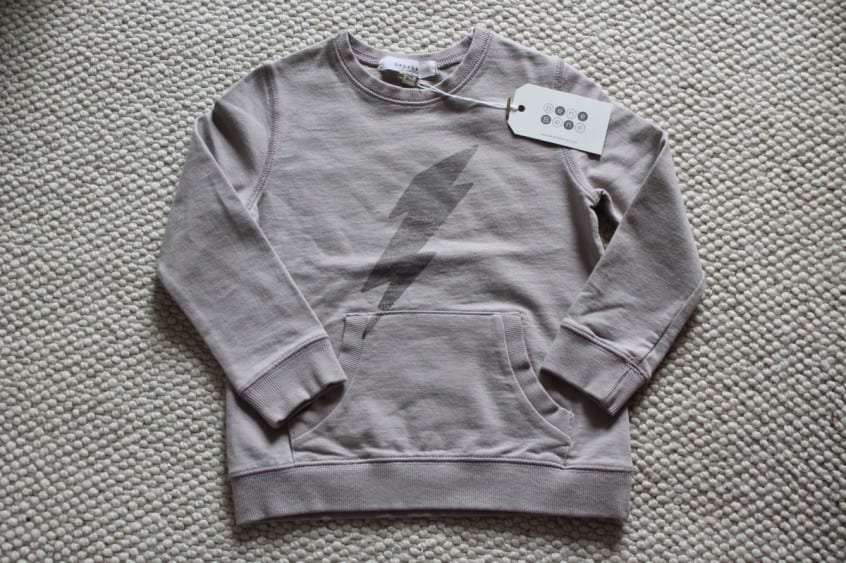 For Little Man I chose the It's OK T-shirt, a classic white slogan tee. Like most of Lublue's products this would be suitable for both a boy and girl and could be worn with pretty much anything. I love a slogan tee and Little Man looks super cute in this one! It's made of nice soft cotton and I'm sure Little Man is really comfortable in it.


He was also sent the Bene Bene Bird Top which has a lovely floral bird print on it. It's made of a soft sweatshirt material although it's thinner than a sweatshirt so a great alternative to a normal tee. The sleeves have a folded back hem which adds a bit of an edge too the tee and the short sleeves make it great for layering.
LP loves her Bene Bene Thunderbolt Sweatshirt and I think she looks like a superhero on a day off! The material is incredibly soft and LP has said how much she likes it. The pocket at the front is something else that she loves and I think this is a great addition to any child's wardrobe.
Overall we've found the clothing sizes to be about average compared to other clothing brands and both the children have growing room. The clothes also wash really well and keep their shape perfectly.
If you find it hard to buy clothes on the high street that suit your children's personality, take a look at Lublue. Their clothing and accessory ranges offer something for everyone.
Disclosure: We were given credit to spend at Lublue in order for us to complete this review however all opinions are my own.