We love outlet shopping and have our favourites to drive to for a day out – McArthur Glen in Swindon and Gunwharf Quays in Portsmouth. We were meant to be going to the beach a few days ago but the weather wasn't looking great so we thought we'd go somewhere new and ventured to the London Designer Outlet.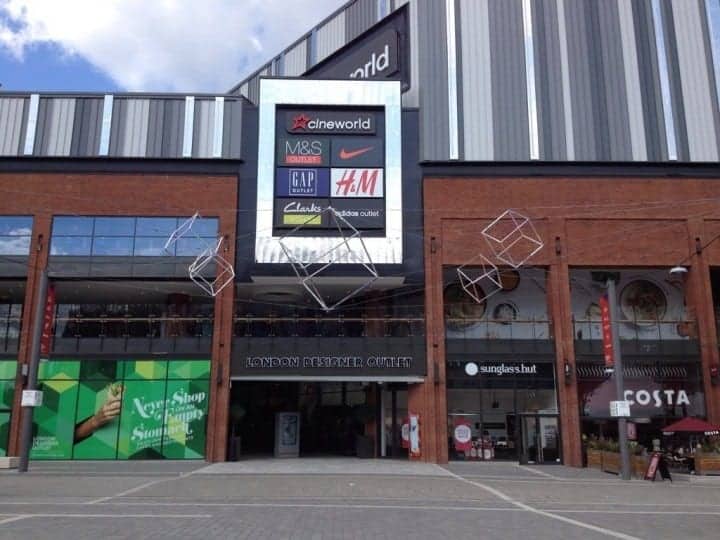 The London Designer Outlet is situated a stone's throw from Wembley Stadium, literally in it's shadow and easily accessible by public transport as well as by car. Car parking can be reimbursed if you spend over £30 at the outlets but be aware that if it's a stadium event day the parking charges will still be valid and there is also a £15 surcharge – Definitely worth giving stadium event days a miss or going by public transport!
When we walked out of the car park we were met by a really welcoming array of cafes and restaurants, a bank of artificial grass and a children's play area. It looked so lovely and inviting and not at all what I was expecting. There was an obvious entrance into the shopping precinct and it had a very 'indoors/outdoors' feel as one minute you're in a covered walkway and the next you're outside. The whole of the London Designer Outlet had a really nice feel to it and it was a lovely place to spend a day.
The variety of shops was great – It had our favourites of Gap, M & S, Body Shop, Clarks and the added bonus of H&M that I haven't seen at an outlet village before. There were all the usual high end designer stores but overall there were shops to suit every budget.
To make the London Designer Outlet even more appealing, there's a Cineworld cinema and nearly every chain restaurant that you can think of as well as some smaller restaurants that I hadn't heard of before. We had Nandos and I was impressed to see that they gave an Emergency Services discount of 25%! Thanks Nandos!
We took our car parking ticket and receipts to the Guest Services desk at the end of the day to have the parking ticket validated to get our free parking and then we took LP and Little Man to have a play in the playground. The Wembley Park Play Park was fantastic, the artificial grass making it soft underfoot but lovely to look at and all the equipment was wooden and really well maintained. It wasn't the largest of parks but it was a really nice way to end a day of shopping.
Overall the London Designer Outlet was a great day out and somewhere we will be visiting in the future!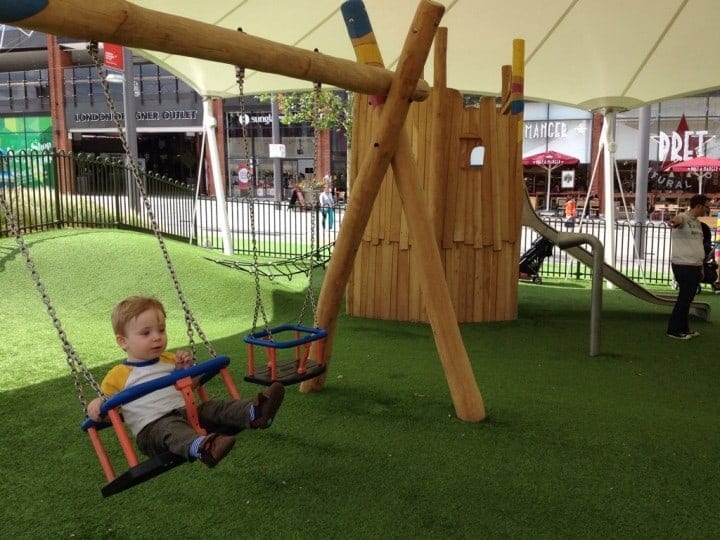 Disclosure: This is not a sponsored post, we visited the London Designer Outlet and enjoyed it and thought we'd share it with you all.