It was Little Man's 2nd Birthday yesterday and a few months back Balloon Time got in contact to ask if we'd like to review one of their Helium Balloon Kits for the occasion. I had never used a balloon kit in the past and had always either blown up balloons normally or bought ready blown up balloons from local party shops – I was keen to see how easy the Balloon Time kit would be to use, how long the balloons would last and whether the price would be good value compared to our usual party shop purchases.
We picked up our Balloon Time kit at our local Tesco, in the partyware section. Everything comes in one box that you could need – helium canister, balloons and ribbon. The balloons should last between 5-7 hours so we filled them up just before Little Man's party was due to start.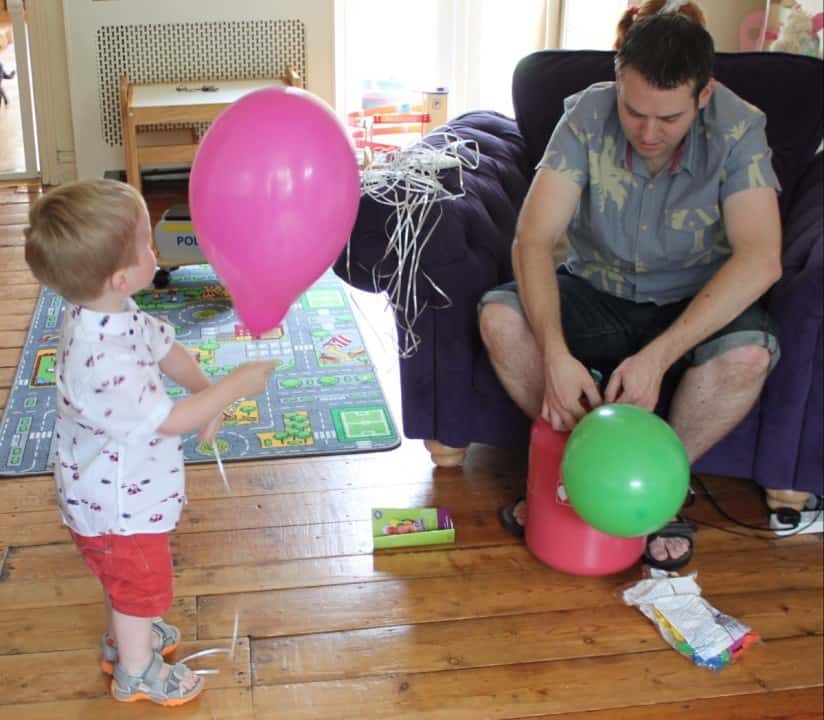 The helium canister is really compact and portable. It was easy to use by opening the valve and then placing a balloon on the valve and pressing down until the balloons had enough air in them. We then had to tie a knot in the balloons and add the ribbon, tying them wherever we wanted them. There was just enough air in the canister for the 30 balloons supplied.
Little Man had a lovely party with all our close friends and family. His face lit up the moment he saw the balloons and we loved having them at the party – balloons really make a party, especially helium ones! The colours were bright and colourful and the balloons lasted a lot longer than the 7 hours we had expected – they were still floating the next day although admittedly lower than at the start!
The Balloon Time kit was easy to use and a lot cheaper than balloons we have got from party shops in the past. The ribbon made arranging balloons in bunches of varying lengths really straightforward and the only thing that would have been nice to include in the kit would have been some balloon weights – but it really depends what you are using the balloons for.
Balloon Time really helped to make Little Man's birthday have a party vibe, as opposed to a barbecue in our garden. We loved using the kit and would definitely buy them again for future celebrations – Balloon Time would be great for any occasion when balloons are used.
Disclosure: I'm working with BritMums and Balloon Time as part of the "Celebration Club", highlighting inventive and fun ways of using balloons. I was provided with a Balloon Time helium kit and have been compensated for my time. All editorial and opinions are my own. Visit www.balloontime.com for more information and party inspiration.