I like to bake with the children as much as possible and through the year we bake seasonal treats just as an excuse really! When OXO Good Grips asked us to get our bake on using their products and create some Valentines inspired treats I couldn't wait to get started!
We were sent the OXO Good Grips Cookie Press and got to work making Valentines Heart Cookies. You can use pretty much any cookie dough recipe for this press but it does have to be the perfect consistency for the press to work. In the end I used the press to make heart shapes and cut them off myself with a spatula. Here's how we made our cookies:
Ingredients:
85g butter
100g sugar
pinch salt
1 egg
0.5 tsp vanilla extract
200g plain flour
caster sugar for dusting
Recipe:
Preheat the oven to 200C/400F/Gas 6
Cream the butter, sugar and salt together.
Add the egg and vanilla and beat well.
Mix in the flour until you have a good dough consistency.
Use the OXO Cookie Press to make cookie shapes or roll out and cut with a cookie cutter.
Place the shapes on a baking tray and bake for 8 minutes or until starting to brown.
When cooled dust with icing sugar.
We then used the OXO Dusting Wand which worked perfectly to add a light dusting of icing sugar to the cookies afterwards. This would also work well for dusting cocoa powder or flour, is easy to fill and simple to use – a great kitchen gadget!
We also made some Valentines Cupcakes with this recipe:
Ingredients:
100g self raising flour
pinch of salt
100g margarine
100g caster sugar
2 eggs, beaten
Strawberry jam
Frosting/buttercream and sprinkles to decorate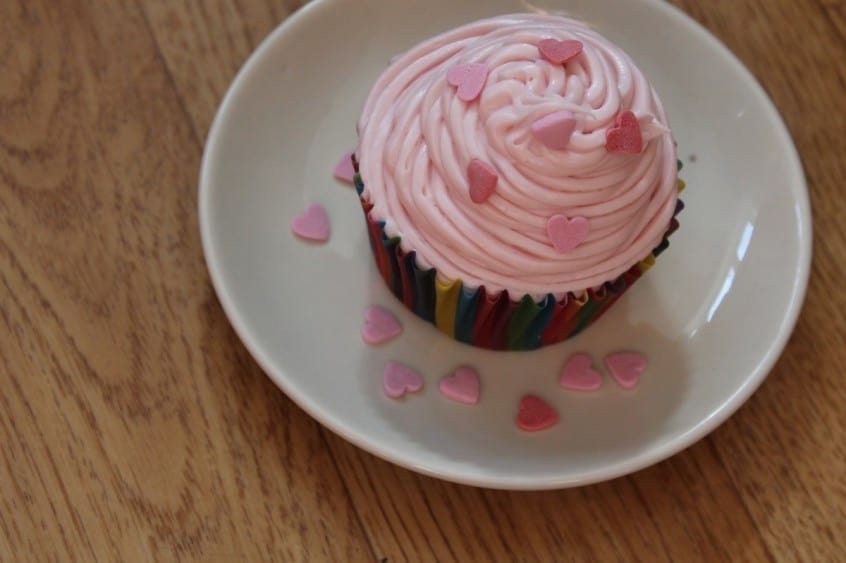 Recipe:
Preheat the oven to 280C/350F/Gas 4 and line a muffin tin with cupcake cases.
Cream the margarine and caster sugar and then add the eggs one at a time beating after each one. Stir in the flour and salt.
Divide between the paper cases and bake for 15 minutes or until golden brown. Leave to cool on a wire rack.
When cooled completely remove the middle of the cupcakes. We used the OXO Good Grips Cupcake Corer for ease.
Add a teaspoon of jam to the middle of each cupcake, cut the removed cake in half and replace the top section, creating a lid.
Decorate the cupcakes using frosting/buttercream and sprinkles. I used ready made strawberry frosting and hearts to give a Valentines feel.
The OXO Good Grips Cupcake Corer works fantastically for removing the middles of cupcakes, ready for you to spoon in jam, chocolate spread, lemon curd or pretty much anything else. You press the top of the corer to remove the excess cake and can cut it in half to cover the middle of the cupcake again. Such a clever gadget and something any baker would love!
Disclosure: We were sent the above products to help with these recipes however all opinions are my own.